[Summersplash][Shortform]StoryboardArtist,SolKorra Details
Storyboard Artist, SolKorra
Find out how to take a different approach to art
which focuses more on energy, flow, and movement
over structure or anatomy.

This class will teach you everything you
need to find the perfect balance between
sacrificing anatomical accuracy
in exchange for better motion
within your drawings.

You'll learn how to take on
gesture drawing, dynamic poses,
and how to combine movement with anatomy
to capture stylized movement.

Content
Length: 10 videos
Difficulty: Basic
Unlimited views

Video Details
Audio: English
Subtitles: English

Software Required
Paint Tool Sai

*Any digital drawing software can be used for the class

Perks
Class Homework pdf
Gesture Introduction pdf
Working files psd

Expert Storyboard Artist
SolKorra's Profile & Portfolio
Who Should
Take This Class?

This class provides key tools
for building up the skillset
you'll need to develop
a resilience to drawing frustration.

If you've been searching for a class
that offers the drawing skills you need
to combine anatomy and dynamic poses
for creating a better sense of movement
when drawing your characters—
you definitely won't want to miss out.

All this and more from
a real powerhouse storyboard artist
who's worked in studios
all over South America
to bring to life stories through illustrations,
animation, and other exciting projects.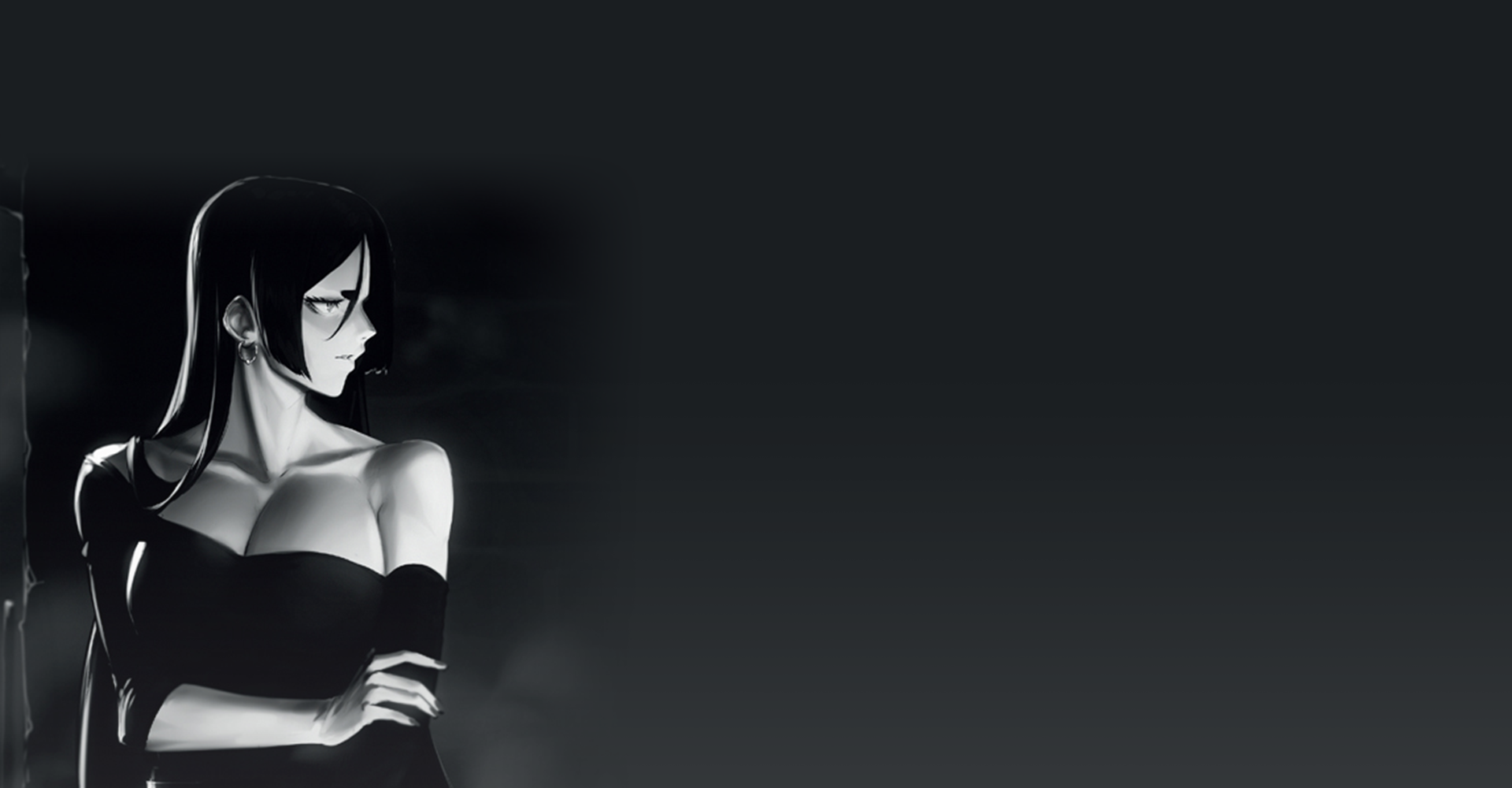 Simple & Stylized Anatomy

Movement Composition with Objects
SolKorra
Storyboard Artist

Hello, I'm 2D Animator and Storyboard Artist,
Sol Ferrari a.k.a SolKorra.

I am currently working on the next
Tomb Raider anime for Powerhouse Animation.
I have also done layout work for Titmouse Vox Machina
and worked as an animation director
in animation studios around South America.

I'm from a small city in Uruguay,
and after extensive effort and dedication,
I improved my art to the point where it is today.
However, even now, I still feel that's not enough,
and always try my best to improve.

I love to draw anatomy and dynamic poses,
and playing with these elements is a lot of fun.
I want to share what I have learned
so that anybody interested in drawing
can achieve their goals.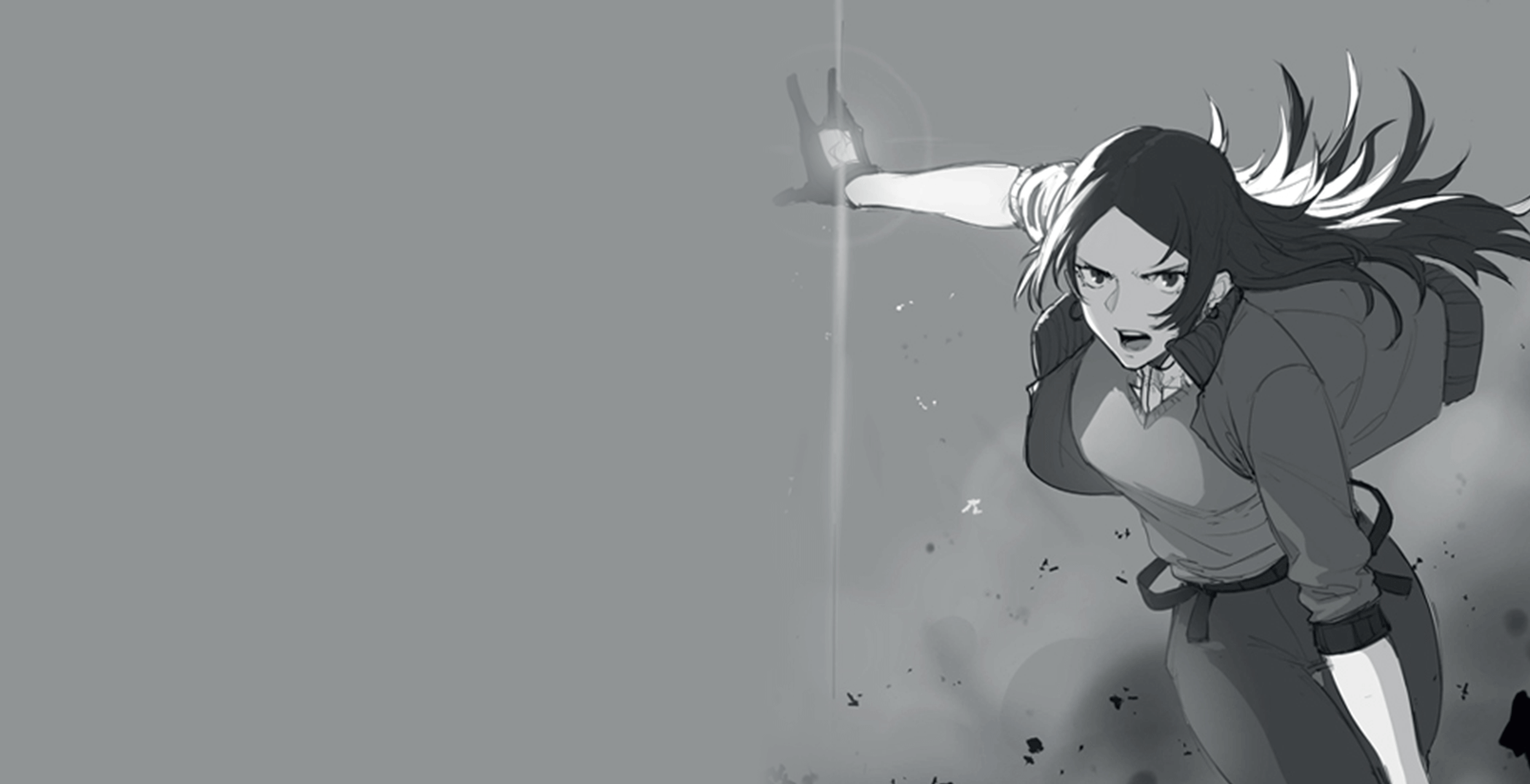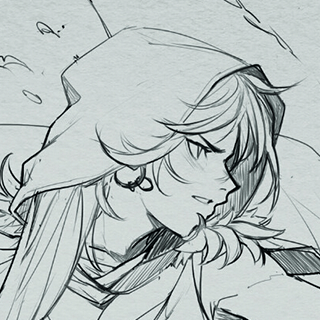 Storyboard Artist,
SolKorra
[Current]
Storyboard Artist at Powerhouse Animation Studio
Recognizable
Projects & Awards
[Previous]
Background Concept Artist at Kraken Bit
Posing Card Character Artist at Coyote Sociedad Animada
Game Card Artist at Rooster Teeth / Arcane Wonders
Layout Artist at Titmouse, Inc.
Storyboard Artist at Titmouse, Inc.


Instagram
Gesture Drawing for Sketching
Understanding how to draw gestures is vital for capturing dynamism in drawings and animation. This class will give you the tools necessary to master fast sketching and create character poses that are solid and interesting.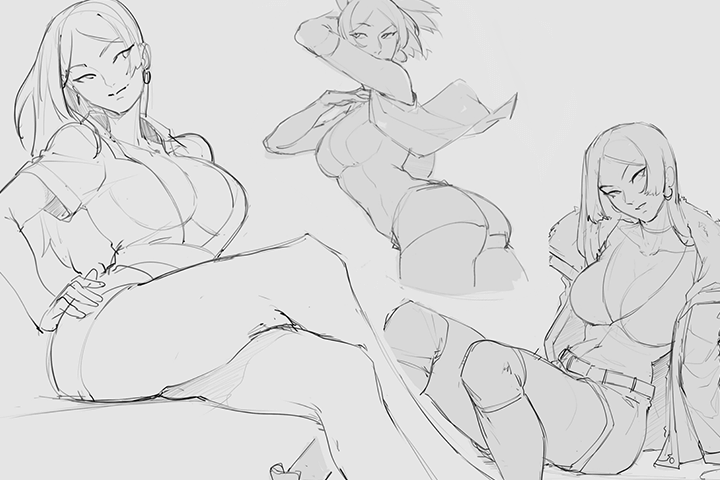 Movement Is King
Action lines are a fundamental part of dynamic drawing. There are many forces involved in the movement, and quickly recognizing these forces allow us to depict action that looks natural and smooth. With practice, you can see and use action lines without thinking, to the point where it becomes second nature.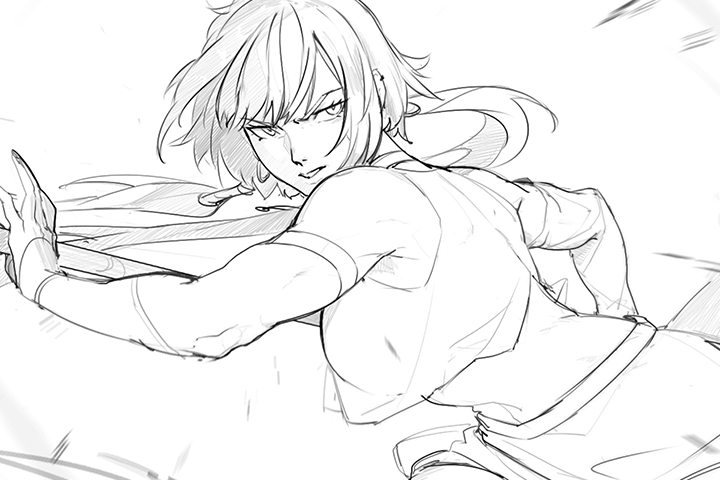 Dynamic Duo:
Movement & Anatomy
Anatomy and structure are generally taught separately from gesture drawing, but this can't be done in the real world. There's no way to create something interesting without movement and rhythm. On the other hand, it is possible to create something understandable with a bit of structure and order. Anatomy and gesture drawing, structure and motion, are just two sides of one reality. The final goal of this course is to merge these two aspects into one and use them harmoniously in your drawings.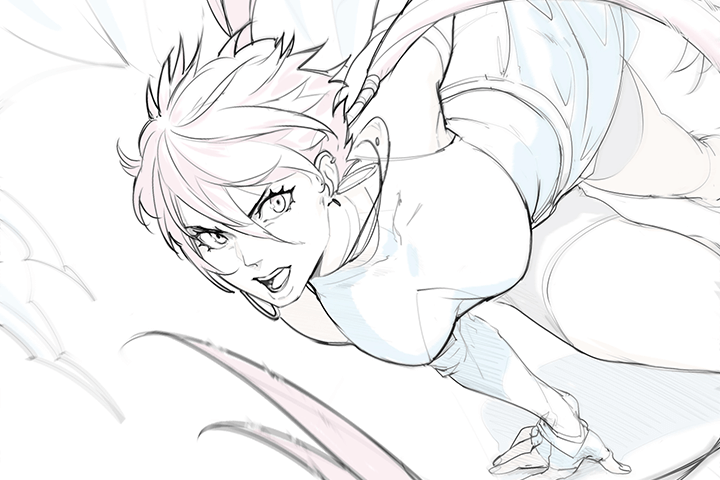 Class Details
You'll Learn
Simplification & Clean Lines

We will learn different tools to successfully portray movement: simplifications and clean lines. These tools will help you to best present and improve your gesture drawing.

Simplified & Stylized Anatomy

Instead of going over how to execute realistic anatomy, I want to help you create a range of natural-looking character poses using stylized and simplified anatomy. However, there's more to it than just getting the anatomy right. You'll learn how to direct the line of sight of your characters, even in the most exaggerated poses.

Composition

To bring characters to life, sometimes we need to give them a little something extra—like objects! It's also important to consider how those objects look on characters in action. I'll show you how to apply what we've learned about character movement to movement in a scene.
Unlimited Access
Best Price
Buy now, get unlimited access.
(자동 구성) 가격이 인상됩니다.
This special offer ends soon.
Buy now and save!
1. Orientation
Introducing your instructor
What you will learn
General advice for you
SECTION 02. BASE: Movement & Flow
2. Gesture & Simplification
What is a gesture?
How can I practice it
Exercise: Time management challenge
3. Clean & Fast Lines
Mistakes when trying to achieve clean lines
Benefits of working with clean lines
How to optimize your time when drawing sketches
4. Movement Is the Protagonist
Movement lines in your work
Think of the movement when drawing a pose
SECTION 03. ANATOMY X MOVEMENT
5. Simple Anatomy
Basics for studying anatomy
Anatomy simplification
How to choose what to draw
6. Poses & Curves
Anatomy and movement
How not to lose the movement when drawing a body
How and when to exaggerate movement for a natural-looking pose
7. Interesting Work
What makes a pose interesting
The key to foreshortening
SECTION 04. COMPOSITION X MOVEMENT
8. Movement: From Pose to Objects
I have the pose. Now what?
How to place objects naturally to go with the body flow
9. Show What You Want to Show
Guiding where the eyes look first with lines
10. Add Story to Your Work
Characters and the world around them
Expressions that cultivate a story
**The release date of this class, curriculum images, and associated content can be changed without prior notice.
Interview with
Expert Storyboard Artist,
SolKorra


Question.01
Is there a specific reason why you chose this specific topic/themes?


I often see art students and even some art professionals talk about the anatomy or structure of a drawing while others talk about action lines. But rarely are both aspects discussed at the same time, which is the most efficient way of improving. This way of looking at things is the best way to achieve great drawings.
Question.02
What makes your class different
from other classes?


I have a different approach to art; not so much focused on structure or anatomy but more on energy, flow, and movement. It really helps me, so I think it will also help you find your own path as an artist. Sometimes, you have to sacrifice anatomical accuracy in exchange for motion, since motion is one of the most essential things in a drawing.
Question.03
What would be the most important takeaway from your class?


I think it would be to take a new approach to art. Be more resilient to drawing frustration and make the best use of your time while sketching or practicing. And finally, to create beautiful drawings full of life and character.
Required Programs
This course will use Paint Tool Sai. However, you can use any other digital drawing software. Please purchase and install these program(s) for an optimized lecture experience.

*These programs and/or materials will not be provided with the lecture.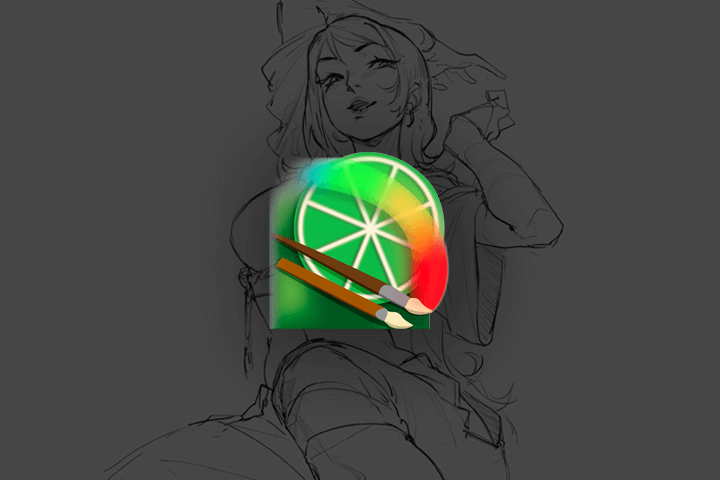 Recommended Classes
Like this class?
Then check these out!
[IMPORTANT NOTICE]

*Please note that the information on this page is subject to change without prior notice.
*Would you like to learn more about our refund policy? Please check here.
*Please check our FAQ for Copyright and Proprietary Rights, User-Generated Content, Security, and Violation information.