PixelArtist,Arkneru_아크네르 Details
Class Intro
Pixel Artist, Arkneru

"I will teach beginner pixel artists
how to draw their favorite characters
and shape their own unique voices, styles,
and compositions, step by step."
Pixel art may seem easy,
but because it's drawn on a smaller canvas
than a conventional illustration,
it's hard to draw without knowing the basics.

If you're not sure what details to express
and what to avoid, then this is
where you should to start.
I'll teach you the basic settings of each tool
to enable you to draw great pixel art
and create simple animations
with any tool.

Create unique, vibrant pixel art
with drawing tips from Arkneru,
whose adorable, kitsch pixel art
has captured the hearts of people
all around the world.

Content
Length: 21 videos
(Duration: 07h 34m)
Difficulty: Basic Level
Unlimited views

Video Details
Audio: Korean
Subtitles: English

Software Required
PaintTool SAI2 English Version (2021. 10.)

*Compatible Software
- Procreate
- Clip Studio
- Pixel Studio

Perks
Class materials
Class exercise files
Expert Pixel Artist
Arkneru's Profile and Portfolio
Who Should
Take This Class?

Much like dot painting, pixel art makes it easy to express
still images when characters are not in motion,
but difficult to express
dynamic motions and images.

In this class, we'll go beyond
just making pixel art characters,
and make characters with changing expressions,
blinking animations using particles,
and loop animations
where characters strike different poses
then return to normal
to help breathe more life
into your pixel characters.

Dive in and learn about
Pixel Artist Arkneru's tips
on creating adorable character animations.

Part 1. Introduction to Creating Your Own Pixel Character
Creating Character Variations

Creating a Character from a Base

Various Modifications of Character Expressions
Part 2. Creating Pixel Character Styles
Creating Pixel Art with Limited Colors

Drawing Characters with a Wide Range of Expressions

Designing a Character with Pixels

Drawing Illustration with Pixels
Part 3. Developing Practical Pixel Character Designs
Improving Illustration Quality
*These are sample images for better understanding.
Arkneru
Pixel Artist

Hello.
I'm Arkneru, a freelance pixel artist
that loves making cute pixel art.

In the early days,
pixel art was developed to minimize the size of games
due to the limitations of computer graphic technology.

But now, with the development of technology,
these restrictions on colors and sizes
for pixel art have disappeared.

Now, pixel art is not only used for games
but also for illustrations.

I hope this class will spark more interest in this art form
and inspire people
to create and explore the world of pixel art.

An Introduction to Pixel Art
for Any Tool
Whether it be SAI, Photoshop, Clip Studio, or Procreate, you can jump right into pixel art with the tool of your choosing! I'll teach you the basics, from setting up your tools to determining pixel size and adding shading.
Create Pixel Art That Varies
Depending on Size
Learn how a character's size affects their expressions and which size best matches your intent. Take your first steps into the unique world of pixel art, starting from a limited color palette.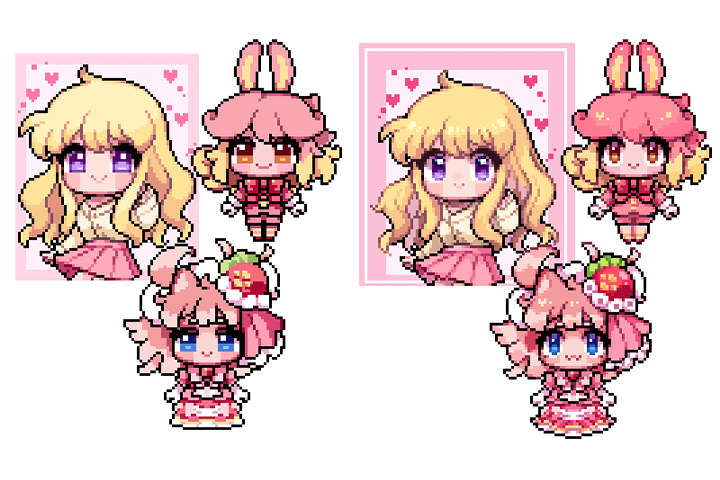 Create Vibrant Pixel Art with
Simple Animations
Create simple movements like blinking eyes, repeating animations, glittering particle animations, and loop animations to create more vibrant artwork.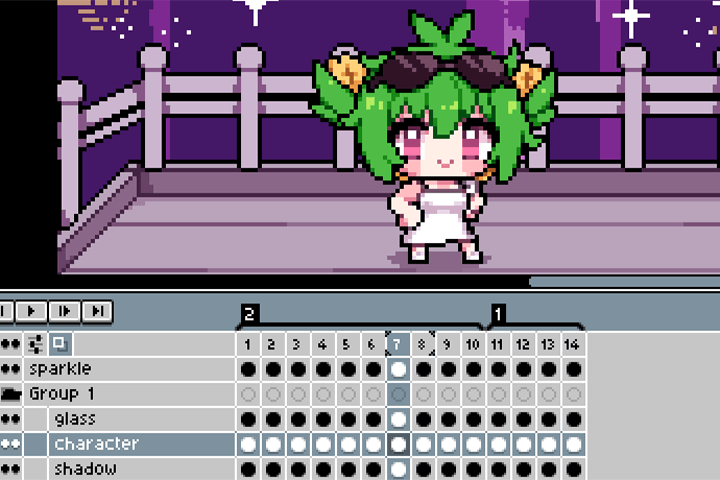 Class Details
You'll Learn
Essential Skills for the Pixel Art Beginner

You'll gain the skills fundamental to pixel art like determining pixel size, anti-aliasing, and shading, while also learning what to avoid, like aliasing.

Standard Pixel Sizes & Their Range of Expression

You'll learn how to choose the right size for your style by learning about and drawing various pixel expressions in different sizes like 32, 64, and 96 and seeing how the range of pixel expressions varies with each size.

Limitation of Pixel Colors and Creating a Personal Palette

Limit the number of colors used in your artwork to create a personal palette. Learn how to bring the unique retro, kitsch feel of pixel art to life.
Improving Quality with Pixel Modification

Because of how small pixel art is, just changing a single pixel can dramatically influence the overall atmosphere of an artwork. You'll learn how to improve the quality of your pixel art by applying this idea and more.

Finding the Right Pixel Art Style for You

Come along and find out the differences between conventional 2D illustrations and pixel illustrations. You can try modifying elements like outlines, colors, and stylizations according to what you like and find your own unique pixel art style.

Simple Animation That Breathes Life Into a Character

Add simple, repetitive loop animations like characters blinking their eyes and breathing, characters with changing facial expressions, and characters that strike different poses to create vibrant pixel art.
Unlimited Access
Best Price
Buy now, get unlimited access.
(자동 구성) 가격이 인상됩니다.
This special offer ends soon.
Buy now and save!
SECTION 01. Let's Make Pixel Art!
01. Pixel Art: Where to Begin?
Useful tips before getting started
How to set up the pixel brush in Photoshop and Clip Studio, and an overview of mobile pixel art apps
Setting up the canvas and resolution + things to avoid when making pixel art
02. Fundamental Pixel Art Skills
Fundamental pixel art skills: Anti-aliasing, finding the shape, and shading
SECTION 02. Creating My Own Pixel Character
03. Practicing Character Stylization
Practicing stylization that varies according to the resolution in sizes 32, 64, and 96
04. Creating Character Variations
Applying various poses and facial expressions to your character
05. Finding Your Pixel Art Size
Expressing an idea regardless of character size
Searching for the best personal pixel size
SECTION 03. Let's Create Pixel Character Styles
06. Using Colors and the Palette
Extracting colors from the created pixel art to make a palette
Using your palette to adjust colors
How to easily change the colors
07. Creating Pixel Art with Limited Colors
Drawing with a limited color palette like retro game graphics
08. Finding the Right Colors for Your Style
How to create and use a color palette that changes according to a specific concept or style
09. Finding a Pixel Art Style
Find the best pixel art style for you by considering various factors like the use of outlines, color, shape, and direction.
10. Designing a Character with Pixels
Things to be aware of when designing a pixel character
How pixel character designs differ from illustrated character designs
11. How to Draw with Pixels
The difference between a 2D illustration and a pixel illustration
The unique benefits and composition methods of a pixel illustration
SECTION 04. Creating Practical Pixel Character Designs
12. Practical Step 1: Determining the Concept
Determining your pixel art concept
Determining the approximate color palette and composition for your concept
13. Practical Step 2: Sketching
Sketch your predetermined composition to determine the outlines
Adjusting colors
14. Practical Step 3: Finishing
Finishing with the appropriate character expression
15. Practical Bonus: Improving Quality
Including elements like particles, backgrounds, props, and layouts to improve the character quality
16. Creating a Template Where You Can Combine Styles
Creating a character template
Creating the face, hair, and costumes based on a template, just like a dress-up game
17. Making an Idle Animation
Making an Idle animation for the character you created

* Using the Steam version of Aseprite
18. Making an Animation with Changes in Facial Expressions
Making an animation where the character's facial expressions change

* Using the Steam version of Aseprite
19. Making Idle Animations +
Loop animation with a slight pose change that resets back to original pose

* Using the Steam version of Aseprite
SECTION 05. Improving the Animation Quality
20. Animating - Particles
Making a wide variety of particle animations such as hearts, stars, music notes, and flowers

* Using the Steam version of Aseprite
21. Animating - Advanced
How to insert loop animation into pixel art
Wrapping up the class

* Using the Steam version of Aseprite
Interview with
Pixel Artist Arkneru


Question.01
Why should I take this class?


Most pixel artists study pixel art independently, but because pixel art doesn't have as many big communities and learning institutes as other art forms, many learners don't even know where to begin. This is a class that anyone can take as long as they're ready to learn. Take the first step and get started drawing your favorite characters and finding your own unique pixel art style.
Question.02
Which part do you think will be the most challenging for prospective students?


If you haven't done pixel art before, you may not know where to begin because the artboard is so much smaller than what you're used to in illustration. This class contains a step-by-step curriculum starting from the basics of pixel art, so I'm confident you won't have many issues getting started.
Question.03
What is the aim of this class?


My goal is to help students learn how to create pixel art in their own unique styles and apply their skills to not just game graphics but also a wide number of fields, such a illustration and merchandise design. I hope more people will be able to learn about the appeal of pixel art and how to draw it so they can freely create their own pixel art.
Required Programs
This class will use the English version of PaintTool SAI2 (2021. 10.) and the English version of Aseprite on Steam.
Please purchase and install these programs for the best lecture experience.

*Procreate, Clip Studio, and Pixel Studio are also available for use in this class.
*These programs and/or materials will not be provided with the lecture.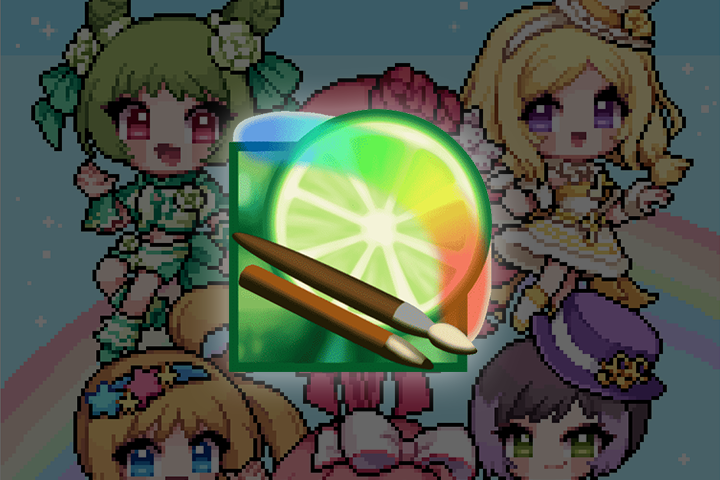 Recommended Class
Like this class?
Then check these out!
[IMPORTANT NOTICE]

*Please note that the information on this page is subject to change without prior notice.
*Would you like to learn more about our refund policy? Please check here.
*Please check our FAQ for Copyright and Proprietary Rights, User-Generated Content, Security, and Violation information.