[FreeCourse]PastryChef,SejungKim_김세정 Details
Class Intro
Pastry Chef, Sejung Kim
Are you going through a lot of trial and error?
Or does your scone always
come out dry and only taste like flour
every time you bake them?
If so, this is the class that you are looking for!
Scones are desserts that even beginners
can easily challenge. But it's difficult
to make the perfect one with a rich flavor.
In this baking class, you'll be able to
learn basic baking principles,
combinations, and processes that
you can apply numerous times
based on your preferences,
as well as techniques for shaping
and decorating baked goods.

Learn four types of scone doughs,
five types of spread & filling,
and 12 best-selling scone recipes
from Pastry Chef Sejung, who has
written a success story with "Spread,"
a dessert shop specializing in scones.

If you want to know what makes
"Spread's" scones unique,
join Sejung in this adventure to make
the perfect spread, filling,
and scones with rich flavor.
Basic Scone

Jam Scone

Lemon Pistachio Scone

Apple Cinnamon Scone
Black Forest Scone

Maple Bacon Gouda Cheese Scone

Ink Camembert Scone

Onion Soup Scone
Wasabi Scone

Hazelnut Cacao Scone

P.B.J Scone

Whole Wheat Fig Cream Cheese Scone
Sejung Kim
Pastry Chef

Hello, I'm Sejung Kim,
Pastry Chef of Spread.

For a long time, I enjoyed baking
as a hobby, and after earning
a national certificate, I gained experience
working at various dessert shops
before enrolling in the master class
at Ecole Lenotre to learn more about baking.

After graduation, I wanted to study
more about plating desserts,
so I worked in the dessert department.
Based on fond memories
of baking scones or cookies
for chef friends, I opened a small
dessert shop called "Spread."

In this class, you'll be able to
learn the principles of baking and
carefully selected recipes from "Spread."
These guidelines will help you
apply the recipes in various
combinations to discover your
very own scone recipe at the end.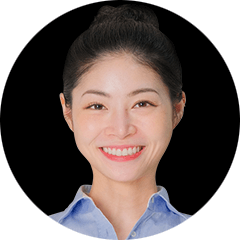 Pastry Chef,
Sejung Kim
[Current]
Owner & Pastry Chef of Spread
Recognizable
Projects & Awards
[Former]
Completed patisserie course at Ecole Lenotre
Featured in Super-coper


Instagram
Learn about the Best Scone Shop "Spread's" 12 Signature Scones Recipes!
Check out the actual recipes for popular scones. From basic scones, which are the basis of all scones, to apple cinnamon and wasabi scones, which are popular all year round. Learn all the details and enjoy them everywhere, anytime.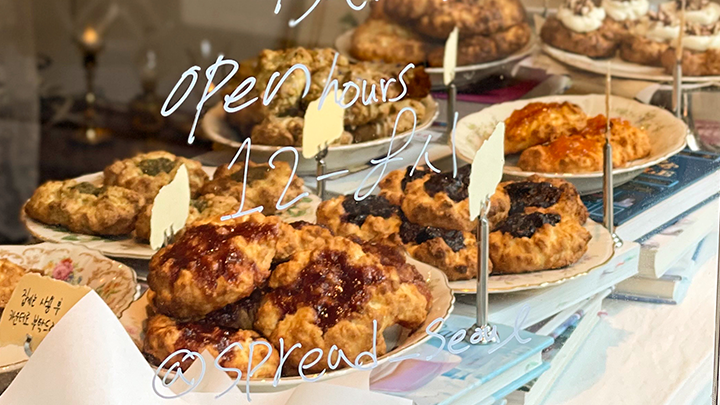 Learn Everything about
Scones by Understanding the Principles Optimized for Flavor and Texture
Scone is easy to make compared to other desserts, but it's difficult to meet the requirements for butter temperature, flour type, and shaping method! Learn step by step how to make scones that never fail by using baking principles that determine the taste and texture of scones based on very small differences.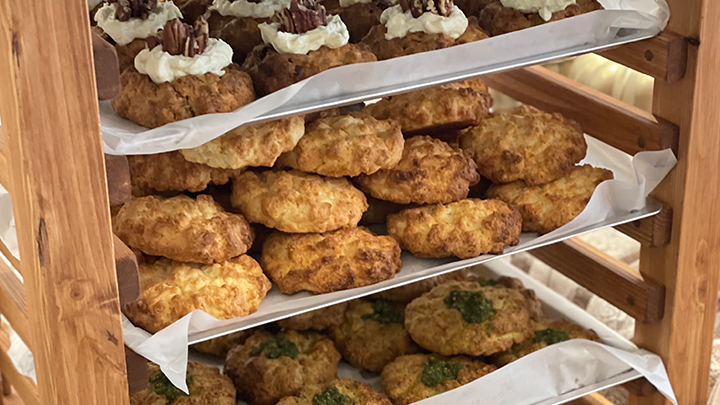 Learn to Make 5 Types of Delicious Spread & Filling to Bake Your Own Perfect Scone
Learn all about the basic combination of 5 types of representative spread & filling including jam, ganache, caramel, and frosting, that bring out the flavor of the scone, which can also be used to make cookies or pound cakes. You can also learn about the stabilization method, eye-catching decoration methods, and tips on how to create a harmonious taste.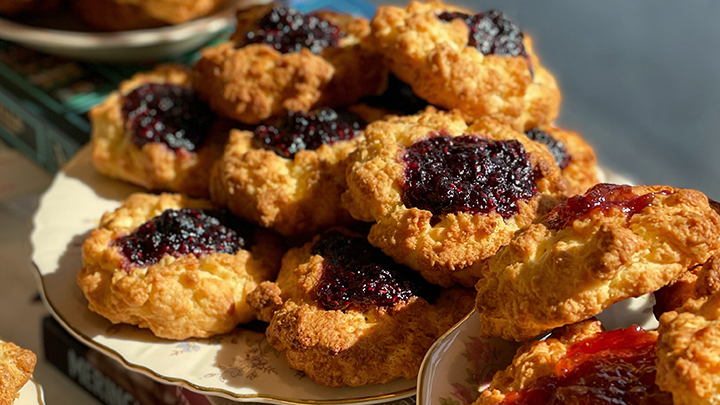 Class Details
You'll Learn
A Complete Guide to Making a Basic Dough

The dough determines the texture and flavor of scones. Improve your basic scone dough skills with a food processor, mixer, and hands. You can also learn how to make a variety of dough using yogurt, squid ink, whole wheat, and more.

Create 12 Different Kinds of Menus
with the Perfect Scone Recipe

If you're looking for a basic scone recipe to use in various ways, look no further than this tried-and-true recipe. You can create as many scones as you like in small and large quantities with endless ingredient combinations.
How to Shape & Decorate Scones

A scone can be more than just a scone. This class will help you visualize the flavor of each scone. Discover decoration tips to make your scone look more appetizing using various secondary ingredients such as spreads or fillings.

Using the Same Dough
To Make & Use Crumble

Crumble is popular these days because it brings out the flavor and texture of scones. Did you know that you can make it from the same dough? Learn how to make crunchy and delicious crumble using scone dough mix and various ingredients and how to use it when baking different kinds of desserts..
Section 01. The Fundamentals of Making a Basic Scone Dough
01. Basic Scone
[Key Learning Points]
The texture of basic scones varies depending on the method of preparation and the ingredients used.
1. Basic scone 1: Scone dough that is made as it is made in "Spread"
2. Understanding the variation of texture with different types of flour and butter
3. How to make a delicious and aesthetically pleasing scone
Interview
with Pastry Chef Sejung Kim


Question.01
What are the pros of scones?


Scone is a light dessert that goes well with other desserts and can be enjoyed in various ways depending on the base dough or different spreads and fillings. It's easy to make at home and if you own a shop, you should also try serving it with drinks like black coffee.
Question.02
What are your strengths as
the Pastry Chef of Spread?


Since I was also a home baker myself, I'm well aware of the concerns of Pastry Chefs. Such as why the texture is different for each scone, how to bake it in different ovens to make it have a uniform taste, etc. In this class, you'll be able to get a suitable solution for these problems, as well as various dessert shop experiences, and the tips I gained from running a dessert shop specializing in scones.
Question.03
What are the key points
of this class?


Baking a scone is simple, but with so many recipes available, it can be difficult to find a good one. To help solve this problem, I've created recipes for various flavors of scones, such as basic scones, savory scones, fruity scones, and nutty scones. This curriculum is organized to teach you how to master the whole process of baking delicious scones.
Question.04
Who would you
recommend this class to?


I would recommend this class to home bakers, people who have always wondered how to reduce trial and error, and cafe owners who would like to develop their signature menus. I hope these people will be able to learn all the secrets behind crunchy and fluffy scones by taking this class!
Recommended Classes
Like this class?
Then check these out!


[IMPORTANT NOTICE]

*Please note that the information on this page is subject to change without prior notice.
*Would you like to learn more about our refund policy? Please check here.
*Please check our FAQ for Copyright and Proprietary Rights, User-Generated Content, Security, and Violation information.