[Shortform]PastryChef,FrankHaasnoot_프랭크하누 Details
Class Intro
Pastry Chef, Frank Haasnoot

Create delicious, high-end desserts
with exquisite designs using simple tools
from a World Pastry Champion
& Global Chef with 28 years of experience.
A rare opportunity to learn
the refined pastry techniques of Frank Haasnoot,
a world-renowned pastry chef!

Meet Frank Haasnoot's five signature desserts,
based on his worldwide experiences in various hotels and brands
in the Netherlands, New York, Kuwait,
Taiwan, Hong Kong and more
on Coloso.

Learn the best combination of ingredients and techniques
to create exquisitely delicious desserts
and learn a unique style
to achieve high-quality visuals that will delight your eyes.
Perfect your pastry-making skills in this practical technique master class.

Unlock Frank Haasnoot's internationally renowned signature recipes,
acquire intricate techniques, and offer more creative
and higher quality desserts
to your customers through your enhanced skills.
Discover how to become a true pastry chef
now on Coloso.

Content
Length: 10 videos
Difficulty: Advanced
Unlimited views

Video Details
Audio: English
Subtitles: English

Perks
11 recipe cards
Expert Pastry Chef
Frank Haasnoot's Portfolio
※The portfolio shown is not the product demonstrated in the class.
Class Perks
Get These Exclusive Benefits
With Frank Haasnoot's Class
5 of Frank Haasnoot's Signature Desserts

10 Chapters with Unlimited Access

Refined High-End Techniques

Revealing Secrets from a world champion chef

Detailed Processes & Techniques

Recipe PDF files
Recommendation
Who Should Take This Class?

Those who want to develop their own creative desserts
Those who want to harmoniously utilize each ingredient
Those who are curious about the tips and techniques of famous pastry chefs
Combining Creative Visuals
With Rich Flavors

Learn all of Frank Haasnoot's
signature recipes
that not only contain stunning visuals
but also incorporate various ideas
to create the ultimate taste.


In this class,
we will enhance the overall quality of each dessert
by exploring detailed decoration techniques
using familiar chocolate ingredients
and various skills that elevate your execution.

From Frank Haasnoot's signature J'ADORE
to the chef's favorite Piedmont,
discover the harmony of ingredients
for each of the five recipes,
along with the special techniques and processes
honed over 28 years of experience.
Explore it all now on Coloso.

Frank Haasnoot's
Signature Pastry Process
J'ADORE

INCEPTION

PIEDMONT
CHOCO COCO

RAVIOLI
Frank Haasnoot
Pastry Chef

Hello, I'm Frank Haasnoot,
a pastry chef from the Netherlands with over 28 years of experience.

Following my triumph at the World Chocolate Masters in 2011,
I embarked on an extensive journey refining my techniques,
honed through my tenure across diverse hotels and renowned pastry establishments worldwide.

My aspiration is to share the culmination of my expertise,
resulting in creations so meticulously detailed
that it's difficult to believe
they are crafted by hand.

I've carefully selected five products
that showcase intricate techniques and harmonious ingredient combinations.
Each product involves various processes, all of which will be unveiled on Coloso.

Through this class, I am committed to providing guidance
not only to fellow industry professionals but also to those
who yearn to create distinctive and exceptional desserts.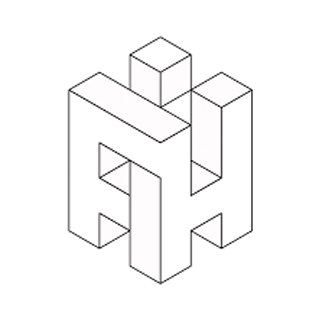 Pastry Chef,
Frank Haasnoot
[Current]
Chef Owner of Frank Haasnoot Shop
Recognizable
Projects & Awards
[Awards]
World Champion Pastry Chef 2011
Winner Dutch Chocolate masters 2007-2011
Winner Dutch Pastry Award 2006


Instagram
Mastery of Exquisite Chocolate Decoration on a Global Scale
Indulge in the art of chocolate techniques by learning from a World Chocolate Master! From signature rose decorations to various versatile chocolate techniques, we are unveiling these secrets in intricate detail exclusively on Coloso.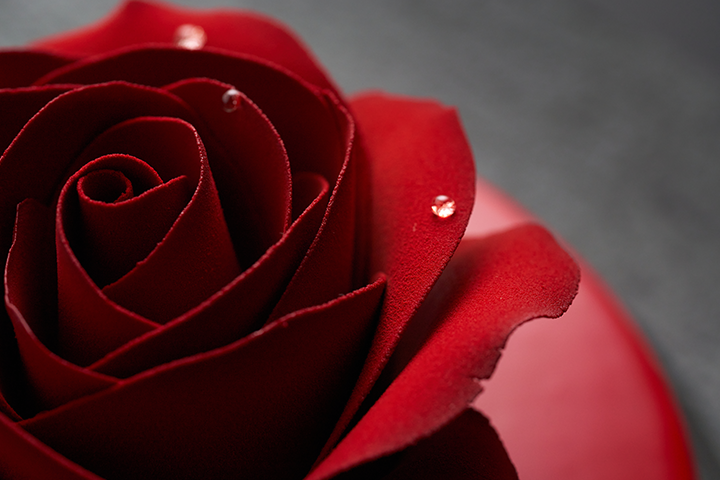 The Finest Combinations Reinterpreted Using a Variety of Flavors
We've crafted a curriculum that seamlessly blends visuals with taste, ensuring that the emphasis isn't solely on impressive visuals. You'll learn the best recipes that allow the layered flavors of each ingredient to be rich and harmonious.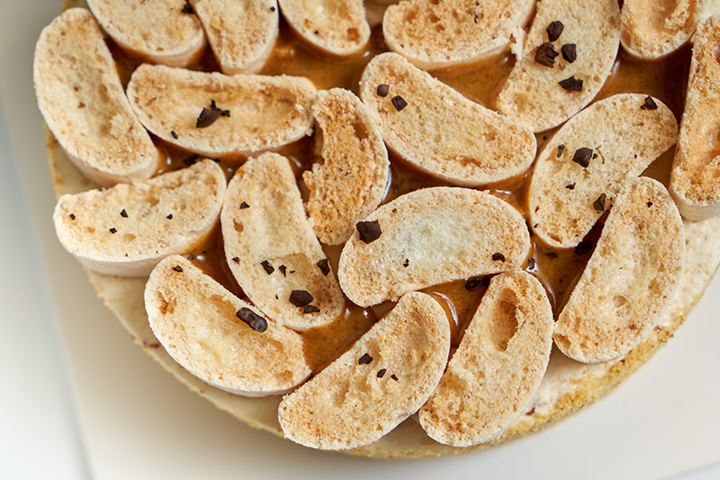 Top-Tier Techniques Ensuring 100% Skill Enhancement
Introducing 5 unique products by Frank Haasnoot that are bound to elevate your expertise. Acquire the creative skills essential for high-end dessert development by mastering practical pastry techniques and exploring a variety of cream bases capable of yielding opulent flavors.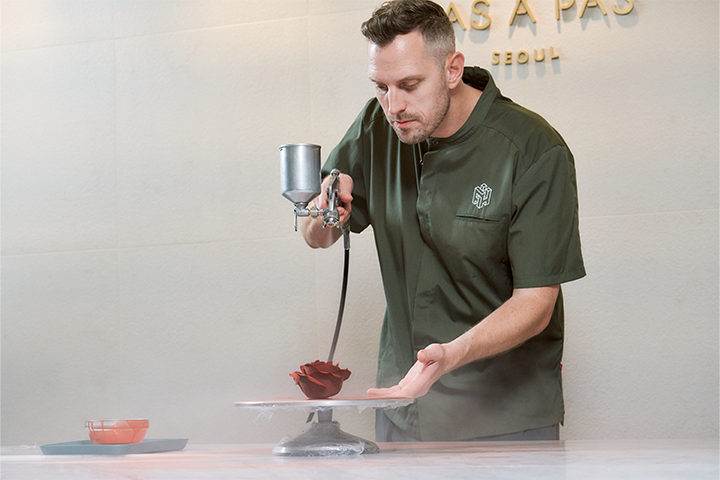 Class Details
You'll Learn
Embarking on High-End Desserts
with Simple Tools

Start by crafting distinctive desserts using readily available tools and ingredients, then elevate the challenge by incorporating practical techniques to enhance the dessert's overall quality.

Enchanting Dessert Designs
Inspiring Infinite Inspiration

You'll discover the chef's unique designs, reminiscent of dishes like ravioli and tropical coconuts, and acquire professional skills to better convey your creative brilliance.
Combination of Exquisite Ingredients
Full of Diverse Textures and Flavors

By indulging in desserts filled with diverse textures and flavors that flawlessly combine softness and crunchiness, you will uncover the chef's exclusive secrets and techniques for skillfully harmonizing ingredients.

Handpicked High-End Dessert Baking Tips
and Techniques

Learn various pastry textures ranging from mousse, crumble, tart, and meringue to widely used baking skills techniques like compote, mousseline, and glaze.
SECTION 01. J'ADORE (ROSE)
01. J'ADORE: Almond Joconde, Monte Creme, Mousse
[Chapter Features]
Frank Haasnoot's signature Petit Gâteau with harmonious layers
[Learning Points]
1. Understanding and making of biscuit joconde batter
2. Creating a light and smooth mousse using meringue
3. Understanding and using gelling agents
02. J'ADORE: Chocolate Rose and Montage
[Chapter Features]
Learn how to create detailed chocolate roses by hand!
[Learning Points]
1. Understanding ingredients for chocolate decoration
2. Creating chocolate roses and detailing by hand
3. Mirror glaze
03. Inception: Chocolate Sponge and Pecan Mousse
[Chapter Features]
How to combine chocolate sponge, pecan mousse, and rum
[Learning Points]
Tips for making pâte à bombe
2. Making and designing pecan mousse
3. Understanding and utilizing rum
04. Inception: Rum Raisin Mousse and Chocolate Dip
[Chapter Features]
Creative execution of different mousse and flavor compositions
[Learning Points]
1. Making and designing rum raisin mousse
2. Coloring the chocolate using a spray gun
3. Utilizing chocolate dip for details
05. Piedmont: Hazelnut Base and Meringue
[Chapter Features]
Crispy base, moderate sweetness, rich ganache, and mousseline cream
[Learning Points]
1. Hazelnut meringue enhanced with texture and flavor
2. Soft mousseline cream
3. Layering rich and luxurious flavors
06. Piedmont: Cake Completion and Decoration
[Chapter Features]
Completion of Frank's favorite cake topped with golden hazelnuts and crispy meringue
[Learning Points]
1. Cake montage
2. Completing design with meringue and hazelnuts
07. Choco Coco: Pâte Sablée and Coconut Dacquoise
[Chapter Features]
Artistic designs reminiscent of tropical coconuts
[Learning Points]
1. Making chocolate pâte sablée dough
2. Dacquoise infused with a captivating coconut flavor and a delightful moistness
3. Versatile lime confit
08. Choco Coco: Completion of Chocolate Decoration and Tart
[Chapter Features]
Enticing coconut combination tart completed with lime and chocolate
[Learning Points]
1. Ganache using rum
2. Achieving decorative perfection with chocolate tempering
09. Ravioli: Chocolate Pâte Sablée and Mango Compote
[Chapter Features]
Layer composition of crunchy, soft, and chewy textures
[Learning Points]
1. Making crunchy pâte sablée
2. Mango confit using agar-agar
3. Exotic mango compote tips
10. Ravioli: Chocolate Financier, Ganache, Dip, and Completion
[Chapter Features]
Completion of unique ravioli-shaped dessert
[Learning Points]
1. Chewy financier base
2. Layering a completed composition
3. Creating ravioli shapes
Interview with
Pastry Chef Frank Haasnoot

Question.01
What is the main goal and focus of this class?


I believe one of the most challenging aspects of being in the industry is bringing creativity to life. Drawing from my own expertise, I have curated this class with a total of five products, each encompassing different styles and techniques I've mastered. My objective is to embolden pastry chefs within the industry to become more imaginative and create products of higher quality.
Question.02
What sets this class apart?


Pastry products can taste vastly different depending on which ingredients you use and how you combine them. Over my 28-year journey, I've dedicated myself to exploring harmonious blends of ingredients, driven by my penchant for utilizing diverse elements. Based on the insights I have accumulated in the past, you will gain the ability to masterfully fuse harmonious flavors and refined techniques to make your product stand out.
Question.03
Who do you believe is the intended audience for this class?


I've chosen products that offer versatility across various skill levels. They are composed of easily accessible tools and packed with a wide range of techniques that can be applied practically. Whether you're an established pastry chef, a professional, or an aspiring practitioner aiming to enhance your skills and create imaginative results, I recommend this class to anyone with such aspirations.
Recommended Classes
Like this class?
Then check these out!


[IMPORTANT NOTICE]

*Please note that the information on this page is subject to change without prior notice.
*Would you like to learn more about our refund policy? Please check here.
*Please check our FAQ for Copyright and Proprietary Rights, User-Generated Content, Security, and Violation information.