Illustrator,NESSI_네씨 Details
Class Intro
Illustrator, NESSI


"Most people don't put much
thought into starting a drawing.
However, it's critical to think it though
and set up your perpective before you begin."

After taking this class, even beginner
level illustrators who've never used Photoshop
will be able to draw their own characters
by improving their basic understanding of
lines, contrast, light, and basic art.

Class Preview
Still Not Sure?
Check Out NESSI's Class Preview!


Chapter 22.
Color Combination Using the Color Box
1. Understanding various color combination theories, luminosity contrast, and color mood
2. Applying color combinations to a previously drawn character

Content
Length: 25 videos
(26h 25m)
Difficulty: Beginner
Unlimited views

Video Details
Audio: Korean
Subtitles: English

Software Required
Adobe Photoshop CC

Perks
49 practice exercises
1 checksheet
70 brushes
Illustrator,
NESSI's Profile & Portfolio
NESSI
Illustrator

Hello, I'm Illustrator NESSI.
What I've learned while working on
game character illustrations
and international projects for over 10-years
is that there's nothing more
important than your basic fundamental skills.

From the basics of Photoshop
to solidifying skills through basic art theory
and applying it to commercial artwork.
You'll be able to improve your overall
skills in a balanced way.

Based on my years of experience
in drawing and lectures on illustrations,
we will go through the aspects
that may have felt troubling and difficult,
and go beyond the mere theory
of the work, allowing you to apply
the acquired skills to your actual drawings.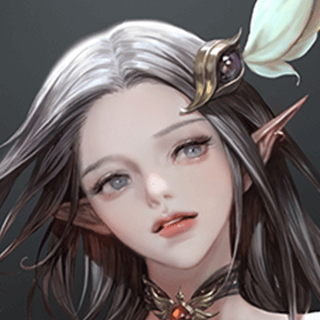 Illustrator,
NESSI
[Current]
Freelance Illustrator
Recognizable
Projects & Awards
[Projects]
Lion Heart Studio - New Project
NCSOFT - Z/A2 Project
NEXON - Final Fantasy 11 Mobile
NEXON - Devcat - Mabinogi 2 / Mabinogi Duel / Ringtoss World Trip
NVIUS - Echo of Soul Online
seed9 - Magyechon Online
Npixel - Gran Saga
Netmarble - Seven Knights 2
Nexon Red - New Project
NCSoft - Lineage Red Knights
NCSoft - Blade & Soul Mobile
Yoozoo Games - League of Angels
SkyPeople - Final Blade
APPLIBOT - Trading Card Game
Entermate - Soul of Heroes
Zeonix - Fantasy Masters: Trading Card Game
Bluehole - X-Agency


Instagram
Even if You've Never Used Photoshop Before, That's Ok
Learn the essential concepts for Photoshop work, including keys and layers, drawing pictures, and the editing process.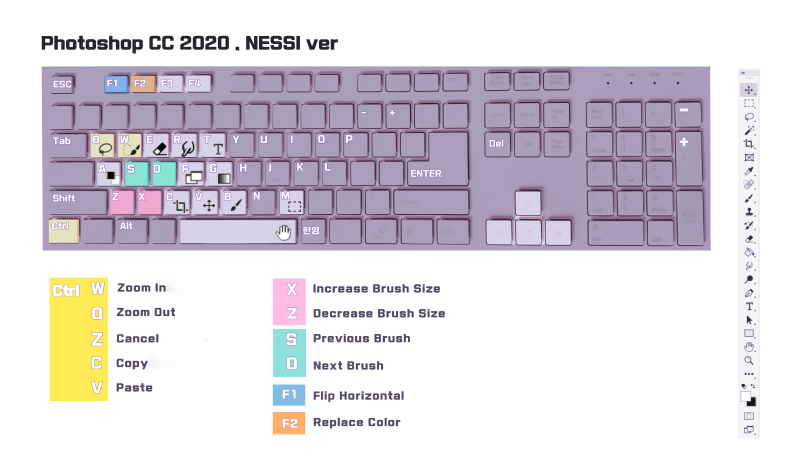 Make Your Own Characters Using the Basics of Art Theory
Each lecture explains the basics of art theory through the curriculum. Create your own character and feel your skills improve.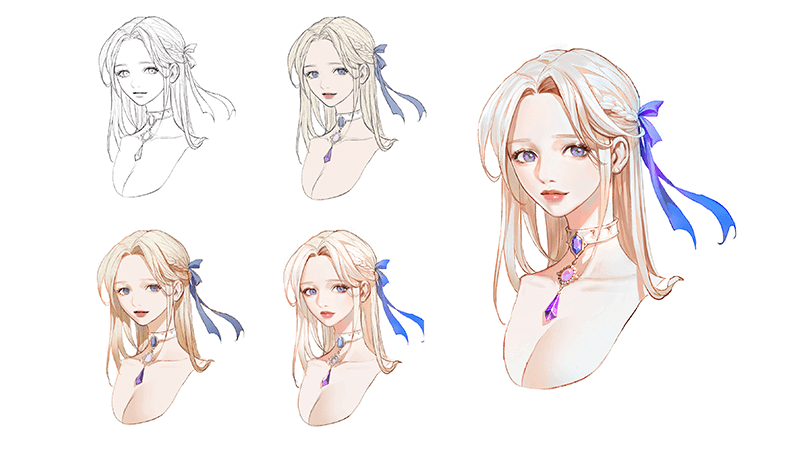 An Illustration Class Where You Can Learn Through Practice
Get results from each lecture by performing tasks suitable for the curriculum, such as adding skin to a skeleton, coloring using color boxes, and repeating the practice to make NESSI's insights your own.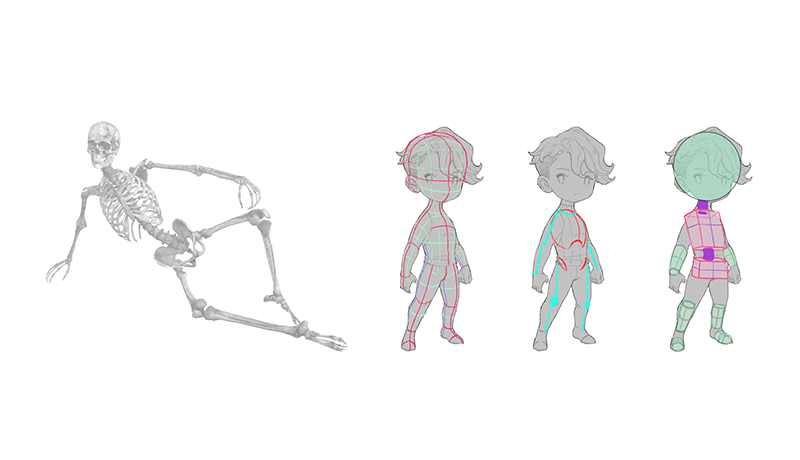 Class Details
You'll Learn


Utilizing Photoshop Tools

We will cover the basic of digital drawing by learning how to properly utilize the brush and learning of the essential tools required.

Master the Basics by Learning How to Use Lines Effectively

You will learn about using different brushes, line thickness, and how to make the best use of a line by adjusting pen pressure.

Understanding Luminosity & Contrast

Learn about brightness through volume, design, and shadow area distribution using the 4 stages of tones and how to finish it off with a substantial color.

Understanding High and Low Angles

Learn how to use high and low angles to draw characters from the desired angle.
Express Natural Movement Using Rhythm Lines and Perspective Boxes

Set the movement framework with rhythm lines and express natural movements using perspective boxes.

Coloring Like a Professional

Learn about shadowing after combining colors, combining colors after shadowing, glazing, and color boxes to complete coloring in simple, easy ways.

Application to Different Body Types

If you've only drawn one type of character, learning fundamental skills allows you to draw any body type using the déformer to make use of different shapes.

Learn about silhouettes, transparency, creases, materials, and shadows to dress characters how you want!

Create Your Own Character

Complete your character portrait using the theories and processes you've learned, such as lines, the human body, brightness, coloring, and materials.
Unlimited Access
Best Price
Buy now, get unlimited access.
(자동 구성) 가격이 인상됩니다.
This special offer ends soon.
Buy now and save!
SECTION 01. Utilizing Photoshop Tools
01. Photoshop Accessories: Explanation & Comparison
Pros & Cons: Cintiq, Mobile Studio Pro, Intuos, and iPad
Finding the right accessories for youself
The settings most companies use
02. Exploring Photoshop & Its Functions
Figuring out the basic interface
Understanding the essential shortcuts, layers, and learning how to modify shortcuts
Run through on image sizes, resolutions, RGB/CMYK, and extensions
03. Drawing with Photoshop
Brush, Lasso, Gradient, Mask
The lock function, symmetry, shapes, etc.
04. Smoothing with Photoshop
Filters, layer effects, clone stamp
05. Editing & Modifying with Photoshop
Crop, resizing images, liquify, warp, fonts
06. Photoshop Tips
Action key, history states, changing memory allocation, changing brush settings
Saving and loading my interface settings
Creating an animation using timeline
07. Bonus Lecture
Explaining the basic use of the iPad PROCREATE app
SECTION 02. Necessary Design Basics
08. Intro
Artist introduction and words from the artist
How to control your focus
Making use of a monthly/daily scheduler
09. Drawing Basics
Understanding the various brushes
How to use lines
Creating three-dimensional figures with pen pressure
10. Practice Drawing What You See
Observing by simplifying and converting the subject into simple shapes
Using a guide grid to practice drawing
Drawing the objects around you
11. Basic Perspective
Studying perspective using figures
Understanding perspective using simple props
Drawing a 3D grid to understand three-dimensionality and planes
Understanding and practicing perspective from a complicated positioning of props
12. Tone + Basic Lighting and Shadow
Understanding tone, brightness and lighting
Applying it to previous drawings of props
SECTION 03. Studying Anatomy for Character Design
13. Basic Understanding of the Face (+Hair)
Basic understanding of facial anatomy
Applying it to different types of faces including casual proportions
Understanding the three-dimensional face using a perspective box
14. Simple Approach to Anatomy
Smart/simple way to study the human body
Introducing different ways to study
15. Basic Anatomical Theory on the Human Body
Understanding the front, 45-degree angle, side, and back proportional structures
Understanding chibi & casual life-size figures using 4 to 5 proportional structure
Hand and feet theory
16. Studying Anatomy Using a Perspective Box
Understanding high angles
Understanding low angles
Creating a three-dimensional human body using a perspective box
17. Studying Anatomy Using Rhythm Lines
Understanding flow and direction using rhythm line analysis
SECTION 04. Designing Attractive Characters Using Costumes and Various Colors
18. Drawing Clothes Onto a Character
Drawing clothes onto a drawing of the human body (1)
Understanding the silhouette and perspective of an outfit
Drawing clothes onto a drawing of the human body (2)
Understanding how to apply wrinkles and shadows
19. Applying Learned Skills to Various Body Types
Understanding déformer using various shapes
Understanding various body types
20. Basic Color Theory
Color wheel
Understanding volume colors
21. Color Box Practice
Understanding base color and point color using the color box
Understanding how the color box changes according to lighting
Understanding shadows and reflected light
22. Color Combination Using the Color Box
Understanding various color combination theories, luminosity contrast, and color mood
Applying color combinations to a previously drawn character
23. Understanding the Application of Color Techniques
Explaining different coloring techniques such as shadow after combining colors/combining colors after shadow/glazing, etc.
Practicing coloring a face after completing its color combination
Practicing coloring a full -body character after completing its color combination
24. Understanding the Materials of Different Objects
Understanding the materials: cloth, leather, silk, vinyl, metal, etc.
Understanding various Brush/Layer effects
Practicing coloring materials on previous drawings of props and illustrated characters
SECTION 05. Create Your Own Unique Character
25. Creating Your Own Unique Character Portrait
Directing a character portrait (upper body)
Expression, gesture, look, pose, prop details
Coloring and adding effects
Final wrap-up: Tips
Interview
with Illustrator NESSI


Question.01
To whom do you recommend this class?


This would be a helpful class for those who are just getting started with Photoshop and drawing, and to those who have invested quite some time but are not getting the expected results, and those who simply wish to master the basics.
Question.02
Would someone who doesn't know anything about Photoshop be able to keep up with the lecture?


Even those who have never used Photoshop will be able to enjoy drawing props and character depictions; color a character's face, full-body, costume, etc. Also, those unfamiliar with drawing the human body, including costumes and coloring, will learn to draw them with confidence.
Question.03
How does practicing the basics help when working on an illustration?


You need to practice the basics to create high-quality results regardless of the style. Of course, practicing the basics could be considered boring since you aren't doing the flashy and cool work you expected. But personally, after 10-years of practicing the basics, I've become a freelancer that gets offers to partake in various collaborations both locally and globally.
Question.04
Would you have anything to say to your potential students?


You'll be able to fix your bad habits using a checksheet while completing your practice exercises with me and learn to give yourself feedback through a scheduler. I've prepared multiple difficulty levels, just in case you get stuck on something while drawing. I'll be your teacher as well as your textbook, the one who will always be here to cheer you on for your future.
Required Programs
This course will use Wacom Intuos and Adobe Photoshop CC. Please purchase and install the latest versions of the programs for an optimized lecture experience.

*These programs and/or materials will not be provided with the lecture.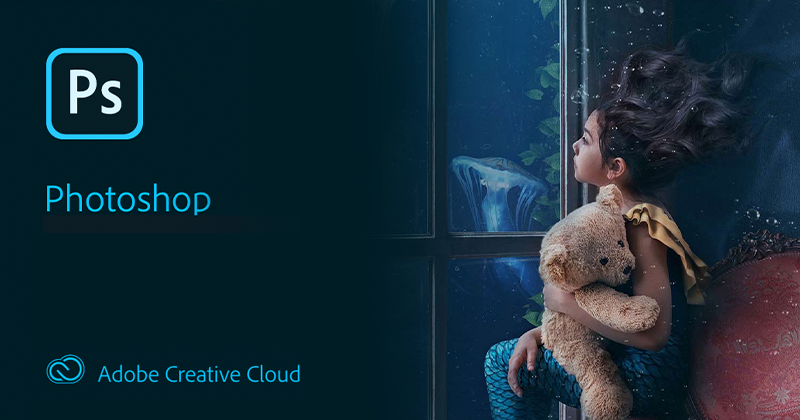 [IMPORTANT NOTICE]

*Please note that the information on this page is subject to change without prior notice.
*Would you like to learn more about our refund policy? Please check here.
*Please check our FAQ for Copyright and Proprietary Rights, User-Generated Content, Security, and Violation information.