[Shortform]Illustrator,Ovotheartist Details
Illustrator, Ovotheartist
Do you feel like your characters
lack personality and charm?

Illustrator Ovotheartist will teach you how to
add in those extra details to everything
from a character's personality to
physical features and facial features.

Learn how to create a
moodboard for inspiration,
draw basic human anatomy,
and detail facial expressions
fit for each character.

Content
Length: 10 videos
Difficulty: Beginner
Unlimited views

Video Details
Audio: English

Software Required
Clip Studio Paint Ex/Pro

Perks
1 Anatomy Sketch .clip
1 Expression Study .clip
1 Final Character
Illustration .clip
1 Customized Grit Pen .sut
1 Final Character
Title Card .png

Expert Illustrator
Ovotheartist's Profile & Portfolio
Who Should Take this Class?

This class is perfect for beginner illustrators
who want to start drawing original characters.

You'll learn expert techniques to
create a unique vibe for your character
that will visually communicate their
personalities & traits.

Add in the smallest details & one-of-a-kind traits
that will make your character stand out,
like features commonly seen in
"tsundere" & "hot-headed" archetypes.

You'll also learn how to select a color palette
and add details that match your character to
make them more appealing.

Drawing Basic Anatomy
(Head, Upper/Lower Torso, Legs)

Creating a Moodboard
For Character Ideation
Drawing Various
Facial Expressions

Creating a Custom Color Palette
For Your Character
Ovotheartist
Illustrator

Hello, my name is Taylor, a.k.a. Ovotheartist.
I'm a self-taught freelance illustrator
who's been practicing art for 5 years.

Although I'm an artist who's constantly learning,
I hope to share what I've learned through
my experiences with you.

I want this class to feel like we're learning together.
Of course we'll make mistakes along the way, but
let's try our best to create captivating characters.

I want to share my process in designing and
creating characters in a way
that doesn't feel so challenging.

Be prepared to create a visual outline and
tackle drawing original characters!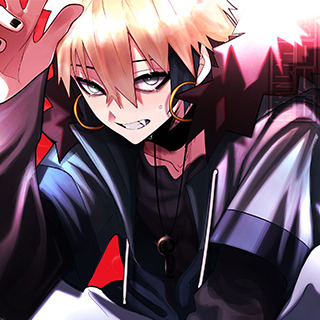 Illustrator,
Ovotheartist
[Current]
Freelance Illustrator
Recognizable
Projects & Awards
Worked for and scouted by Voyceme, Webtoon, and Disney


Instagram
Creating the Vibe of Your Character
Create a unique vibe for an original character that can visually communicate the character's personality and emotions. You'll learn how to use proper colors, sharp lines, and pen pressure to design the character of your dreams. Learn what to look for when referencing existing characters that have a similar aesthetic to the character you want to create.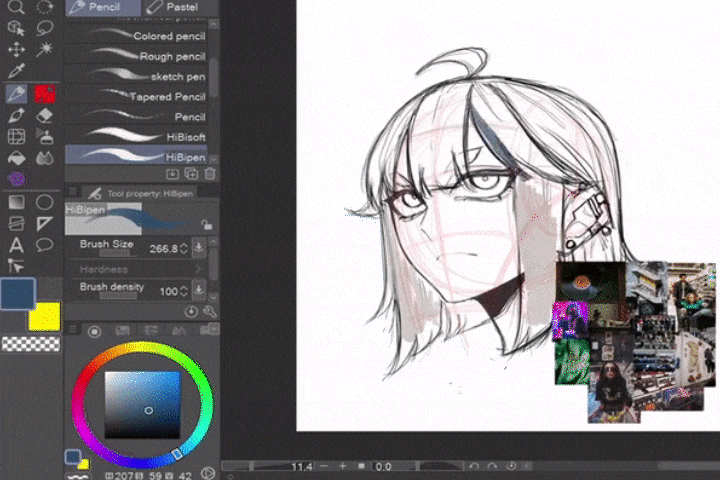 Rendering Your Character
Customize a color palette to color, shade, and highlight your original character. During this step, you'll learn how to add details that match the character's traits. The color palette will set the mood & tone of your character, while shading will add depth and dimension to your character to make them more appealing.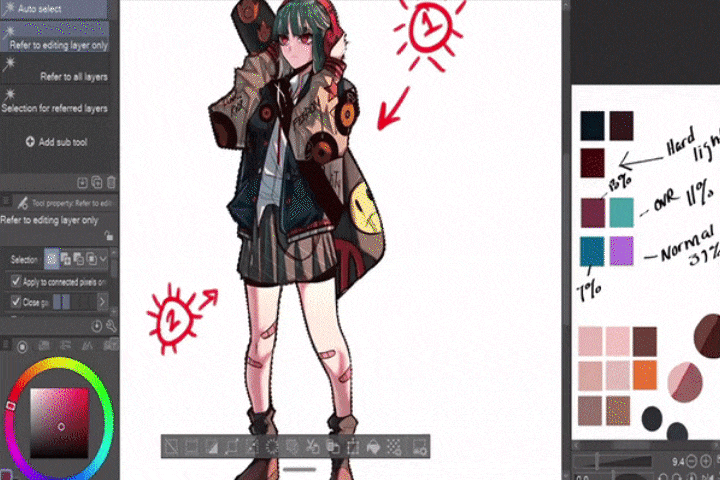 Bringing Your Character to Life
Draw facial expressions that perfectly match your character's personality. You'll learn how to create a character with a dynamic personality, and transform human expressions into anime-style expressions. I'll provide several examples of facial expressions to guide your understanding.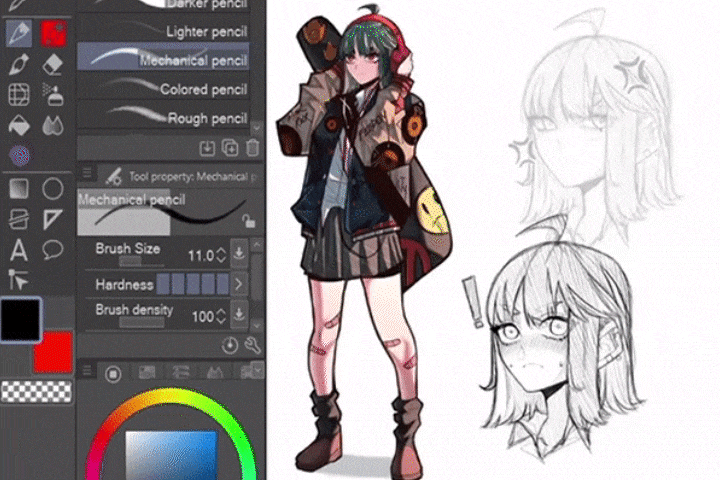 Class Details
You'll Learn
Designing Your Character

The first step of creating an original character involves brainstorming a unique concept. We'll learn how to find references, select color palettes, and determine the character's physical appearance. Once we have a general idea, we'll start from sketching rough concepts for your character. Design the character's overall look by drawing the character's body type and facial features.

Drawing Your Character

You'll learn how to sketch your character in detail and refine proportions and features. We'll add clean lines to your sketch, which will help define the character's shape and make it easier to color. Lastly, we'll render the character, which means shading and texturing to create depth and dimension.

Creating Facial Expressions

Learn how to bring the character to life with facial expressions. Facial expressions convey the character's personality and emotions. We'll learn to draw various eye, nose, and mouth shapes, and combine these parts to create different expressions.
Unlimited Access
Best Price
Buy now, get unlimited access.
(자동 구성) 가격이 인상됩니다.
This special offer ends soon.
Buy now and save!
1. Orientation
Introducing your instructor
What you will learn
Helpful websites and software
SECTION 02. Designing Your Character
2. Basic Anatomy Breakdown
Finding references & poses
Breaking down the human anatomy
Practice drawing the human anatomy
3. Creating the Vibe of the Character
Finding visual inspirations for your character
4. Drawing Clothes on the Character
How to make clothes look natural on your character
How to fit clothes to the character's pose
Adding details to highlight your character design
SECTION 03. Drawing Your Character
5. Sketching Your Character
Use the skills from Section 02 and sketch out your character design
6. Line Art
Explaining pen pressure
How to produce sharp line art
Adding finishing touches to the line art
7. Rendering Your Character
Creating color palettes that match the vibe
Laying down flat colors the easy way
Shading and highlighting
Adding a strong light source
SECTION 04. Bringing Your Character to Life
8. Studying Facial Expressions
Finding references
Transforming human expressions into anime-style expressions
9. Drawing Facial Expressions that Match Your Character
Drawing various facial expressions that describe your character's personality
Matching the character's expression to the full body design
10. Putting It All Together
Adjusting figures on your character sheet to make it look nice
Creating a title card for your character
Adding your character's color palette to your character sheet
**The release date of this class, curriculum images, and associated content can be changed without prior notice.
Interview with
Expert Illustrator
Ovotheartist


Question.01
Is there a specific reason why you chose this topic?


I've been designing & creating characters for quite a while, so I thought it'd be a good idea to share the knowledge I've gathered over the years. I love drawing character illustrations because it's the heart and soul of my illustrations. Without well-designed characters, anime, comics, and manga will be very boring. Focusing on character design, you can learn a range of skills that involve anatomy, color theory, proportions, and more.
Question.02
What makes your class different from other classes?


I don't consider myself a professional artist yet, because I'm always learning and training myself. I'm still one of the smaller artists on this platform so I'm striving for improvement. I hope people taking my class regard me as a fellow student helping another student. Through this class, you'll understand how I create unique characters and the thought process behind my designs.
Question.03
What would be the most important takeaway from your class?


It would be to have fun when learning to create characters! Get in the habit of designing a character before you start drawing, and improve specific drawing skills. I'd also like to mention the importance of creating a character and its facial expressions. Learn how to create compelling characters that display unique personalities by learning anatomy, proportion, composition, and expressions.
Required Programs
This course will use Clip Studio Paint EX/Pro.
Please purchase and install these program(s) for an optimized lecture experience.

*These programs and/or materials will not be provided with the lecture.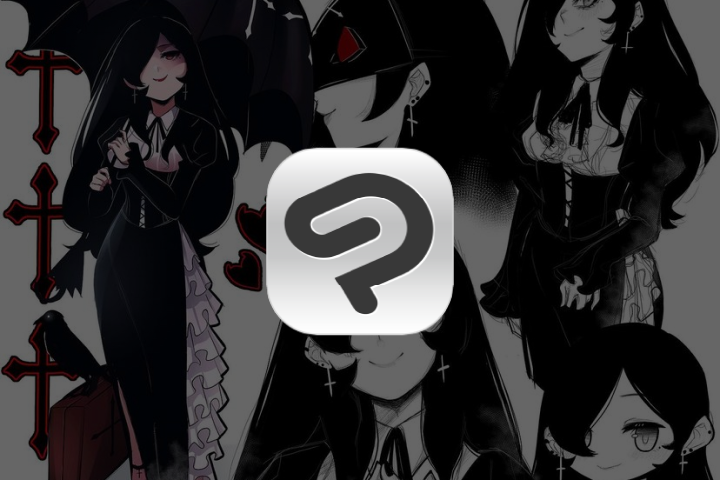 Recommended Classes
Like this class?
Then check these out!
[IMPORTANT NOTICE]

*Please note that the information on this page is subject to change without prior notice.
*Would you like to learn more about our refund policy? Please check here.
*Please check our FAQ for Copyright and Proprietary Rights, User-Generated Content, Security, and Violation information.