[TIMEATTACK][Shortform]Illustrator,NickoFebriansyah Details
Illustrator, Nicko Febriansyah
Learn to design creative and well-balanced characters
by shadowing my methodical approach to character design.

Want to see how you could make your
design process simple, fast, and easy?

I'll provide a step-by-step guide for everything
including creating mood boards, drafting silhouettes,
sketching, inking, coloring, and lighting & shading.

Content
Length: 8 videos
(4h 35m)
Difficulty: Basics


Video Details
Audio: English
Subtitle: English
(In Production)

Software Required
Clip Studio Paint Pro

Perks
- 4 working files
(including class working file)
- 4 Final Illustrations
- 3 speedpainting videos
Expert Illustrator
Nicko Febriansyah's Profile & Portfolio
Nicko Febriansyah
Illustrator

Hi! I'm Nicko Febriansyah,
but you might know me as "Nokoffee" on Instagram.
I am a freelance character designer
and I redesign well-known characters for fun.

I am known for my character illustrations,
and you might have seen my redesigns of characters
from Disney, Adventure Time, and Ben 10.
If you're wondering how I created designs like that,
you're in the right place!

In this class, you will learn all the basic skills
required to illustrate well-balanced characters
and even practice pushing your creative boundaries.
I will show you how to practice problem-solving skills
to make this seemingly difficult process
simple, fast, and easy.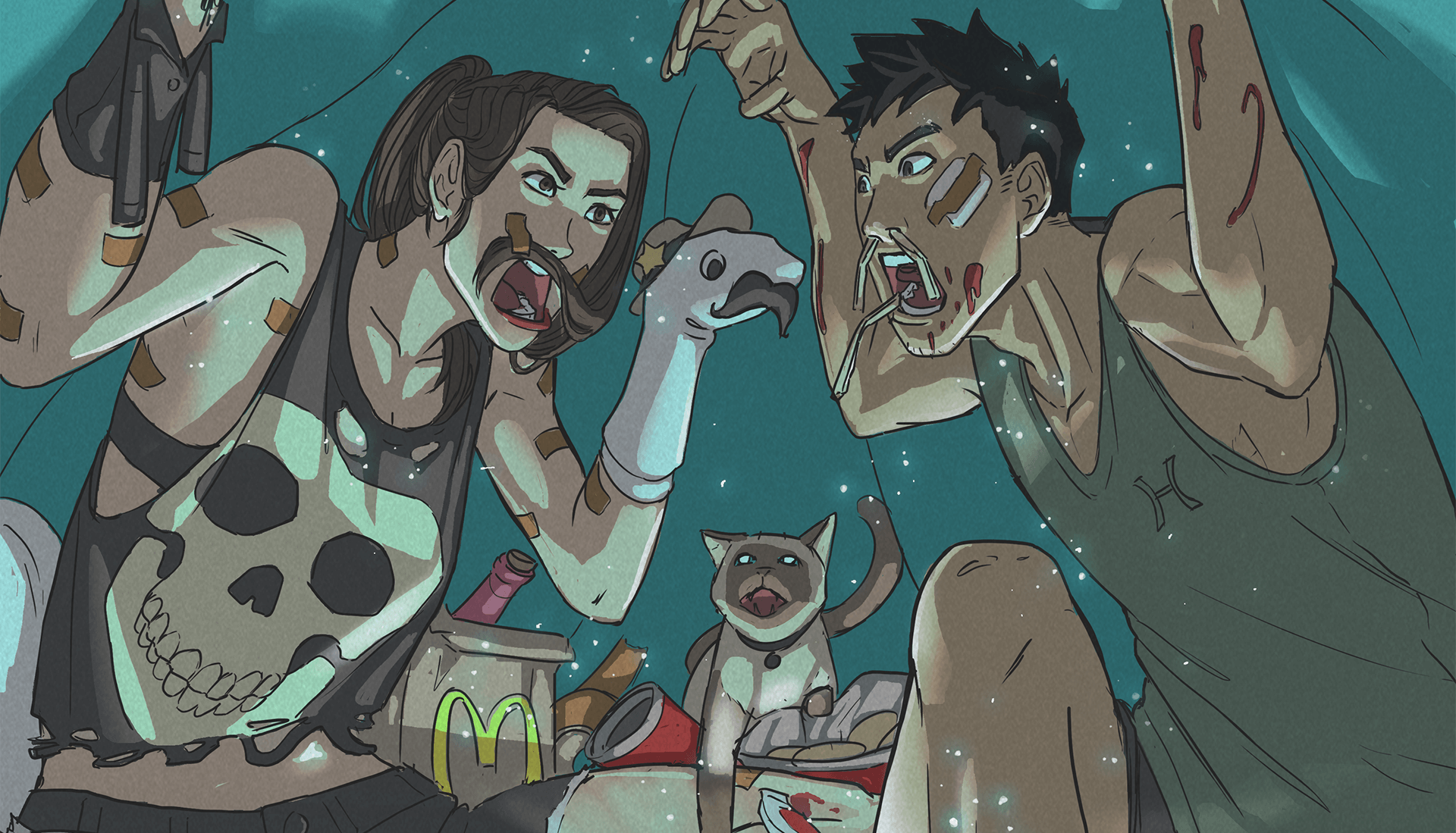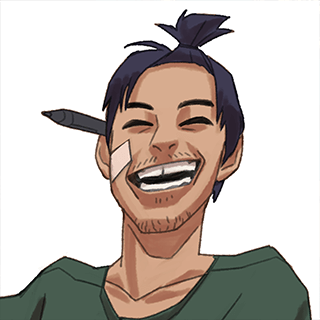 Illustrator
Nicko Febriansyah
[Current]
Freelance Character Designer & Illustrator
Recognizable
Projects & Awards
Character Redesign Project
"Peace Was Never an Option"


Instagram
Ideas for Problem Solving
Guess what needs to be done first when designing characters. Yep, problem solving! Basically, we're going to break down the ideas and story of your character to better understand the most vital aspects before jumping into the design part of the process.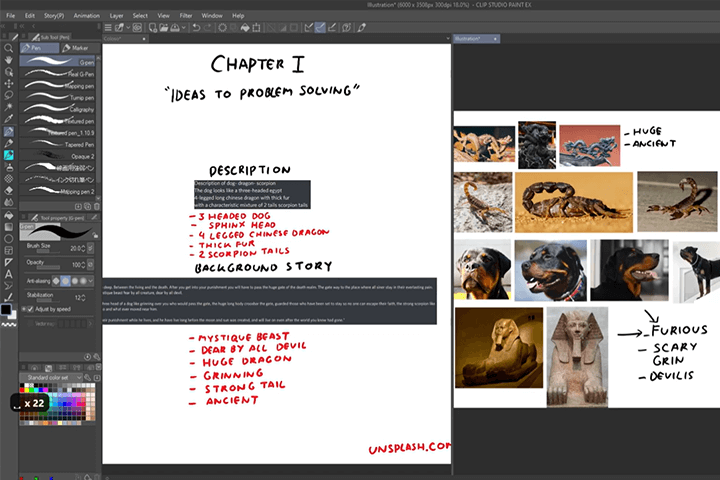 Solution to Creation
After gathering all the data, we will start the fun part! We will create your character design based on the data we've gathered. This includes everything from creating a fun silhouette to a final design.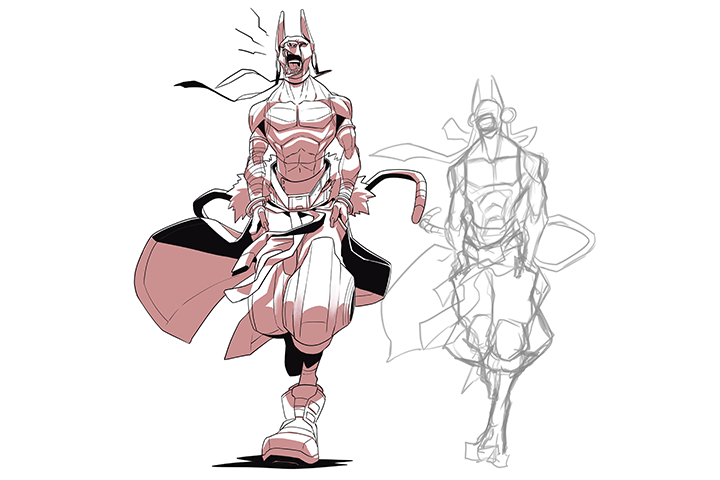 Colors for Details
This will be an important step for adding personality to the character we are creating! We will be selecting then applying the best colors, lighting, and touch-ups. The colors will help represent the ideas and story you've intended for your character setup.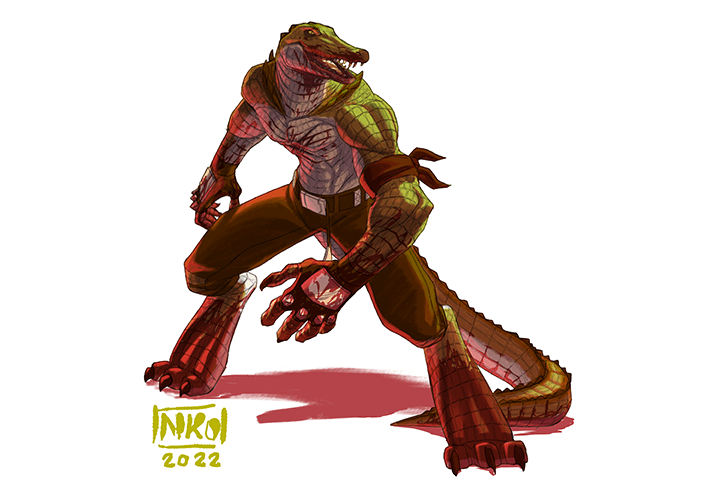 1. Orientation
Introducing your instructor
What you will learn
Helpful websites and software programs
2. Problem-Solving Ideas
Generating a story and ideas for a character
Breaking down character ideas into keywords
Searching references from the important keywords
Compiling references together
Making a list of the character's strengths and weaknesses
Pinpointing references for the focal point of a character
SECTION 03. Solution to Creation
3. Different Composition Guides
Rule of Thirds
Center composition
Golden ratio
4. Frames and Orientation
Vertical and horizontal frames
Edges and borders
Ways to frame your drawings
5. Perspective is simpler than you think!
What is eye level
What is a vanishing point
Determine the perspective lines
Finding the right perspective for your drawing
6. Perspective Variations
Multiple"point" perspectives
Vertical angles
Field of view: wide-angle or telephoto?
7. Creating Space
Zigzag arrangement
Three-layer composition
Overlaps and obstruction
8. How to Utilize Perspective When Creating an Illustration
How to use perspective grids in Photoshop
How to use perspective grids in Procreate
When to obey/defy perspective rules
**The release date of this class, curriculum images, and associated content can be changed without prior notice.
Interview
with Expert Illustrator
Nicko Febriansyah


Question.01
Is there a specific reason why you chose this specific topic/themes?


From what I've seen on social media, numerous character artists, especially new ones, have trouble balancing out their character illustrations. Many tend to overcomplicate their character design making the balance break even more. Noticing this is what drove me to choose this class topic in particular. After continued practice, I've learned how to tackle this challenge and have even adapted a good working process to make this fast and easy. I am ready to share my one, simple method to help other artists create a balanced design.
Question.02
What makes your class different
from other classes?


In this class, I will not be going over too much theory. I'm going to introduce a more practical, faster, and logical approach to help character artists understand how I create balanced character designs. Understanding my method and practicing it alongside my exercises will help make this process simple, fast, and easy.
Question.03
What would be the most important takeaway from your class?


The most important takeaway from my class would be the new mindset and approach to drafting character designs. I will help character artists understand the importance of methodical design and encourage them to adopt different mindsets when planning, sketching and coloring their ideas. The methodical method is not only simple but also fun as it will help bring the artists' creativity to another level.
Required Programs
This course will use Clip Studio Paint Pro.
Please purchase and install these program(s) for an optimized lecture experience.

*These programs and/or materials will not be provided with the lecture.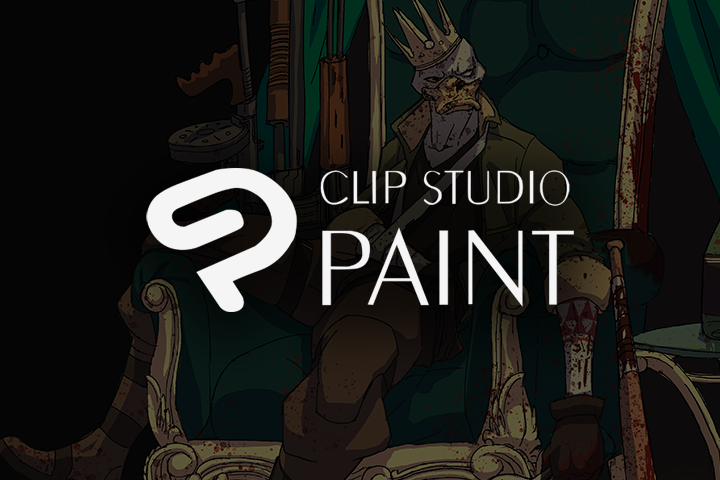 Recommended Classes
Like this class?
Then check these out!
[IMPORTANT NOTICE]

*Please note that the information on this page is subject to change without prior notice.
*Would you like to learn more about our refund policy? Please check here.
*Please check our FAQ for Copyright and Proprietary Rights, User-Generated Content, Security, and Violation information.