[Class]LuhanWang&YaoyaoMaVanAs Details
Bring Your Imagination to Life
Using Backgrounds & Props
If you want to learn about the fundamentals
of scene & prop design, this class is perfect for you.
Start learning from the basics, such as illustrating
and adding objects to a space, with the help
of two expert illustrators!

Take your design skills to the next level
by learning how to turn ideas into a rough thumbnail
using references, perspective lines, and rough line passes.
All while learning everything from sketching
to final touches, including cleaning up lines,
coloring, lighting, and final rendering.

This class serves as a guide
to how different lines are used
for perspective, scaling, and composition.
Then continues into a breakdown of how to add
values through color, light, shading,
and rendering so you can make
beautifully illustrated scenes.

Content
Length: 23 videos
Difficulty: Basic Level
Unlimited views

Video Details
Audio: English

Software Required
Adobe Photoshop CC
(minimum CS3)

Perks
Luhan Wang
- 5 Working PSD files
- Photoshop Shortcut Tips

Yaoyao Ma Van As
- Shortcut Keys PDF
- 9 Class Summary files
- 2 Final Illustration (Day & Night)
Everything You Need to Design
and Illustrate Background Concept Art
Working with a Perspective
Grid for BG
Adding Light & Mood (Nighttime)

Changing the Mood (Daytime)
*These are sample images for better understanding.
Core Skills
For This Class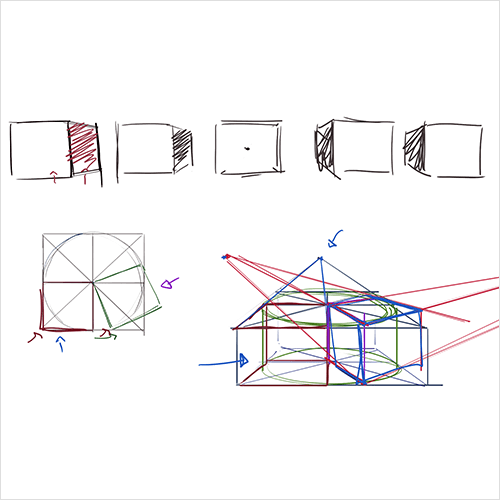 The Basics of Scene Design
This class starts with the very basics. We will discuss how to illustrate a space using horizon lines and vanishing points. Then go over common and uncommon perspectives for an image and how to rotate an object within a space.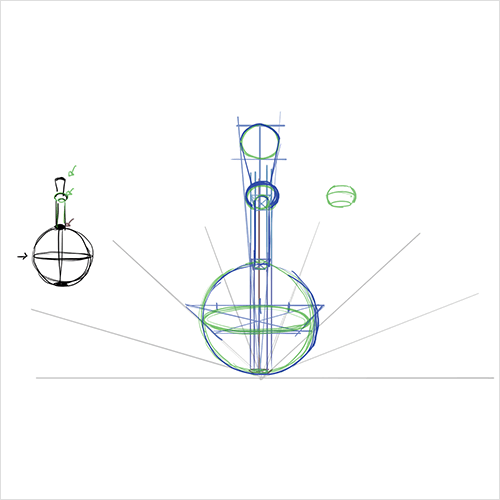 What's in Your Scene?
Look around your room. There are things of various shapes and sizes everywhere. You can illustrate even the most crowded room once you understand the relationship between shapes, sizes, and perspectives. This class will teach you how to observe and draw simple and complex objects with your intended scale and perspective.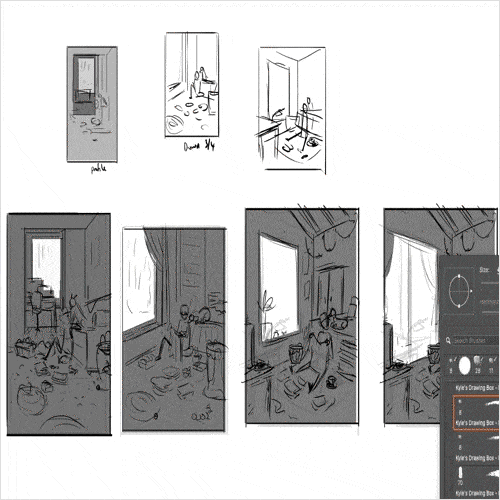 Room of Imagination
You have already learned how to look at the trees, now let's take a look at the forest. We will start with an idea and turn it into a rough thumbnail using references, perspective lines, and rough line pass. Learn to tighten up your design with different objects and characters you want to put in the scene.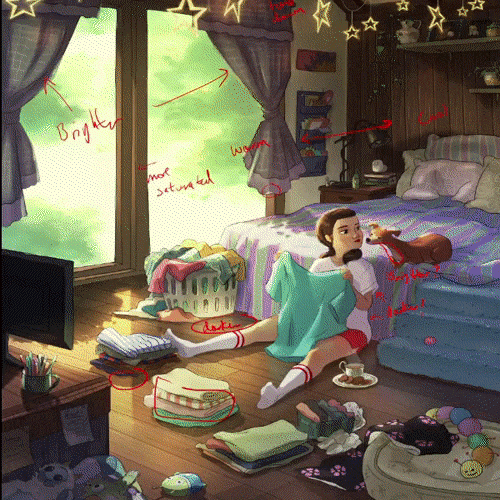 Sketch to Final Touches
What steps come between the sketch and final touches? You will get a step-by-step guideline, starting from a sketch and going into cleaning up lines, coloring, lighting, and final rendering. If you think your illustration looks unfinished, this is your chance to see how professional illustrators polish and clean up their work.
*These are sample images for better understanding.
After Finishing
This Class

This class offers a step-by-step guide
to everything from fundamentals
of environment design to scene concept art.
Explore different techniques and skills
used to portray simple and complicated objects,
combine them and put them into a scene.
By the end of this class, you will be able to
tell a story using the elements within your illustration.

Roadmap
A Complete Guide to Story-Telling Illustration
This CLASS has been carefully constructed
by the education experts at Coloso to provide a curriculum
that will help customers prepare to enter the industry.
Lines
This class will show you the different uses of lines within an illustration, including how lines are used as guidelines for perspective, scaling, and composition. Also, you will learn how to clean up a rough sketch and create an illustration with crisp and clean lines.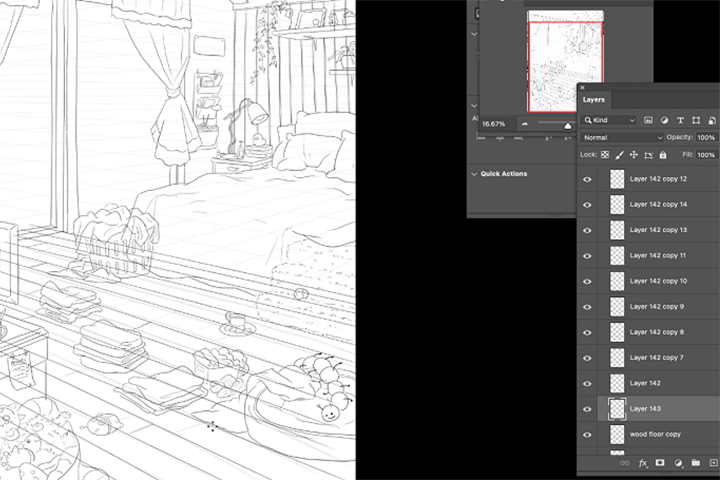 Space
How would you like to fill the space? Use references and your imagination to design a space with objects of various shapes and sizes. Once you understand how to use your space, you can scale and position those objects and characters to make a story-filled illustration.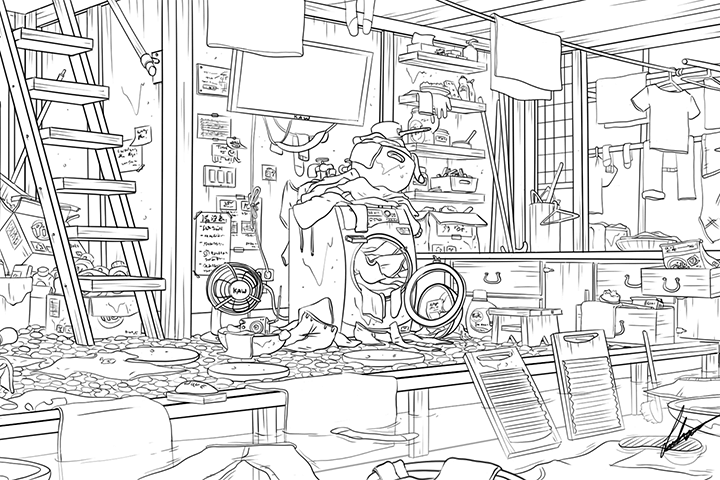 Values
You will learn to add values once you have illustrated the lines of a scene. This class will help show you how to add value through color, light, shading, and rendering while revealing how different values completely change the atmosphere of a piece. Once mastered, you will play with the values of elements and see how it affects the story and mood embedded in the illustration.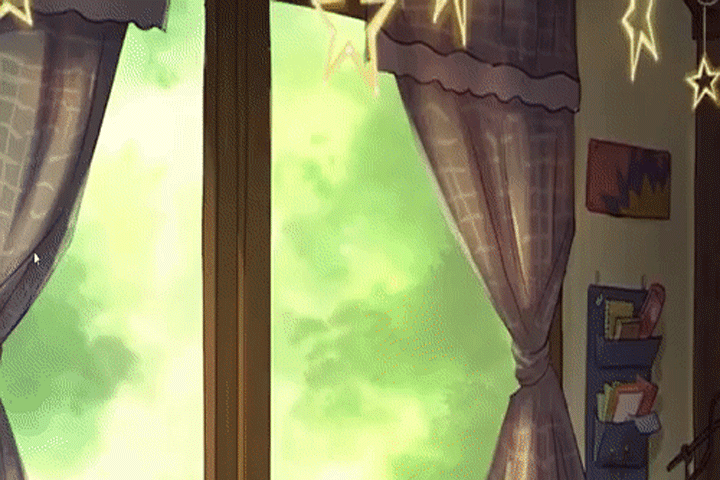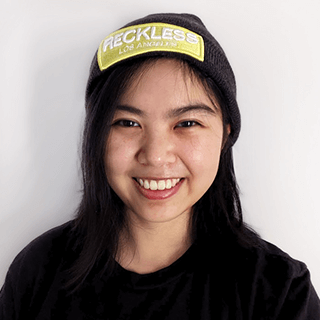 Illustrator,
Luhan Wang
[Current]
Visual Development and Concept Artist at Eidos Montréal
Recognizable
Projects & Awards
[Notable Work]
Dr. Seuss - Green Eggs and Ham: Layout Artist (Season 2)
Summer Madness: Layout Artist for Angry Birds -

[Previous]
Yowza! Animation Corp: Layout Artist
Nickelodeon: Background Designer


Instagram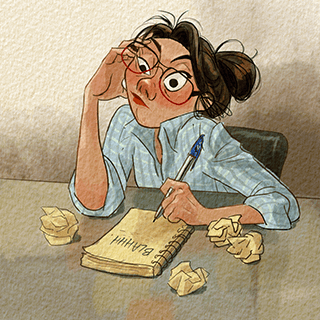 Illustrator,
Yaoyao Ma Van As
[Current]
Disney: Animator
- Zootopia & Strange World

[Previous]
Freelance Illustrator
Art Director
Animator
Painter
Recognizable
Projects & Awards
Warner Bros: Painter - Green Eggs and Ham (Season 1)
Stoopid Buddy Stoodios: Art director - Hot Streets (Season 2)
Starburns Industries: BG Designer - Animals. (Season 1)
Solar Opposites: Art Director (Season 1 & 2)
Disney TV Animation: Painter - Wonderful World of Mickey (Season 2)
Future Worm: Painter (Season 1)
Rick and Morty: Painter (Season 2)


Instagram
Class Details
You'll Learn
Setting Up the Horizon Line and Vanishing Points

What kind of perspective are we using? What is our camera angle? What amount of space do we want to show? What's a better way to tell our story? All these questions have different answers depending on how we use our first set of key tools. We will look at the horizon line and vanishing point(s) in order to understand their functions and help kickstart our drawings.

The Movement of Objects in a Space

If you look at the space around you, you will quickly notice that not everything is perfectly parallel to each other or organized in a pristine manner. Throughout this course, we will learn what role perspective plays in various transformations of an object, and how to achieve them, while maintaining the same shape and form.

Structure Behind Every Detail

When creating an environment, it's vital to double-check that the objects we are adding into our space feel believable and have the desired structure. Throughout this course, I will teach you the basics of building correctly structured objects, making sure that every part of an item is sitting properly in its place.
First, we will learn to establish an idea and story. This is probably one of the most essential steps when drawing a scene that conveys a story, mood, or feeling. I'll share my ideation process and show you how to find and select references from the web. It is vital to pick out specific aspects of the collected reference images. Finding images isn't difficult, but putting them together and selecting which parts can be used as a reference for your illustration is.

Once the idea is in place, we will start roughly sketching the background and character to better envision our composition. After the sketching phase, I sometimes go straight into painting the background without doing a clean line pass, but during this class, I will go through the line pass process to give you a more detailed run-through. This process might be time-consuming, but it is necessary when creating a neat illustration.

Coloring and lighting are core parts of this class: after the line art is complete, we will learn how to add local color, followed by lighting to bring it all together. During this phase, we will set the mood and convey all the emotions we want to express. I've added an extra special section where we examine and discover how differences in lighting can change the mood.
Unlimited Access
Best Price
Buy now, get unlimited access.
(자동 구성) 가격이 인상됩니다.
This special offer ends soon.
Buy now and save!
01. Let's Take Down Big Boss Perspective, But First, Coffee!
Introducing your instructor (portfolio, work experience)
What is perspective + a breakdown of the course
Helpful Photoshop tips and tricks for drawing perspective
02. What's in your Satchel: The Tools You'll Need
Explaining what a horizon line is and how to use it
What are the vanishing points in relation to the horizon line and how to place them
03. First Encounter: The Three Witches
What is one-point perspective
What is two-point perspective
What is three-point perspective
04. Your First Ally: The Cube
Creating cubes using different vanishing points
Rotating the cube in space
Some other uncommon perspectives
SECTION 03. Building Objects
05. Building a Sword: Simple Objects
Drawing a desk
Drawing a sword
06. Enchanting the Sword: Complex Objects
Drawing an ellipse in perspective
Drawing a mug
Drawing a potion bottle
07. The Path to the Boss: Receding into the Horizon
What is a scale and why is it important
How to maintain the scale of an object as it moves in perspective
SECTION 05. Putting Theory to Use
08. Sleight of Hand: Tricking the Boss
Organic objects
Using perspective in a loose way
09. Charging your Spell: Visualizing the End Result
What is composition and why is it important
Guiding the eye
Rule of Thirds
Managing the flow of the scene
Thumbnailing
10. Victory is yours: Creating a Room
Choosing your perspective
Establishing the horizon line and vanishing point(s)
Blocking in the room
Creating your base using simple shapes
Resolving simple shapes into objects/structures
11. Hi! I'm Yaoyao.
Introducing your instructor
What you will learn
Helpful websites and software
12. Ideas, Useful Tools, and Rough Comps
Coming up with an idea you're interested in with mood and contrast in mind
Photoshop tools I use the most
Rough thumbnails to pick a composition
13. Reference Gathering
Using references for specific objects in a scene
Using references for mood and lighting
One more rough thumbnail before picking a reference
14. Rough Line Pass
Tightening up your design
Using references to do a rough line pass
SECTION 08. Tying Down the Illustration
15. Character Sketch
Pushing poses
Strengthening storytelling
16. Value Pass
Figuring out the values and atmosphere
17. Background Clean Up
Finalizing your lines: deciding whether to keep lines or not
Clean it all up and get ready to color
18. Character Clean Up
Finalizing lines for your characters
SECTION 09. Bringing It All Together
19. Local Color Pass
Starting with a pre-lit color scheme
Keeping layers neat and organized
20. Lighting Pass
Deciding the time of day and/or mood
Adding various lights and textures
21. Alternating Time of Day
Change the mood with different lighting & times of day
SECTION 10. Final Touches
22. Final Fixes
Adding in final polish and details
Quick cleanup pass and tweaks
23. Tips, Insights, and a Farewell Message
Tips and experience from the industry
Farewell
Interview with
Luhan Wang & Yaoyao Ma Van As


Question.01
Is there a specific reason why you chose this specific topic/themes?


Luhan
Perspective is a major player because it parallels how we see the world. With perspective, we can finally have a sense of depth and space. We get to understand an object's relation to another and feel its volume. While this notion might be a bit harder to understand than other drawing theories, I really hope that I can help people get past the confusing, intimidating first chapter of learning perspective because it will help unlock so many possibilities in terms of artworks and art styles.

Yaoyao
As an illustrator, my job is to invent a world for the viewer to exist in temporarily, and what makes my class different is that I teach you my process for developing worlds that intrigue the viewer. I chose this topic because while many people can draw well, conveying a story and capturing the right mood within that image is a very tricky task for many artists. I want to share my process for capturing the mood, story, and purpose within every part of the canvas. I also want to offer the insights I've obtained in my 10 years as an animator, art director, background painter, and illustrator in films, television, and print media.
Question.02
What would be the most important takeaway from your class?


Luhan
For individuals starting off with the traditional notion of perspective, I am hoping that they can understand its importance and the basics of its function. While achieving a perfect perspective is not something we are seeking right off the bat, it is definitely still beneficial to understand the simple reasoning behind it. As beginners, of course, we all have to go through the basic theory and the proper ways of doing perspective, but our primary goal is to really understand it accurately so that we have enough knowledge to practice and draw out simple environments.

Yaoyao
The most important takeaway of my class is how to inject a story into a piece using different disciplines (line work, layout, color, lighting, etc). An illustration should be able to deliver a story using elements such as props, characters and their expression, and environments. It could be subtle or immediate. If you could understand how to combine all of those separate elements together into a single finished work, you have learned all the key points.
Question.03
Please share your thoughts on the industry's job market and where you see it going in the future or let us know about a must have skill in this industry and why.


Luhan
I think it is your attitude to get back up even after moments of struggle. In my humble opinion, perspective is one of the art fundamentals that need to be understood and applied for the creation of believable environments. However, if we strictly take a more traditional approach to art and storytelling, we often lose faith as we get increasingly confused by the sheer calculations we need to do to achieve that. In challenging situations like these, I believe it's best for us to go back to where we all started and see what inspired us in the first place from a fresh perspective. So, I assume my classes could even prove helpful to those who lost their way on this journey to mastering perspective.

Yaoyao
The commercial art industry is a very volatile space, but luckily with the current landscape of streaming, video games, and movie franchises, there have perhaps never been more options out there. The trick is to be nimble, willing to learn, and able to adapt. Constantly honing your skills is crucial not only for the longevity of your career but for your enjoyment of it as well! That is why online learning platforms are a vital tool for artists to continuously develop the skills needed to not only stay employed but to have the freedom to pick projects that fulfill you creatively.
Required Programs
This course uses: Photoshop
Please purchase and install these program(s) for an optimized lecture experience.

*These programs and/or materials will not be provided with the lecture.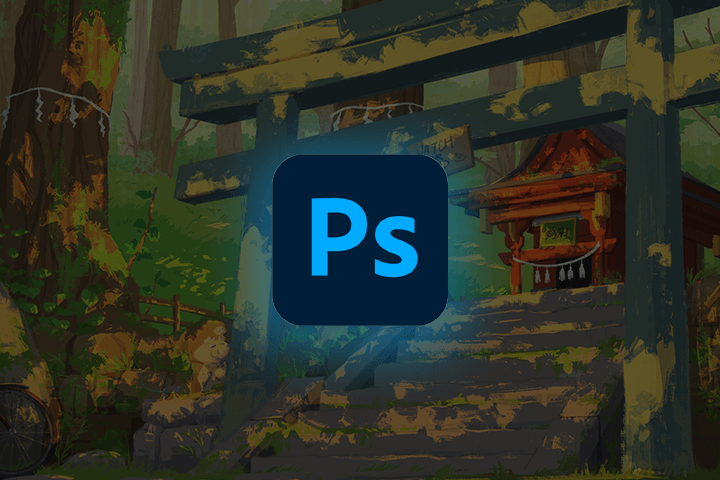 Recommended Classes
Like this class?
Then check these out!
[IMPORTANT NOTICE]

*Please note that the information on this page is subject to change without prior notice.
*Would you like to learn more about our refund policy? Please check here.
*Please check our FAQ for Copyright and Proprietary Rights, User-Generated Content, Security, and Violation information.