[Summersplash][Shortform]Illustrator,Luc Details
Master the art of drawing atmospheric
anime-style backgrounds with immersive perspectives.

Do you want to make captivating backgrounds
that embody ambiance and emotion within a scene?

Learn how to understand visual flow
so you can incorporate angles and ratios
to frame your backgrounds and use perspective grids.

Content
Length: 8 videos
(5h 16m)
Difficulty: Basics
Unlimited views

Video Details
Audio: English

Software Required
Photoshop

Perks
Curated photoshop brushes
2 exercise PSD files
Expert Illustrator Luc's
Profile & Portfolio
Luc
Illustrator

Hello, I am Luc, a freelance illustrator.
A lot of my current work consists of
background illustrations.

My objective and specialty have always been to create
artwork that makes you "feel" the atmosphere.
That may include everything from the location's
temperature, weather, emotion,
or sounds heard from the scene.

In 2020, I immersed myself in
the world of illustration and the joy of creating.
I experimented with countless
techniques and elements for two years
while surpassing formidable difficulties
and trying to find areas I wanted to specialize in.

That being said, I am still somewhat
new to the illustration journey.
But there's nothing wrong with that.
That means I still remember
how I spent my days as a beginner
and deeply relate to those who have
also just started their journey.

I believe there are a lot of beginners facing
the same difficulties and trials I once dealt with.
So I have decided to share my discoveries and insights
with those who currently stand where I once stood
to guide and nourish their will to create.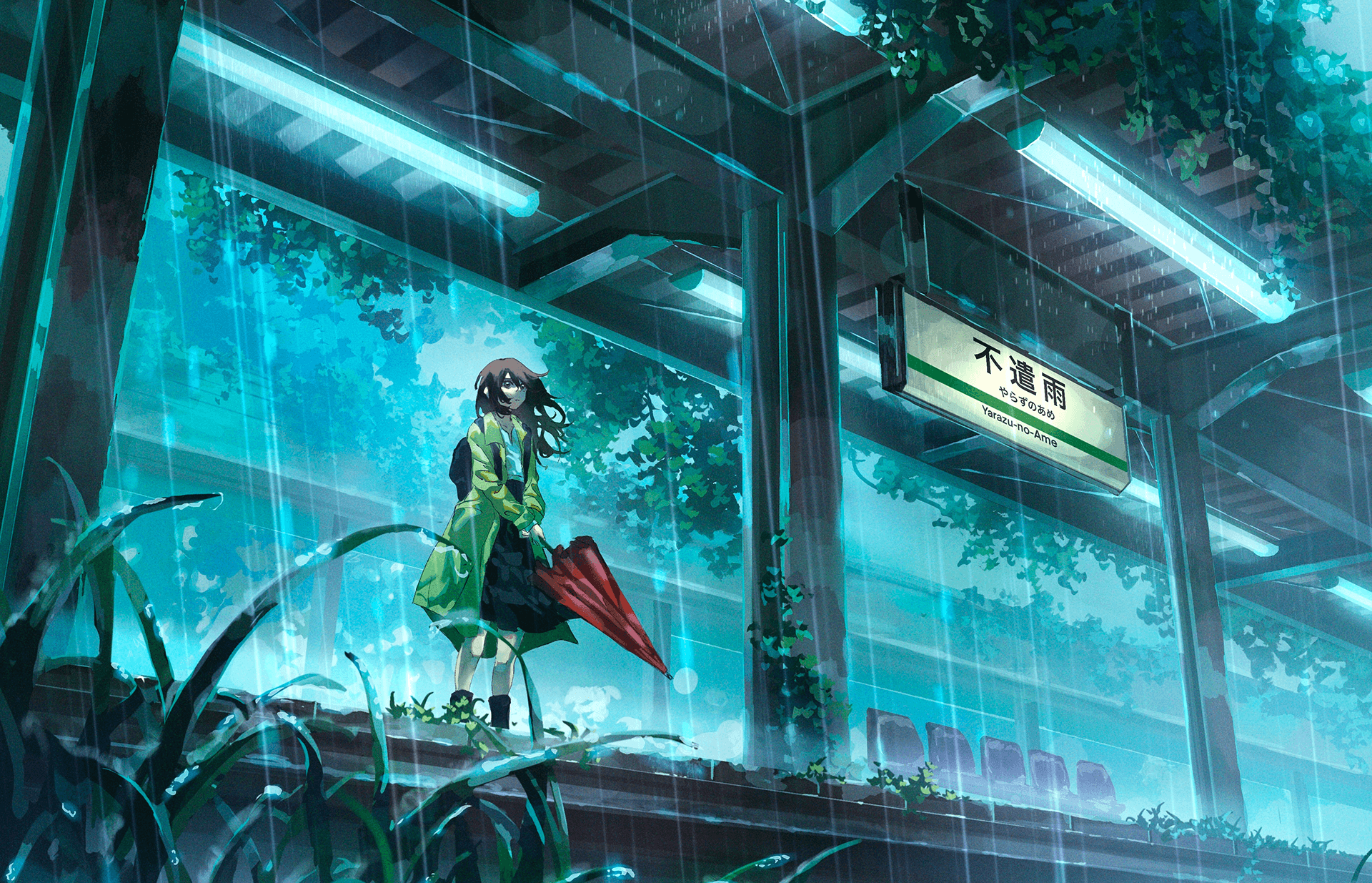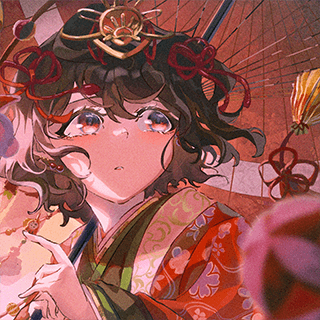 Illustrator
Luc
[Current]
Freelance Background Illustrator
Recognizable
Projects & Awards
[Notable]
Grand Prize Winner of CALPICO® Package Contest (2021)


Instagram
Learn the Logic Behind Composing Artwork
Your main goal when creating artwork is to show what you intended to show. Every placement has a reason and plays a role within the artwork that helps guide the audience's vision smoothly, so their eyes move throughout the artwork the way you planned.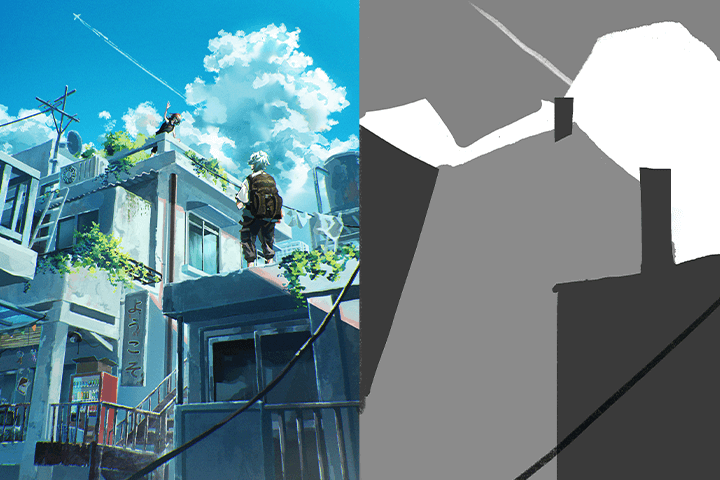 Take Control of Your Perspective
Understand the gimmicks of perspective and apply them to your artwork. The ideal goal is to undo any bias or misunderstandings that people may have towards perspective drawings and use them to their full advantage with more freedom.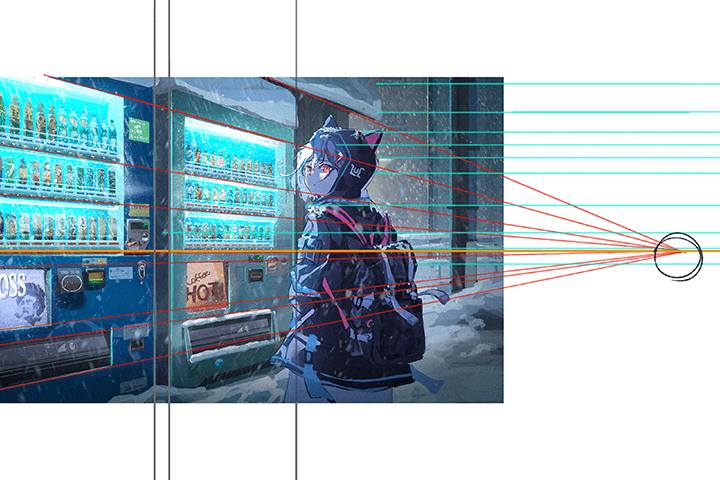 Layout With Leeway
Learn how to freely compose illustrations the way you intend them to look. Draw with freedom, and apply the appropriate fundamentals only for necessary areas. Your drawings will have the visual flow you want.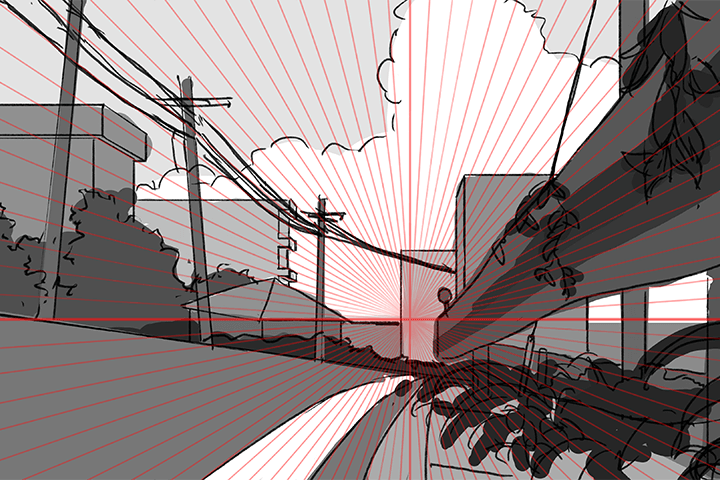 Unlimited Access
Best Price
Buy now, get unlimited access.
(자동 구성) 가격이 인상됩니다.
This special offer ends soon.
Buy now and save!
1. Orientation
Introducing your instructor
What you will learn
Helpful websites and software programs
2. Object Placement
Determine where the drawing's "focal point" is located
Using lines and objects to direct attention to a focal point
Creating empty spaces with a purpose
Rhythmic object placements
3. Different Composition Guides
Rule of Thirds
Center composition
Golden ratio
4. Frames and Orientation
Vertical and horizontal frames
Edges and borders
Ways to frame your drawings
5. Perspective is simpler than you think!
What is eye level
What is a vanishing point
Determine the perspective lines
Finding the right perspective for your drawing
6. Perspective Variations
Multiple"point" perspectives
Vertical angles
Field of view: wide-angle or telephoto?
7. Creating Space
Zigzag arrangement
Three-layer composition
Overlaps and obstruction
8. How to Utilize Perspective When Creating an Illustration
How to use perspective grids in Photoshop
How to use perspective grids in Procreate
When to obey/defy perspective rules
** The curriculum images, and associated content can be changed without prior notice.
Interview
with Illustrator, Luc


Question.01
Is there a specific reason why you chose this specific topic/themes?


I feel that a lot of artists react negatively when they hear the word "backgrounds" as it sounds like a difficult task. And a lot of learning material is filled with complicated jargon like perspective that may leave newcomers confused and aren't sure where to start. From my observation, people tend to stick to drawing characters more, and it's a popular area to focus on: to those people, backgrounds come second, so it naturally becomes a less familiar subject. I was the opposite: my attention went to backgrounds and environments instead, which has brought me insights that I can share to provide familiarity to the subject.
Question.02
What are some "go-to" or "must-have" tools in your industry, and why?


The most obvious tools include painting software and drawing devices, and I recommend an iPad and Procreate combo for beginners who are aren't sure where to start. This is the easiest combo to get started with since it's highly accessible. Must-haves are artbooks and gallery books of your favorite artists or movies that you can reference and get inspired by. Basically, anything that brings you the heat and passion to create is a worthwhile tool. If you can be motivated and driven to draw it is essential.
Question.03
What do you think is the most important trait(s) to success in your industry?


Never-ending curiosity. Artists are a small mix of all careers. When drawing buildings, you're a mini architect, when drawing cars, you're an automotive designer. The more you draw, the more knowledge you stockpile. Your discoveries and research can be an inspiration to your creations and the push of persuasiveness that brings your drawing to life. It is your curiosity and greed for knowledge that make your work truly yours. It's also important not to rush results. Those who took it slow and steady while making lots of detours will have more strengths and weapons to work with than those who walked a straight path and only seek to do the right thing.
Required Programs
Required Programs This course will use Photoshop.
Please purchase and install these program(s) for an optimized lecture experience.

*These programs and/or materials will not be provided with the lecture.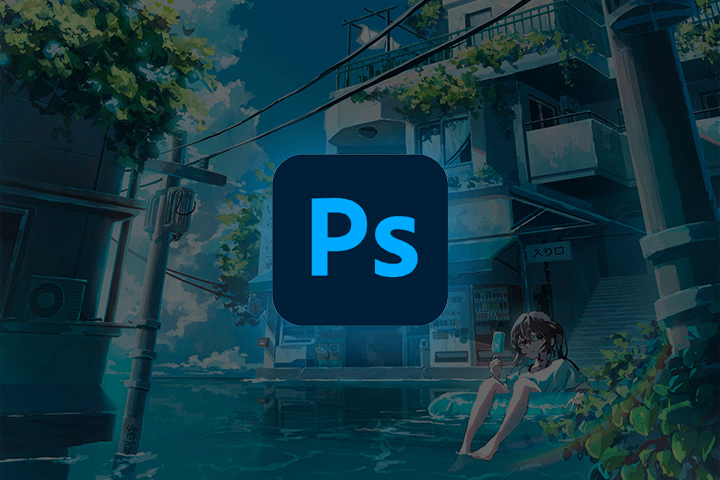 Recommended Classes
Like this class?
Then check these out!
[IMPORTANT NOTICE]

*Please note that the information on this page is subject to change without prior notice.
*Would you like to learn more about our refund policy? Please check here.
*Please check our FAQ for Copyright and Proprietary Rights, User-Generated Content, Security, and Violation information.