[Summersplash][Shortform]GraphicDesigner,MichelleCpy Details
Graphic Designer, Michelle Cpy
Enhance your creativity by creating graphic designs
that deliver unique storytelling emphasizing
visuals, meaning, and emotion.

This class will give you a step-by-step look
at how to curate sentences to create distinct copy,
weave together design with typography,
and visualize it all both directly and abstractly.

Get ready to take your designs
to the next level by learning how to
interpret the messages you want to show
the world through a combination of
words, basic shapes, and illustrations.

Content
Length: 10 videos
Difficulty: Basic
Unlimited views

Video Details
Audio: English

Software Required
Adobe Illustrator 2022
Adobe Photoshop 2022

*Previous versions
(Version CS6 or above)
are also applicable

Perks
Class assets
(textures & typefaces)
Class exercises
Class presentation
Expert Graphic Designer
Michelle Cpy's Profile & Portfolio
Who Should
Take this Class?

This class is great for anyone,
but especially for those who want to
speed up the process of finding
the right style for them.

If that sounds like what you're looking for,
look no further. This class has
everything you need to get started
with graphic design, streamlining
your brainstorming process,
and working with visual elements!

Get ready to start learning
alongside an experienced
graphic designer whose collection
of positive message-filled art
inspires people to maintain
a healthy mindset.

Working with Written Copy

Pairing Typeface Perfectly
Michelle Cpy
Graphic Designer

I'm Michelle Chen, a Malaysian graphic designer
and illustrator. I express my creativity through
mental health, self-love, and self-acceptance.
Using nature-inspired illustrations, diagrams,
and typography, I create personal projects,
digital mediums and physical products with love.

I have worked on projects such as
Adobe Max CoCreate 2022, Ready Mag,
Type Trends Lookbook 2022,
and on a non-profit initiative
called the TypeCampus: Fight For Kindness,
featured in exhibitions all across the world.

Through my class, you will learn how to
visualize copy by interpreting messages
using basic shapes and illustrations
to make your designs more unique!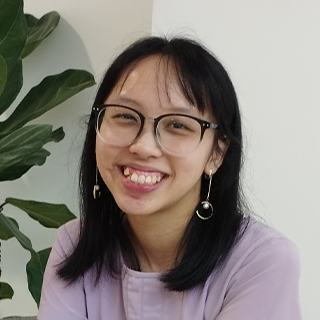 Graphic Designer
Michelle Cpy
[Current]
Freelance Graphic Designer &
Illustrator
Recognizable
Projects & Awards
[Projects]
Adobe Max CoCreate 2022
Readymag
TypeCampus: Fight For Kindness non-profit initiative

[Press]
Adobe Gen Create
Type Trends Lookbook 2022
Intersectional Environmentalist (IE)


Instagram
Working with Distinct Copy
Learn how to highlight and curate sentences in ways that make sense to you. This curated messaging will act as a foundation when creating poster designs. Your messaging will be consistent throughout the entire process, and every step from here onwards will be reflected in your curated copy.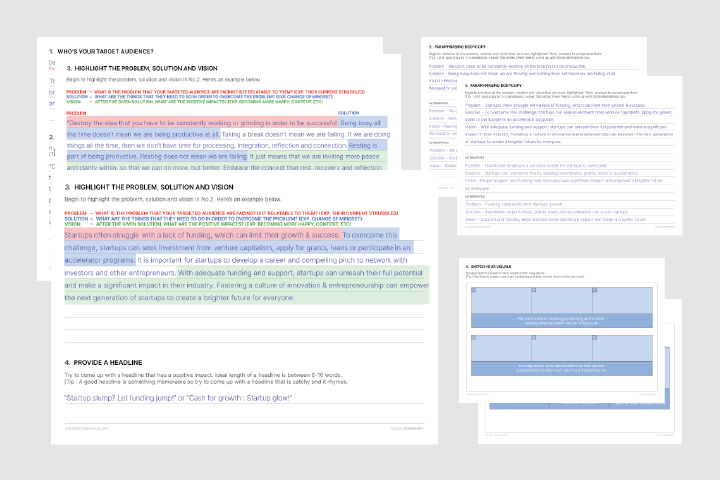 Typeface Pairing
Experiment and play around with typeface pairing. Explore existing typefaces and weave them all together to create one-of-a-kind typography.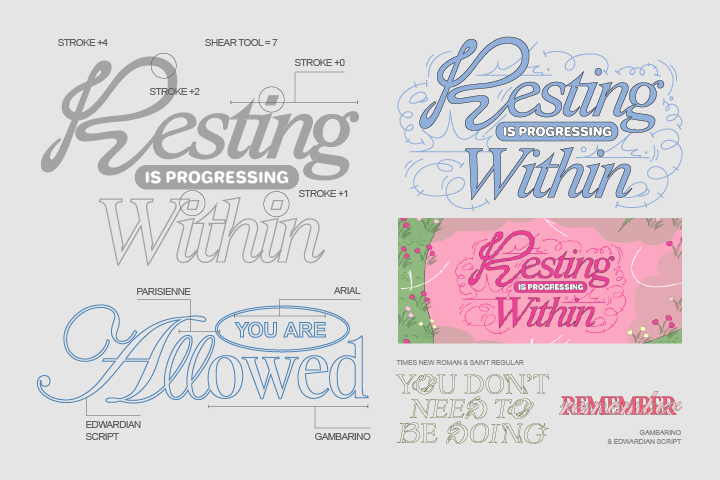 Direct or Abstract Imagery
Visualization
Master the art of visualizing copy either directly or abstractly. Activate your storytelling skills by presenting your visualizations using visual diagrams in various formats.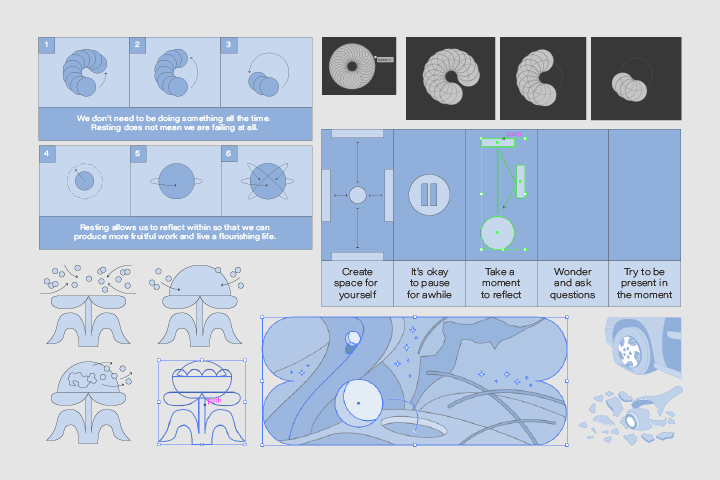 Class Details
You'll Learn
Intro to Graphic Design

We will start with basic graphic design principles and guidelines to help you understand "good" design. The goal of this class is clear—it's built and designed to help you understand the importance of graphic design and help you visually convey your thoughts, emotions, and expressions.

Brainstorming Ideas

Graphic designers don't have to be the best writers; however, they do need to understand the copy to create moodboards. Delivering messages makes up a large chunk of graphic design, and I will show my way to help you with your own.

Working with Visual Elements

Take a look at your favorite poster. What visual elements do you see there? We will cover each visual component: from typeface to illustrations, colors, and textures, to build and complete a design.
Unlimited Access
Best Price
Buy now, get unlimited access.
(자동 구성) 가격이 인상됩니다.
This special offer ends soon.
Buy now and save!
1. Orientation
Introducing your instructor
What you will learn
Helpful websites and software
SECTION 02: Stepping into Graphic Design
2. Principles of Graphic Design & Typography Manual Presentation
What makes a good graphic design
Quick and easy steps for using typography
SECTION 03: Brainstorming
3. Working with Copy
Highlighting parts of the copy
Envisioning a direction for highlighted copy
Rough drafting the direction
Copy examples and visualization methods

*Includes topic worksheet
4. Creating a Moodboard
Gathering references for poster design curation using mood boards
Developing an aim for your poster design
Categorize your references into colors, typography, style and layout
Understanding an "aim" in poster design and breaking down each element
Mix & match references to develop reference flexibility
SECTION 04: Visualizing Copies to Images
5. Typeface Pairing 1
Introducing open-source typefaces and why they're important
Pairing typefaces to maximize readability while maintaining aesthetics
Showing different examples of typeface pairing
Adding visual elements or motifs to balance out the type
6. Typeface Pairing 2
Pairing typefaces to maximize readability while maintaining aesthetics
Showing different examples of typeface pairing
Adding visual elements or motifs to balance out the type
7. Imagery Visualization 1
Understanding how to visualize a copy that makes sense to you and others
Learning how to visualize a copy using basic shapes such as lines, squares, circles, etc
Examining different examples of visualizing a copy in 2D and 3D form
8. Imagery Visualization 2
Learning how to visualize a copy using more tools.
Examining different examples of abstract visualization using real-life images and illustrations
9. Adding Color
Using color harmony to create color palettes from scratch
Experiment using tools from Adobe Illustrator to create various colors
SECTION 05: Last but Not Least
10. Adding Texture
Finding textures and introducing keywords for texturing
Using blending modes and applying effects
**The release date of this class, curriculum images, and associated content can be changed without prior notice.
Interview with
Expert Graphic Designer
Michelle Cpy


Question.01
Is there a specific reason why you chose this specific topic/themes?


A few years ago, when I started doing graphic design, my main goal was to find my own style. I experimented with different styles and themes, but the majority didn't stick, and I quickly found myself bored. I then asked myself what I wanted to create and what messages I wanted to convey. After some self-reflection, I realized I wanted to focus mainly on mental health and personal development. It took me a while to find a style that suited the tone and voice of my designs, which is why I wanted to create a class that speeds up the process of finding a style. I want to help emphasize the visuals, meanings, and emotions people can take away from designs. My class encourages unique storytelling and allows everyone to find their own style while acquiring skills that enhance creativity.
Question.02
What would be the most important takeaway from your class?


It's vital to keep up with trends on the internet and continuously see what's out there. Trends don't need to be followed, but they provide opportunities to expand your versatility as you curate and develop your style. To stand out from the crowd, it's essential to create something unique using what you've seen. The biggest takeaway from this class is discovering new ways to be flexible, play, and experiment with new visual techniques and expressions. It also allows you to meaningfully participate in the art community by contributing your thoughts more confidently.
Question.03
Please share your thoughts on the industry's job market and what you see in the industry's future.


I feel like the job market for this industry is getting quite competitive with the advancement of AI technology and independent research labs using text to generate images. However, I can see creatives becoming more powerful with the help of AI. For that, creatives need to constantly be on the road seeking out their voice and niche in the industry in order to stand out. As much as I love how accessible the internet and social media can be, there's potential for many artists and designers to go south, especially if they create visuals based on their own emotions or feelings. Witnessing a wide range of styles and examining how they interpret their work is beautiful, but I also think it's essential to think about their work long-term. I hope the industry becomes more focused on problem-solving and serving a purpose the artist truly cares about. Sometimes it's not about thriving on your own but thriving altogether to build a harmonious society.
Required Programs
This course will use Adobe Photoshop and Illustrator.
Please purchase and install these program(s) for an optimized lecture experience.

*These programs and/or materials will not be provided with the lecture.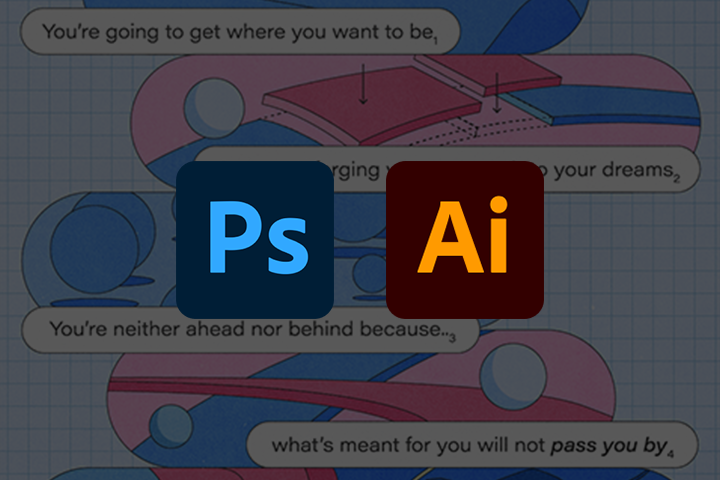 Recommended Classes
Like this class?
Then check these out!
[IMPORTANT NOTICE]

*Please note that the information on this page is subject to change without prior notice.
*Would you like to learn more about our refund policy? Please check here.
*Please check our FAQ for Copyright and Proprietary Rights, User-Generated Content, Security, and Violation information.