[Summersplash]GraphicDesigner,JaehoonChoi_최재훈 Details
Class Intro
Graphic Designer, Jaehoon Choi


"Creating a distinct and appealing
design language is hard to do from scratch.
Learn how to visualize creative concepts
and set up unique design processes
with designer Jaehoon Choi."
Have you ever wanted
to display eye-catching
and instantly identifiable
graphic designs with consistency
on different applications and projects?
Well then you would need
a distinct design style grounded
in the foundations of design,
so that you could use
fluent design language with flexibility
and stand out everywhere and anywhere.

Content
Length: 19 videos
(Duration 5h 47m)
Difficulty: Basic
Unlimited views

Video Details
Audio: Korean
Subtitles: English

Software Required
Adobe Illustrator 2021
Adobe InDesign 2021

* You may use previous versions (Version CS6 or above)

Perks
Original files for hands-on exercises (ai, InDesign)

* 6 visual references
* Over 10 hands-on exercises
Expert Graphic Designer
Jaehoon Choi's Profile & Portfolio
Jaehoon Choi
Graphic Designer

Hello, this is Jaehoon Choi,
Graphic designer and owner of
Design Studio Werk.

I worked as a graphic designer
for various projects including
the Nike By You Seoul and Hongdae store,
the DOOSAN Humanities Theater 2022: fairness,
the Naver 1784 brand store product launch, and more.
Currently I'm working on a variety of
commercial, cultural, and art design projects
that use experimental graphic design approaches
based on adaptable design languages.

I know that there are a lot of you
struggling in creating distinct
and appealing designs.

This is why I would like to help
by laying down a strong foundation
for you to develop unique and intriguing images,
and build your own design solutions
so that you could be flexible yet identifiable
in any project you undertake.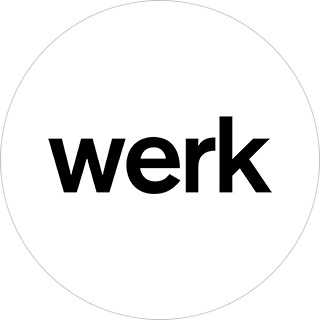 Graphic Designer,
Jaehoon Choi
[Current]
Studio Werk, CEO/Graphic Designer
Recognizable
Projects & Awards
[Former]
Creative Studio Unravel, Graphic Designer
064 Design, BX/Graphic Designer

[Notable Works]
Graphic Design for DOOSAN Humanities Theater 2022: Fairness
Graphic Design for Naver 1784 Brand Store Product
Graphic and Store installation Design for Nike Seoul Nike By You
Graphic Design Nike Hongdae Nike By You
Brand Identity and Graphic Design for Studio Simdo
Graphic Identity and Design for VIVAWAVE POCKET PAPER
Branding and Graphic Design for yyyyynnn
Graphic Design for 2020 Seoul Museum of Art Exhibition "Candid Essence: 51 LIVES"

[Exhibition]
2021 OH DEAR CO. Collaborative Exhibition 'FROMET', Incheon/Seoul

2019 "Form of Cover" at 'Corner' section, 6th Typojanchi: Typography and Objects, Seoul

2018-20 100 Films 100 Posters at JIFF, Jeonju/Seoul


[Award]
2021 "Nike Seoul", Grand Prize for Communication design at 'Korea Design
Awards 2021' hosted by Monthly Design

[Interviews and Articles]
2022 Interview, BranD Magazine Issue 61 "The Final Layout" (HK)
2022 Interview, Pangram Pangram Foundry 'Pangram Paper' (CA/UK)

2021 Article, Monthly Design Magazine Vol.522 'Nike Seoul: Studio Werk' (KR)

2020 Interview, Concept & Design Magazine Design360° No.88 "Today's Korean Design" (CN)

2020 Studio interview, Quarterly magazine GRAPHIC #46 'Studio Directory' (KR)

2020 Interview, It's Nice That "Graphic designer Jaehoon Choi finds form in function when combining the abstract with strict rules" (UK)

2019 The Brand Identity article, "Jaehoon Choi revives a series of optical illustrations from a 1728 encyclopedia" (UK)

2019 Article, CA Magazine #246 Mutuality and Interaction, "The depth of black and white: Studio Simdo" (KR)


Instagram
10 Hands-on Graphic Design
Class Exercises
Learn about different typefaces and ways to stylize typography.

Learn about color and layout composition and their variations.

Create Graphic Elements with information given and graphic motifs.
Learn about different typefaces and ways to stylize typography.

Visualize Keywords and Concepts

Learn how to visualize specific and detailed keywords and concepts into graphic images.

Create diverse applications for Graphic elements while maintaining concept consistency.
Insight into Key Element Composition for Each Project and Adaptable Design Approaches
You will learn how to compose key design elements for different graphic design conditions from posters to a variety of applications, and the process of developing the main concept.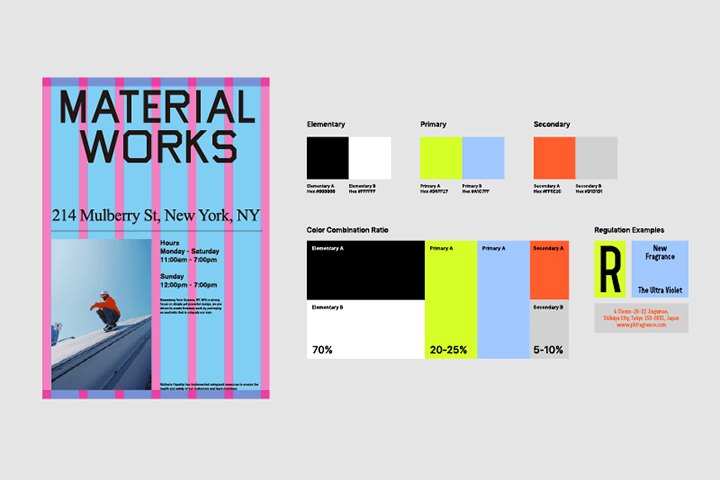 Case Studies to Help You Build
a Distinct Design Language
You will learn to define and build a distinct and creative design style and language through over 6 case studies.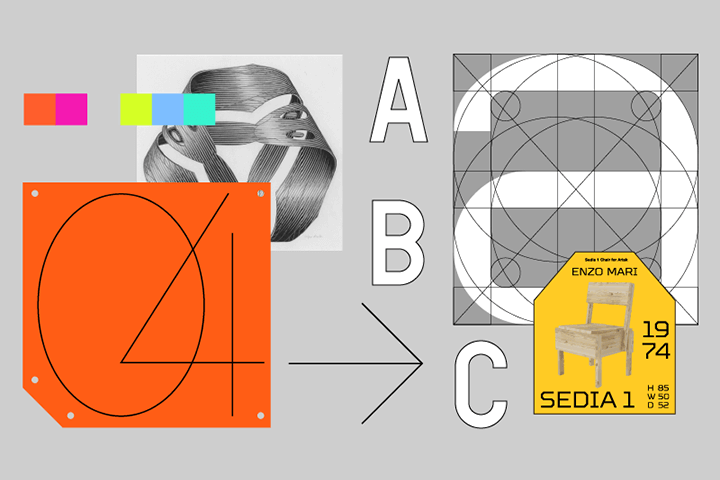 Creating Consistency between Different Applications with Design Systems
You will learn the fundamental approach for creating consistent design styles, and work with hands-on exercises where you could get a sense for applying the approach yourself.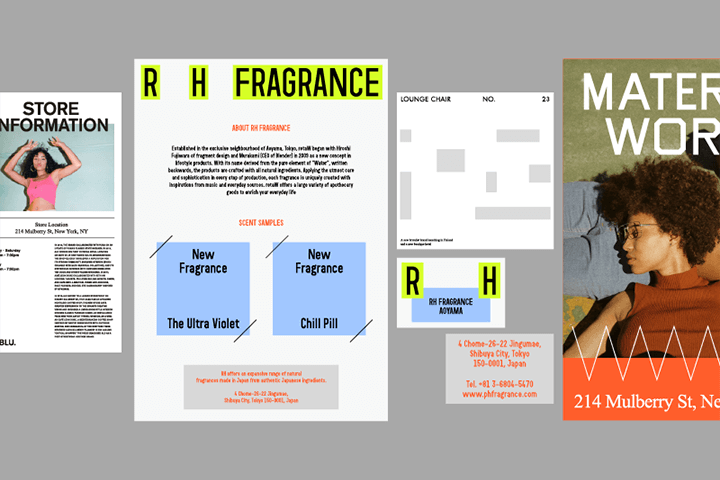 Class Details
You'll Learn
Appropriate Design Approaches for Each Project and Situation

You will learn how to tailor designs for various design projects with reference searches, appropriate design languages and approach.

Types of Typefaces
and Typography Stylizing

You will learn the different types of typefaces from classic to modern, understand typography, which is the foundation of graphic design, and its settings for an organized composition.

Design Composition Using Graphic Elements, Color, and Layout

You will learn how to create and use the back bone of graphic design, such as the graphic elements, color, and layout, more effectively and with more flexibility.
Experimental Approaches
for Typeface Creation

You will learn to create custom typefaces that implement characteristics of an object into specific shapes.

Information and Concept Visualization into Graphic Elements

You will learn how to draw out keywords and concepts from information about the object and visualize it into graphic images that are appealing.

Creating Consistency in Concepts
for Diverse Applications

You will learn to apply graphic assets to various applications with the graphic elements you create during the hands-on exercises of the basic graphic elements class
Unlimited Access
Best Price
Buy now, get unlimited access.
(자동 구성) 가격이 인상됩니다.
This special offer ends soon.
Buy now and save!
01. Orientation
Introduction of the instructor and previous work
Overview of personal style, intentions for class, and class curriculum
02. Diversity of Design Projects & Design Approaches
Design Project examples for different mediums: branding, poster, package, web, editorials
Design categories and approaches for each project
Understanding visual communication through briefs and graphics
Actual examples of how to develop creative design processes
SECTION 02. Foundations of Graphic Design
03. Typeface & Typography 1
Understanding different images of typefaces
Understanding current trends of typeface designs
How to pick the appropriate typeface for a project
General and unique ways to compose typography
Case Study: Typefaces of different Type foundrys on 'Font In Use'
04. Typeface & Typography 2
Stylizing and setting hierarchies for Typography
Understanding different Typography settings
Understanding placement, use of negative space, grid applications and more for Typefaces
05. Color Usage & Color System 1
Understanding color and color selection
Experiments for fresh and exciting color selections
Case Study: Analyzing works of Ellsworth Kelly and Josef Albers
06. Color Usage & Color System 2
Understanding color strategy for design intentions
Creating a color palette for a project
Systemizing colors
07. Graphic Motif / Element 1
Introduction to graphic elements needed for visualization when creating graphic identities
Understanding how to interpret graphic motifs into graphic elements
Case study: Tezzo Suzuki's calendar project
08. Graphic Motif / Element 2
Hands-on exercise, creating a graphic element with reference image as motif
Case Study: Creating graphic elements based on the shape of an object
09. Layout 1
Current trends in graphic design layouts and evaluation on different layout designs
10. Layout 2
Understanding typical/atypical typography and image layouts
Understanding different layouts on different artboard ratios
SECTION 03. Design Application Project: From Conceptualization to Visualization
11. Custom Typeface / Lettering
Custom typeface/lettering based on visual characteristics of an object
Understanding lettering for brand logos or poster designs, and more
Case study: Expressing the characteristics of a Moebius strip as a typeface
12. Visualization of Information and Concepts 1: Graphic Expression
Experiments on different graphic expression approaches when creating or compositing visual interpretations of specific/abstract objects or concepts
13. Visualization of Information and Concept 2: Developing Concepts
How to actualize a modern art piece into cards/posters
14. Creating a Consistent Design Language
How to use a design approach to create consistent design language on different applications for one concept
Case study: Inspired by triptych, creating a series of 3 graphic tableaus of design pieces
15. Graphic Identity 1
How to develop a basic design system for graphic identity
16. Graphic Identity 2
Hands-on Exercise: Creating different applications(poster, card, document, stationery, label sticker, merch, social media image, etc) for a hypothetical design project
SECTION 04. How to Be a Graphic Designer, without Losing Your Soul
17. Exploring the Creative Process for Design Projects
About the book "How to be a graphic designer, without losing your soul"
Tasks and habits you could implement for your own design approach and creative design process
What you should do to achieve desired results in actual design projects
18. Expanding Your Interest into Other Fields and Genres
Insight into collaborating and communicating with workers in other fields
Personal story on the experience of expanding understanding about other fields and gathering information to create a distinct style
19. Surviving as a Designer
How to create a portfolio, find job or clients as a designer
How to face the reality, or non-design works related to design, as a designer
Interview with
Graphic Designer, Jaehoon Choi


Question. 01
What is the unique selling point of this class that you've intended?


This class is unique because you'll learn to come up with your own design solutions for different projects, and develop a distinct and flexible design language. I'll teach you how to draw out creative concepts, how to visualize and adapt the concepts with flexibility, and how to build your own design language to create a distinct style and perspective that you could use to create any design solution.
Question. 02
In what fields could the students use the insights/skills they learn from this class?


This class deals with the general knowledge needed in graphic design in specifics, which is why you'll be able to come up with design concepts, develop the main graphics and create applications without being bound to either brand or graphic designs.
Question. 03
Who do you recommend this class to?


I recommend this class to everyone from graphic design majors with a basic understanding of the tools, to junior designers or anyone who wants to create brand designs or visual marketing materials. With this class you'll learn the foundations and approach of graphic designs, as well as how to draw out design concepts from given information, and how to visualize and apply the concept.
Required Programs
This course will use Adobe Ilustrator 2021 and Adobe InDesign 2021.
Please purchase and install these program(s) for an optimized lecture experience.

* You may use other versions of Adobe Illustrator and InDeisgn.
* These programs and/or materials will not be provided with the lecture.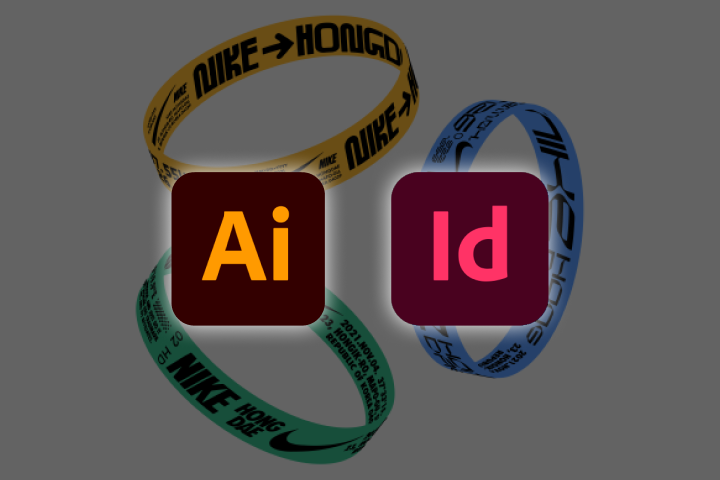 Recommended Classes
Like this class?
Then check these out!


[IMPORTANT NOTICE]

*Please note that the information on this page is subject to change without prior notice.
*Would you like to learn more about our refund policy? Please check here.
*Please check our FAQ for Copyright and Proprietary Rights, User-Generated Content, Security, and Violation information.