ConceptArtist,ErakNote_애락노트 Details
Class Intro
Concept Artist, Erak Note


"Establish a realistic art style through
well-defined faces and detailed coloring
that resembles traditional paintings."
Class Preview
Still Not Sure?
Check Out Erak Note's Class Preview!


Chapter 14.
Coloring a Pretty Face
1. How to color softly
2. Adding variation in colors
3. Various usage of brushes
4. How to add details
Are you wondering if there's
a more efficient drawing process
you can follow to make
a high-quality painting in a shorter time?

Learn from the 12-year experienced
concept artist Erak Note,
who has worked on the popular online games
Lineage Eternal and Black Desert Online.

Content
Length: 22 videos
(16h 04m)
Difficulty: Intermediate
Unlimited views

Video Details
Audio: Korean
Subtitles: English

Software Required
Wacom Intuos
Adobe Photoshop CC

Perks
12 PSD files
1 custom brush
1 practice exercise
Concept Artist,
Erak Note's Profile & Portfolio
Erak Note
Concept Artist

Hello, I am Erak, a freelance concept artist.
I have been working in the gaming industry
at companies like NCSOFT for over 12 years,
and have drawn various artwork
throughout my career.

Ever since I made my sketchbook
"Erak Note" in elementary school,
I have spent most of my life
drawing and painting.
Even to this day, 'Erak Note'
is getting more of its pages filled,
and I would like to share
those pages with you.

Since I have received many requests
to make an online class,
I will do my best to teach my techniques
in a fun and easy way.
I'm also going to provide
files and brushes for this class,
so don't worry and just follow my lead.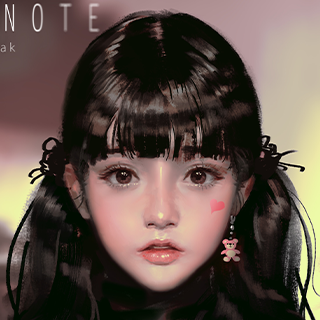 Concept Artist
Erak Note
[Current]
Freelance Concept Artist
Recognizable
Projects & Awards
[Former]
2017-2020 Artist at NCSOFT - Original Character Designs & Splash Art for "Project TL"
2013-2017 Artist at NCSOFT - Original Character Designs & Splash Art for "Lineage Eternal"
2009-2013 Artist at ESTSoft - Original Character Designs & Artwork for "Cabal 1,2"

[Projects]
Pearl Abyss - Character Concept Art for "Black Desert Online"
NX3GAMES - Character Concept Art & Illustrations for "Project R"
Boolean Games - Character Concept Art for "Dark Avenger 3"
LINE Games - Character Art for "Icarus Eternal"
Pixel Cruise - Character Concept Art for "The Vanshee"
Mojito Games - Character Art for "Uncharted Wars: Oceans & Empires"


Instagram
Student **Kim

I was worried that I wouldn't be able to follow along since I used to draw in a very different style. However, the curriculum was solid and helped me grow very quickly. It is optimized to improve every step of the work process and my performance improved dramatically.

Student **Dok

Our instructor constantly reminds us of the importance of emotion, a key component many aspiring artists like myself often forget admist the pressures of job hunting. If you want to experience both the pure joy of drawing and working in the industry, I highly recommend you take this class.

Student **Song

In this class, you can learn everything from building strong basics to using a traditional painting style. The instructor shares so many useful tips, it's like a new stage started in my drawing career after taking this class. This class helped address many of my unanswered questions and concerns.
Complete
1 Piece of Character Art


Facial Proportions and Full Body Sketch

Separating the Human from Backgrounds & Grayscale Depth

Coloring Techniques with Glazing 1
Coloring Techniques with Glazing 2

Coloring Techniques with Curves & Burn, Dodge, Sponge Tool

Painting Light and Shadow
Effective Coloring Methods
Based on Lighting

Normal Mixer Brush & Coloring Effects

Final Female Character Portrait
Learn Erak Note's Entire Process + Brush and Layer Techniques
Through this class, you will be able to adopt the efficient digital drawing process of Erak Note, a professional concept artist with 12 years of industry experience.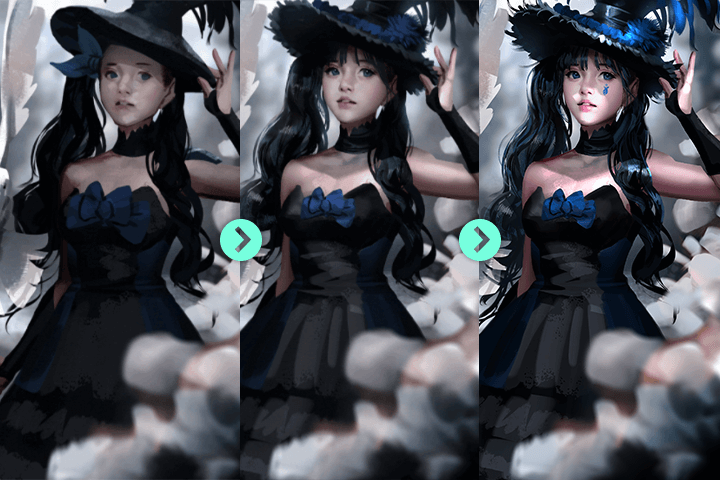 Master Traditional Coloring Techniques For Realistic Character Art
Through this class, you will pick up various tips like coloring in a traditional painting style and adding facial details, which are required to paint a high-quality realistic character.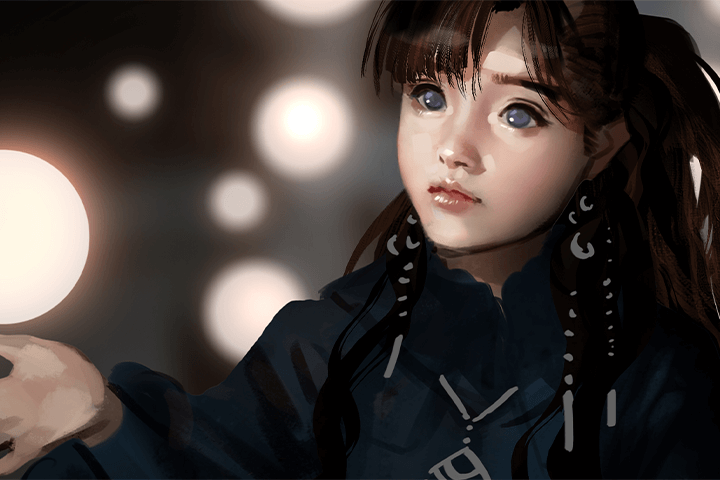 Acquire PSD Files and Brushes with Progressive Key Techniques
For this class, you will receive some of Erak Note's custom brushes and PSD files that will help you get a better understanding of the class chapters.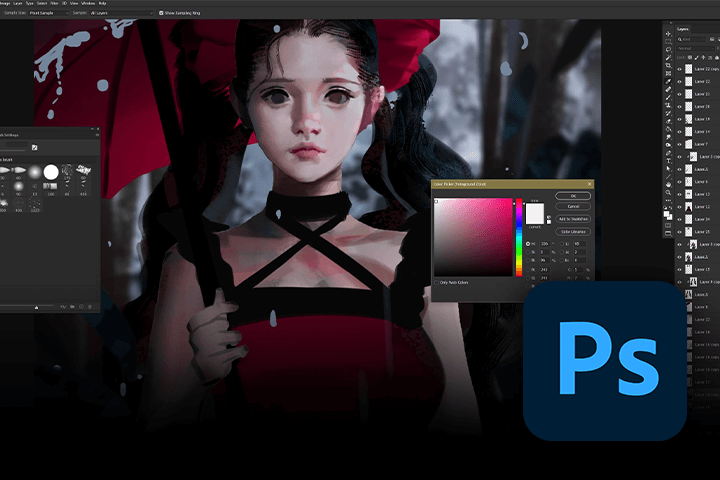 Class Details
You'll Learn


Learning Basic Photoshop Settings and Testing Brush Functions

Before we start drawing, we will not only go over the Wacom Tablet Control Panel and tips on personalizing Tablet Properties, but also setting Photoshop keyboard shortcuts as well as the features and attributes of the brushes.

Basic Sketch for
Realistic Character Art

You will sketch a stable and proportionate face and body and learn how to separate the character and background with grayscale depth.

Practicing Coloring Techniques Using Various Photoshop Functions

You will use various coloring techniques and Photoshop functions like Glazing, Curves, Dodge, Burn and Sponge to apply colors to a character's face, body, and costume.
Using Light, Shadows, and Texture
to Add Liveliness

After learning how to draw efficiently with the understanding of light and shadows, you will use a pencil brush and blend modes to draw leather and metal to express realistic textures.

Adding Details with
Patterns and Accessories

From making patterns to drawing accessories with an effect brush, you will learn how to polish outlines and add fine details in your finishing stage to create well-balanced character art.

Additional Tips for Producing Professional Realistic Artwork

You can learn practical tips Erak Note has picked up from 12 years in the industry, such as how to practice adding depth to your drawings, how to use layers and clipping masks, and how to memorize the color picker graph.
* Images shown above are examples used to give a better idea of this class.
Unlimited Access
Best Price
Buy now, get unlimited access.
(자동 구성) 가격이 인상됩니다.
This special offer ends soon.
Buy now and save!
SECTION 01. Tablet and Photoshop Settings
01. Intro
Artist & class introduction
02. Tablet and Photoshop Settings
Understanding the Wacom Tablet Control Panel
Learning the Photoshop workspace and setting keyboard shortcuts
Actions and how to set them
03. Brush Package
Brush types
Brush features & attributes
SECTION 02. Basic Drawing for Your Character Art
04. Body Sketch
Proportions for a stable body
Facial proportions
Body sketch for your character art
05. Separating the Character and Background with Grayscale Depth
How to separate the character and background
Learn about the appropriate brightness
Easily add depth with the dodge and burn tools
How to use normal brushes and mixer brushes
SECTION 03. Coloring Techniques & Costume Design
06. Coloring Techniques with Glazing (1)
Various blend modes
Using the modified glazing technique
Application on the face, body, and costumes
How to add various colors
07. Coloring Techniques with Glazing (2)
Various blend modes
Using the modified glazing technique
Application on the face, body, and costumes
How to add various colors
08. Coloring with Curves, Dodge, Burn, and Sponge
Adding colors with curves
Understanding the dodge, burn, and sponge tools
Making keyboard shortcuts
Coloring example
09. Features and Effects of Various Normal & Mixer Brushes
Finding the right brush for you
Mixer brush settings
How to use rough brushes and soft brushes
Application on skin and hair
10. Expressing Light and Shadows
How to efficiently express light and shadows
Vivid light: Light
Multiply: Shadow
11. Effective Coloring with the Understanding of Light
Understanding ambient light
Rim lighting
Strengths of ambient light
12. Using Pencil Brushes and Blend Mode Brushes at the Same Time
How to express textures
Example with leather and metal
13. Using the Pattern Stamp tool for Coloring
Making a pattern stamp with noise
How to use the pattern stamp tool
14. Coloring a Pretty Face
How to color softly
Adding variation in colors
Various usage of brushes
How to add details
SECTION 04. Details and Corrections
15. How to Add Patterns
Making custom patterns
Loading brush patterns
Using brush patterns
16. Painting Accessories: Effect Brush
How to use effect brushes
Utilizing effect brushes
Applying it in patterns
Applying it in your drawings
17. Finishing Touches
Polishing the outlines
Adding fine details to the face
Adding details to the costume
Well-balanced finish
18. Various Correction Methods
Basic correction tools
Utilizing blending modes
Utilizing curves
Using pin light
SECTION 05. Realistic Painting Style Tips
19. Practicing Depth and Volume
Grayscale drawing
Coloring the body
Adding a costume to the body
Color and design at the same time
20. Layers and Clipping Masks
Using parent layers and child layers
Locking layers
Easy layer management through layer auto select
21. Local Colors and the Color Picker
Importance of local colors
How to use references
Memorizing the color picker graph
22. Outro
About concept art and illustration
Message to all drawing enthusiasts
Interview
with Concept Artist Erak Note


Question.01
How Would You Describe Your Unique Differentiating Strengths?


Since I majored in western painting in art school, I believe my strengths are my concise yet high-quality coloring skills and my ability to emulate traditional painting styles. Other than that, I also have a unique workflow that I have built from my 12-year career in the video game character art industry.
Question.02
What is the Objective or Goal of This Class?


Creating beautiful realistic character art. Our objective is to establish a realistic art style through a greatly defined face and highly detailed coloring that resembles traditional paintings. I made this curriculum based on my vast experience from the industry to help reduce the unnecessary and help create a more efficient drawing routine.
Question.03
Who is the Target Audience
of This Class?


This class will be helpful for not only field experts or aspiring artists preparing to join the industry, but also for people who just like drawing, want to draw their own characters, and want to add more detail and quality to their drawings.
Required Programs
This course will use Wacom Intuos and Adobe Photoshop CC.
Please purchase and install the latest versions of the programs for an optimized lecture experience.

*These programs and/or materials will not be provided with the lecture.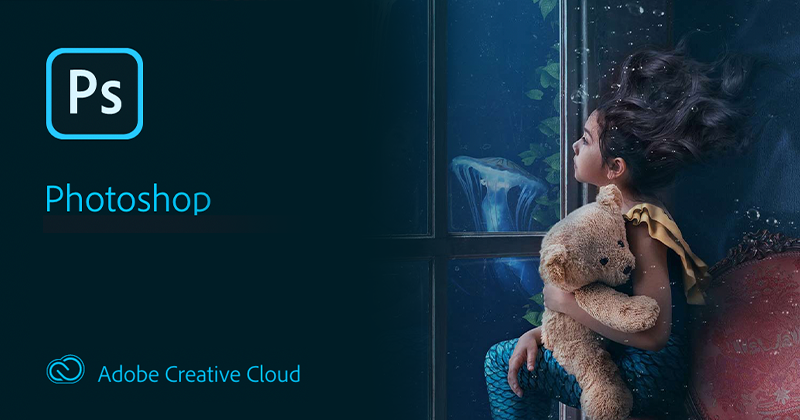 [IMPORTANT NOTICE]

*Please note that the information on this page is subject to change without prior notice.
*Would you like to learn more about our refund policy? Please check here.
*Please check our FAQ for Copyright and Proprietary Rights, User-Generated Content, Security, and Violation information.