[Summersplash]ConceptArtist,Riesun_리에순 Details
Class Intro
Concept Artist, Riesun
Do you rely on copying other artwork
when you paint character costumes and weapons,
or do you feel frustrated
when you have to create original design elements?

To become a concept artist
that is respected in the industry,
you must know how to identify popular trends
that the user base will enjoy
based on the game's story and settings,
and how to express it
in the character's design.

From finding inspiration from design resources
to understanding how character designs can be trendy,
and how to make various character designs
and concept arts that fit the theme of the character,

learn from Concept Artist Riesun,
an artist who proved her proficiency in designing character costumes
as she created character concept art for <Seven Knights>, <Gran Saga>,
and other famous games for over 9 years
and master the practical design process used in the industry.

Content
Length: 21 videos
(Duration 18h 03m)
Difficulty: Basic
Unlimited views

Video Details
Audio: Korean
Subtitles: English

Software Required
Adobe Photoshop 2022

[Available Software Version]
Adobe Photoshop CS6 - Adobe Photoshop 2022

Perks
- Design Reference Document
- Lecture Presentation File
- Character Body Drawing Sketch
- Character Design Draft File
- Weapon Design Draft File
Expert Concept Artist
Riesun's Profile & Portfolio
Riesun
Concept Artist

Hello,
I am Concept Artist Riesun.

For over 9 years,
I made most 2D graphics artwork
required in video games,
such as character concept art designs,
weapon, armor, costume designs,
character art, and poster game CIs.

In this class, I'll be teaching useful tips
on how to make costume and weapon designs,
two of the most difficult design elements
that concept artists find to create.

I hope you can broaden your understanding of designs
and efficiently develop your portfolio
after taking this online class.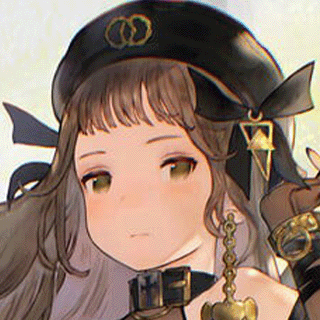 Concept Artist
Riesun
[Current]
Concept Artist
Recognizable
Projects & Awards
[Former]
NPIXEL Head Character Concept Artist
Netmarble Nexus <Seven Knights>
Character Concept Artist

Twitter
Character Design Key Theory

Beautiful and Balanced Designs
Designs Reflecting the Current Trend

Understanding Design Patterns
Part 01. 3 Character Designs

Part 02. 3 Weapon & Emblem Designs
Greatsword & Emblem Design
*These are sample images for better understanding.
If this applies to you, then take this class!
Learn How to Design Characters
Through Creative Ideation
Concept artist Riesun participated in numerous concept art projects for famous video games, and master her practical character design project to make industry-ready character sheets.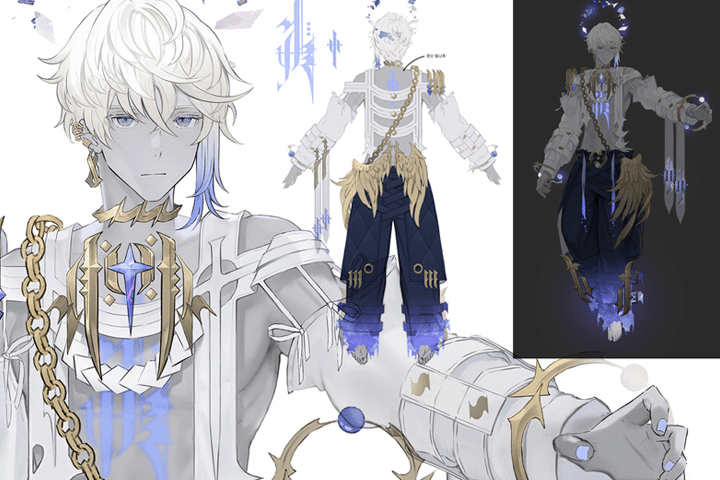 Understanding What Good Designs are And Applying it
To Your Artwork
Do you want to make stylish designs that adapt to the quickly changing trends? Learn how to establish design standards and also how to make competitive high-quality character designs.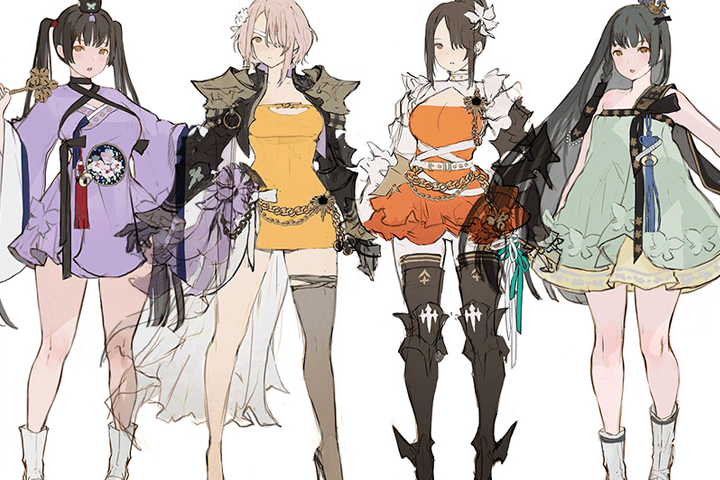 Review What You Learned In the Industry Way, Efficient Class Materials Provided
This is your chance to focus solely on costume and weapon designs! Lessen the burden of drawing characters every time with our character body drawing sketch file and improve your character designing capability.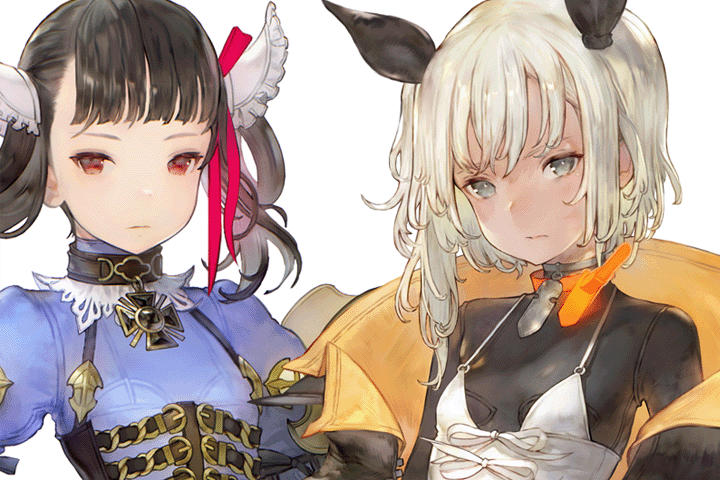 Class Details
You'll Learn
Design Fundamentals for
Character Designs

Learn the basics of character designs and dissect design elements from references to establish the direction of your character design.

Setting Character Themes to Establish Design Standards

Using the practical concept art process, set the theme of the character design that will be appealing to the public and draw a simple body and pose.

Determine Weapon Design Style & Applying Emblems and Patterns

Determine the right weapon style that suits the character and apply symbolic emblems and patterns based on crucial weapon design elements.
Practical Process 1
- Character Class and Costume

To effectively deliver a balanced and expressive design, we will create 3 character designs with the following concepts; Swordsman, Healer, Damage Dealer.

Practical Process 2
- Symbolic Emblem and Weapon

We will study how to use emblems to create symbolic design elements and design a greatsword for the swordsman, a wand for the healer, and a spear for the damage dealer.

Industry Character Design Tips & Essentials for a Concept Artist

Not only will you learn how to express your design sense in your portfolio, but you'll also contemplate about what assets you must acquire in the highly competitive character design industry and how to position yourself.
*These are sample images for better understanding.
Unlimited Access
Best Price
Buy now, get unlimited access.
(자동 구성) 가격이 인상됩니다.
This special offer ends soon.
Buy now and save!
SECTION 01. Basic Warm-up for Designing
01. Introduction
Instructor Introduction
Class Objective : Studying the Principles and Training Design Sense
What is Character Design?
Key Principle : Understanding How to Use References
02. Design Principles for 'Character Design' 1
Design Principles You Must Study and Memorize
Flow
Balance
Simplification
03. Design Principles for 'Character Design' 2
The Three Powers You Need
Design Power and Creative Power
04. Understanding Trends and The Juicer Theory
Definition of Concept in Concept Art
Understanding Trends
Where to Find References and How to Use It
SECTION 02. Preparations for the Practical Process
05. Understanding the Character Design Workflow
Understanding the Practical Process for Making 3D Projects
Establishing a Character Setting
The Right Tone and Manner For Your Character Settings
06. Understanding Weapon Designs
Key Theory For Making Weapon Designs
Types of Weapons for Each Character
Size Proportions of Different Sword Types
07. Using References
Size Proportions of Wands and Spears
The Standard for Good References and How to Find Them
Gathering and Organizing References
Gathering References as a Daily Basis
SECTION 03. Practical Process for Designing Characters Costumes
08. Design Demonstration : Swordsman 1
Using PureRef
How to Use Hair and Costume Design References
How to Use Armor Design References
09. Design Demonstration : Swordsman 2
How to Use Shoe Design References
Examples of Color Combinations That Use Personal Colors
Designing Patterns and Accessories with References
10. Design Demonstration : Swordsman 3
Refining and Finishing the Design
11. Design Demonstration : Swordsman 4
Developing Details to Adjust Values
Defining the Tone and Manner to Denote the Atmosphere
12. Design Demonstration : Healer 1
Hair and Costume Design
Cleaning Up the Sketch and Assigning Colors
13. Design Demonstration : Healer 2
Using Accessory References to Build Up Details
14. Design Demonstration : Damage Dealer 1
Strengthening the Healer Design_Improving Designs by Stacking It Up
Sketching the Damage Dealer Design by Combining Images Created through Juicing References
15. Design Demonstration : Damage Dealer 2
Assigning Colors Based on the Overall Tone
Using Accessory References to Build Up Details
SECTION 04. Practical Process for Designing Symbolic Emblems and Weapons
16. Emblem and Pattern Design
Designing Symbolic Patterns and Emblems that Match Your Character Design
17. Weapon Design Demonstration_Greatsword
Designing a Weapon for the Swordsman Character
18. Weapon Design Demonstration_Wand
Designing a Weapon for the Healer Character
19. Weapon Design Demonstration_Spear
Designing a Weapon for the Damage Dealer Character
20. Ending The Class : Wrapping Up
Freelance Concept Artist
Designers, Illustrators, and Concept Artists
The Right Mindset to Keep in Touch with Trends
Portfolio Building TIP
21. BONUS : Useful Character Drawing Tips
Drawing TIP1 : Using Daz Studio to Make Simple Poses and Turn the Camera Angle
Drawing TIP2 : Importing It to Blender and Setting up the Lighting
Interview
with Concept Artist Riesun


Question.01
What is your goal for this class?


I want to share to you the techniques I developed to come up with and apply design elements using references that aren't from the game based on my experience in the industry. Instead of creating new things out of nothing, I'll show you we use pre-existing references to make even better design elements for character designs with a commercial-artistic approach, and I will use it to guide you on how to quickly improve your painting skills.
Question.02
How does this class stand out from others?


I made numerous character concept art for 9 years, and I believe that I have a strong advantage in identifying popular trends that the users will like and applying them as design elements in characters. Through this class, I'll share you my personal tips on maintaining a sharp design sense and reacting to the quickly changing trends.
Question.03
What can the students take from
this class?


I'm going to suggest a systematic approach to character designs for students who reached a high level of painting and composing but find it hard to establish design standards. By giving answers to students who couldn't tell what designs and references are good, I'll help them create highly competitive character designs that stand out among others.
Required Programs
This course will use Adobe Photoshop 2022.
Please purchase and install these program(s) for an optimized lecture experience.

*These programs and/or materials will not be provided with the course.
*You can take this class using other programs aside from the programs mentioned above.
*Available Software Version : Adobe photoshop CS6 - Adobe Photoshop 2022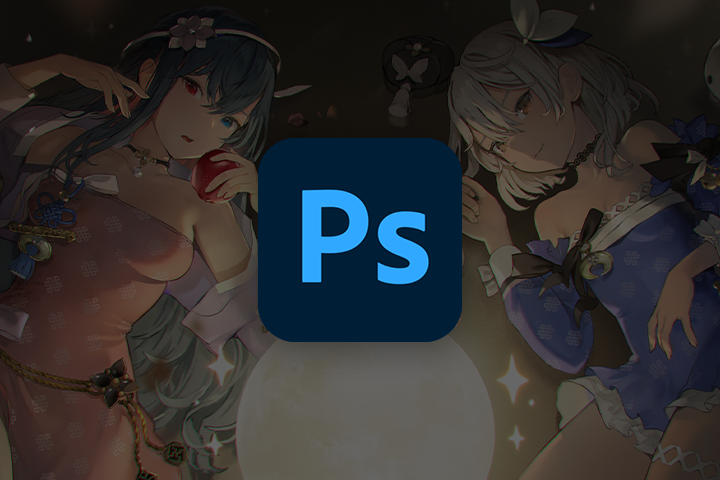 Recommended Classes
Like this class?
Then check these out!
[IMPORTANT NOTICE]

*Please note that the information on this page is subject to change without prior notice.
*Would you like to learn more about our refund policy? Please check here.
*Please check our FAQ for Copyright and Proprietary Rights, User-Generated Content, Security, and Violation information.