[FreeCourse]AnimationDirector,TezoDonLee Details
Class Intro
Animation Director, Tezo Don Lee
Were you interested in animation
but had to give up because the idea of
making an animation was too daunting?

You can now make the animated music video
you watched on YouTube yesterday yourself!

A stylish animated music video combining
the music, lyrics, and video altogether!

IU, Hyoshin Park, AKMU,
Dynamic Duo, Zion T. Yerin Baek,
Jineon Kwak, ph-1, Fromm and more.
Meet the class of Animation Director,
Tezo Don Lee who collaborated with
the most talented artists!

This class contains over 20 exercises that can
be applied to any design. Furthermore,
the curriculum is organized with
know-how to visualize your unique story
and idea effectively in a digital environment,
and the final retouching tips
based on the organic composition of
Photoshop and After Effects.
Expert Animation Director
Tezo Don's Profile & Portfolio
Tezo Don Lee
Animation Director

Hello, I'm Kyungdon Lee,
working under the nickname of Tezo Don Lee.
I'm a graphic artist and animation director
based in London, United Kingdom

I started working as an illustrator in 2005
and now, I collaborate with various brands
in the United Kingdom, the United States,
and Korea, in addition to my personal work.

In particular, I'm actively collaborating
with numerous talented artists
and creating animated music videos
and cover art.

In this class, I'll share all of
my tips on directing complex stories,
visualizing music and lyrics,
and working with an efficient process.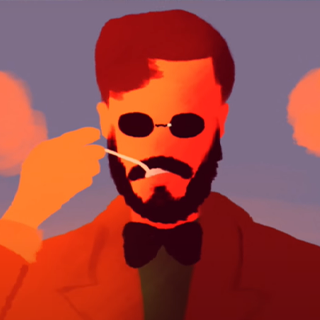 Animation Director,
Tezo Don Lee
[Current]
Co-founder of Tjoff-Koong Studios (2016 - Now)
Recognizable
Projects & Awards
[Former]

[Music Videos]
IU 'Lilac'
AKMU X Crush 'Stupid Love Song'
pH-1 'Cupid'
pH-1 'Nerdy Love'
Zion.T 'Uh-Huh'
Yerin Baek 'I'll Be Your Family!'
Hyoshin Park 'Sound of Winter' Trailer
Park Won 'You're Free'
Jineon Kwak 'Freely'
Fromm 'Aliens'
Dynamic Duo 'Flash'
Night Flight 'Death Rattle'
Clones of Clones 'Mine'
Sea girls 'All I Want to Hear You Say'
And more

[Animated Films]
Stories From the Inside 2019 - Annecy International Film Festival official screening
Phantom Clouds 2015 - Zagreb International Film Festival ANIMAFEST official screening

[Participated Projects]
2019 Handsome TIME HOMME Collaboration
2016 United Kingdom London Shangri-La Hotel Scarf Edition Design and Promotion Animation
2015 United Kingdom TATE Modern Artwork T-shirts and Postcards Production and Sales
2017 United Kingdom TATE Modern David Hockney Exhibition Promotion Animation Creative Director
2010 Main Illustration for Cheil Company in-house website i-pub
2009 Main Illustration for Hyundai Card Website


Instagram
02 Nature: General Landscape
06. Camera Directing Techniques
09. Visualization of Beats

12. Metaphorical Directing of Story
13. Dynamic Composition of a Scene

14. Simple but Effective Direction

15. Visualizing a Complex Story
Step 02. Practical Exercises

Directing a Scene Using Photoshop and After Effects
Create your own style of natural scenery, character description, and expression of specific situations using Photoshop layers and the animation function of After Effects.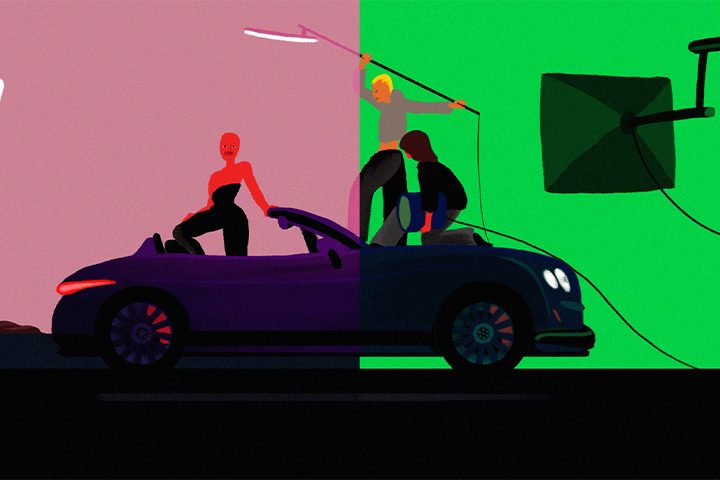 Tips on Creating a Music Video That Blends Well with the Music
Learn the effective and metaphorical directing know-how and key skills of creating music videos that will enable both commercial and artistic expressions, distinguishing them from other videos.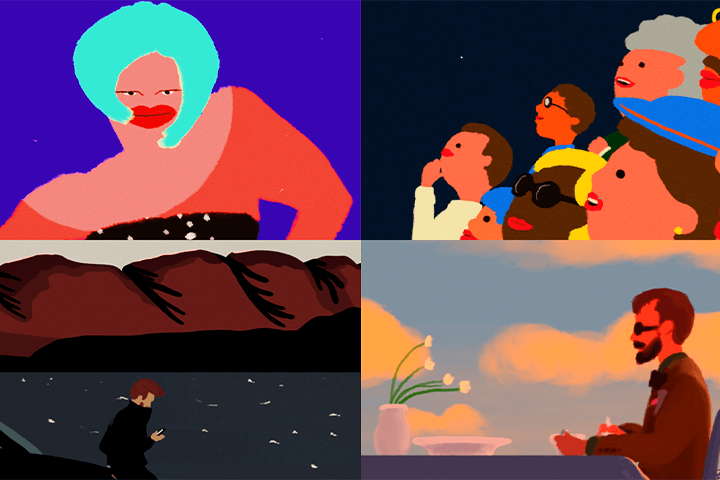 Experience the Practical Work Process With More than 20 Exercises
Improve your skills as a writer to tell your own story by learning about various tips of the actual video production process, such as storyboard, color correction, and animation effects.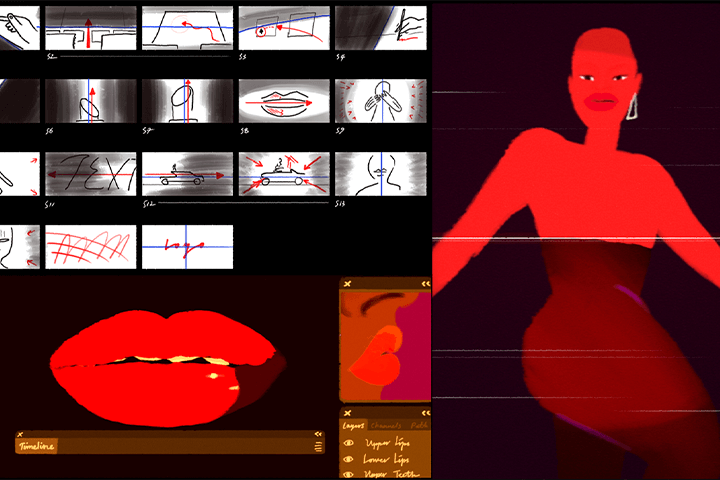 Class Details
You'll Learn
Familiarize Yourself with Photoshop and After Effects

Along with the concept of composition, we'll look at how to combine the files created with Photoshop into a single shot using After-Effects compatibility.

Techniques for
An Effective Animation

You'll create objects with multiple motions and learn how to implement different styles that can emerge when expressing one object.

Scene Production Methods
Commonly Used in MVs

Learn how to use After Effects to direct and organize various scenes such as driving shots, POV shots, and panning shots.
Tips on Visualizing the Sound

You'll create several examples that incorporate musical elements into the design, such as rotoscoping, patterns, lip-syncing, and typography.

Idea and Inspiration
for Storytelling

You'll learn some techniques for telling stories, organizing ideas, and taking steps toward visualization.

Work Case Study
With Tezo Don Lee

You will learn more about the applied functions, actual production and different production methods by watching a music video produced by the instructor himself.
Interview
With Animation Director
Tezo Don Lee

Question.01
Can you tell us about the marketability of 2D animation?


The demand for 2D animation is growing, particularly in TV shows, advertisements, and music videos. And the need for Individual artists or small independent studios are also increasing it's important to be able to handle diverse styles when creating your own videos.
Question.02
What kind of ability can the students improve after this class?


You will be able to learn a variety of techniques to maintain your own painting style while adding appropriate movements. In addition, I will share my personal experience and production tips from directing music videos and independent films. I hope you will be able to use them as much as you want in your work.
Question.03
What are the key points of this class?


I will give you tips on how to do Photoshop/After Effect work to speed up the time-consuming process to alleviate the vague burden of animation work. Also, I'd like to point out that you can create your own music videos using the sound source and various files provided in the class.
Question.04
Who do you recommend this class to?


This class is open to students and those with basic knowledge of Photoshop and After Effects. I also recommend this class to professional artists who want to learn about the work process of another professional.
Required Programs
This course will use Adobe Photoshop CC 2022, After Effects 2022. Please purchase and install these program(s) for an optimized lecture experience.

*You can take this class using other (CC 2019 or CS6 version).programs aside from the programs mentioned above.
**These programs and/or materials will not be provided with the course.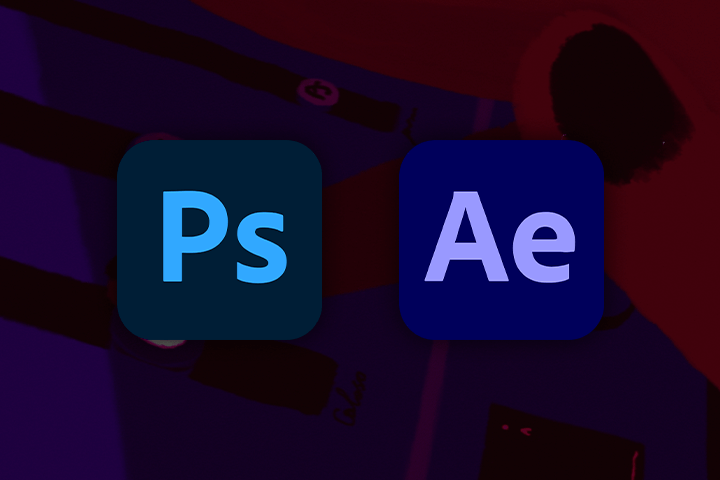 Recommended Classes
Like this class?
Then check these out!


[IMPORTANT NOTICE]

*Please note that the information on this page is subject to change without prior notice.
*Would you like to learn more about our refund policy? Please check here.
*Please check our FAQ for Copyright and Proprietary Rights, User-Generated Content, Security, and Violation information.