3DCharacterArtist,WandahKurniawan Details
3D Character Artist, Wandah Kurniawan
"Bring characters to a new dimension with modeling and sculpting."

Want to hold your favorite character in the palm of your hands?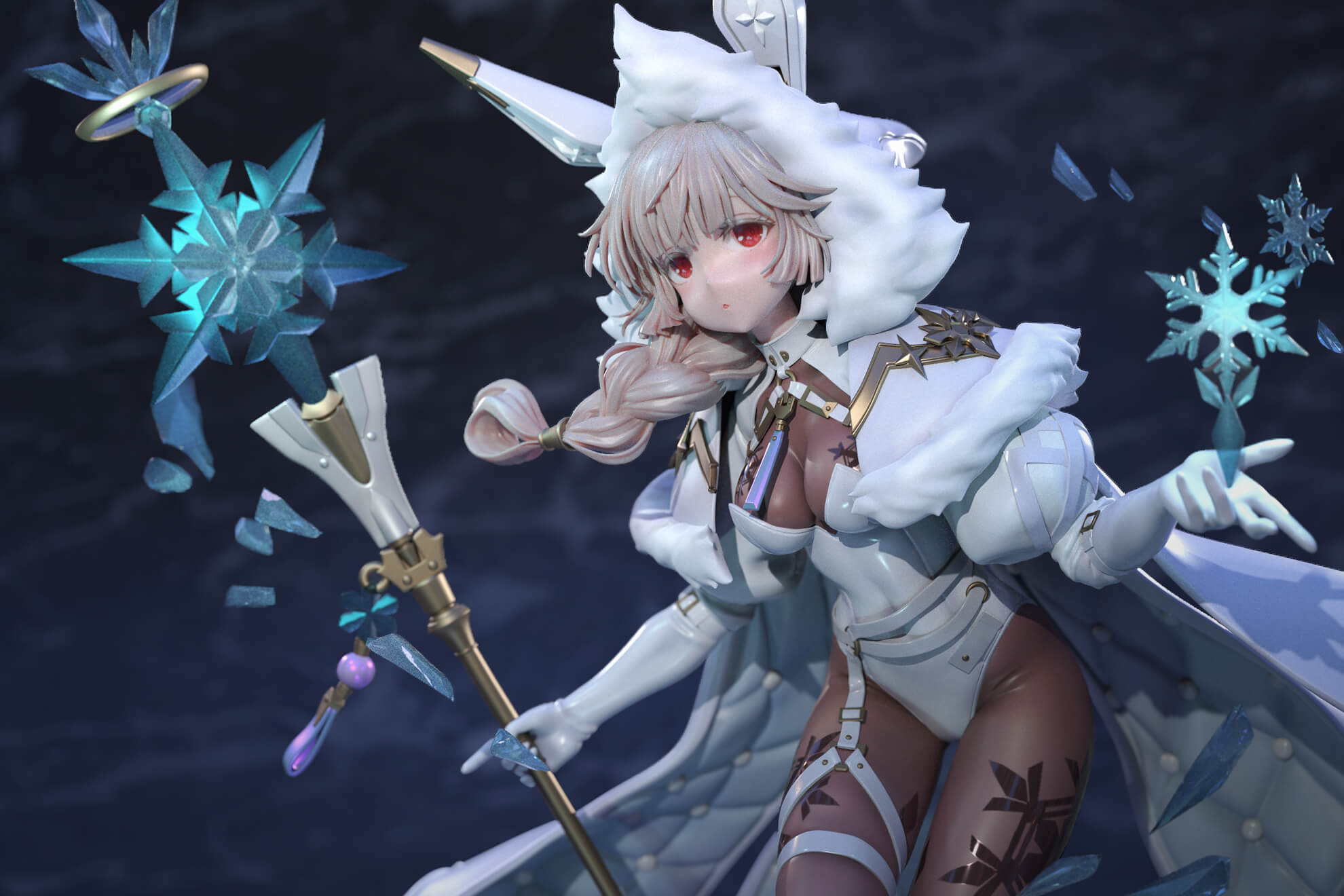 I will teach you how to take your 2D characters and digitally sculpt them into printable works of art. I'll be using my years of experience to show you simple and fun ways to shape your models, while providing several methods for resolving common sculpting headaches.
Expert 3D Character Artist
Wandah Kurniawan's Profile & Portfolio
Wandah Kurniawan
3D Character Artist


Hello. my name is Wandah Kurniawan.
I have spent more than 10 years working as a 3D Artist and am excited to share my digital sculpting knowledge with you. I currently work at Prime 1 Studio Japan as a Lead 3D Character Artist, but have also worked with AAA video game companies.

My work focuses on collectible toys, mainly statues and anime figures, and includes characters from companies such as: DC, Square Enix, Capcom, Kadokawa, and many more. This has allowed me to experiment with many different art styles over the course of my employment.

Throughout this class, I'll teach you the skills, tips, and insights that I have learned from my years in the industry. I will introduce you to the ZBrush tool and show you rendering techniques for toolbag 4. You will even learn how to make model cuts that allow you to 3D print your model and turn it into a collectible statue.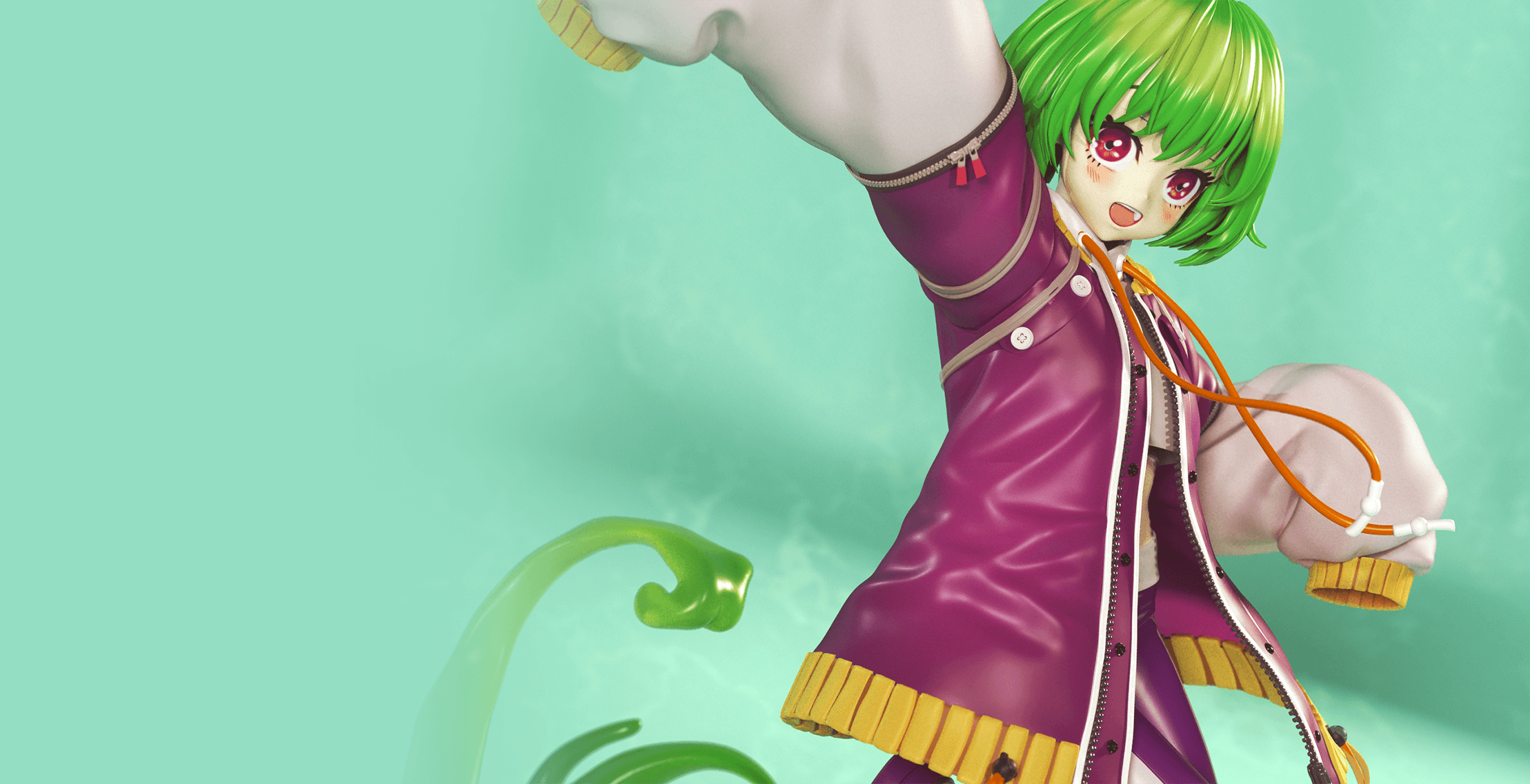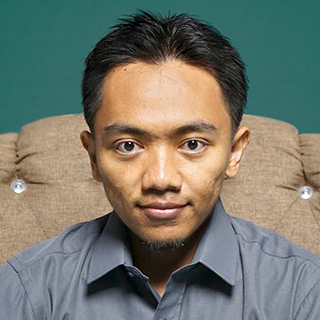 3D Character Artist, Wandah Kurniawan
[Current]
Lead 3D Character Artist at Prime 1 Studio Co., Ltd. (March 2019 - Present)
Recognizable Projects & Awards
[Previous]
Freelance 3D Sculptor Kinetiquette (2015-2018)
Freelance 3D Sculptor XM Studios (2018)
Freelance 3D Sculptor at McFarlane Toys (2017-2018)
3D Character Artist at Streamline Studios (April 2016 - April 2017)

[Awards]
3D World Issue 274 Toys and Collectible
2015 Best Design, 3D Print Creature Design, UCT
Statue of the year 2021 - Batman Statue Collectors

[Recognizable Statues Project]
Nier Automata diorama statues
Evangelion Statues
Attack on Titan Diorama
Fullmetal Alchemist Statues


Instagram
Sculpting Okku's Snow Bunny

Follow along as you develop your understanding of the entire workflow behind creating high-quality anime characters that will serve as a guide for your future anime-style sculptures

Learning the Proportions & Anatomy

Understand anime style proportions and anatomy while creating a detailed body

Shaping Body Extremities

Learn the skills to build hands and feet according to anime style body proportions
Anime Style Hair

Create hair that looks natural for your characters

Sculpting Costumes

Create clothing layers with natural wrinkles, and accessories

Hard Surface Sculpting

Model hard surfaces and add anime style details
Finding The Right Pose

Learn the posing process to find the perfect one for your characters

Presenting Your Work

Gain tips and insights on how to present and render your work like a pro

Getting Ready for 3D Printing

A demonstration on cutting and exporting 3D print-ready models
ZBrush Essentials
Learn the essential principles of anime-style character sculpting, anatomy, and proportions—starting with ZBrush. You'll get to know all the most important features and get in-depth insights into using the tool. Then, get an inside look at anime-style character sculpting using the ZBrush tool: from understanding the anime-style anatomy and body proportions down to facial sculpting—one of the most challenging parts of transferring a 2D anime character into a 3D form.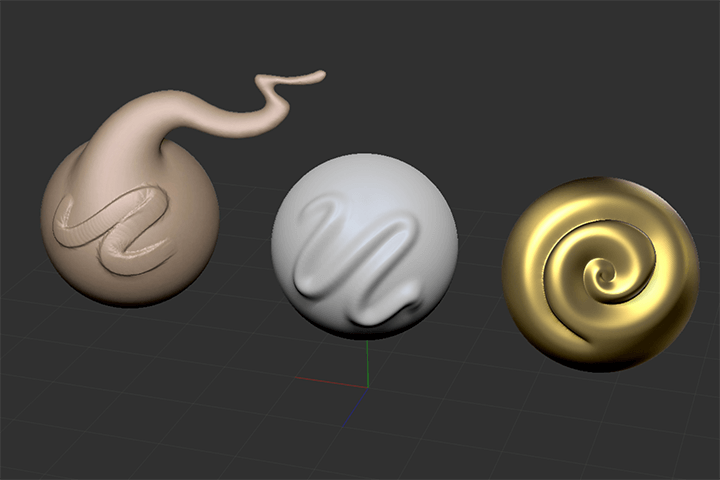 Hands-on Sculpting
Get started with sculpting by following along with a real-world 3D character artist as they guide you through the process of using ZBrush. We begin with the very basics of setting up your preferences for effective sculpture creation and using those settings to sculpt Okku's Snow Bunny. From small bunnies to a complete character, discover a wide range of insights and tips along the way—while bring ing an anime character to the 3rd dimension.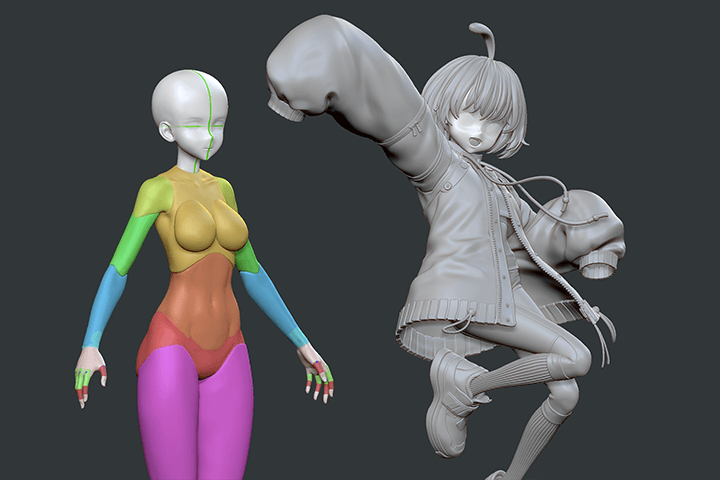 Perfect Presentation
Learn the process of finding the right pose for a character while presenting it in the best way possible. This class contains tips and insights that are hard to find anywhere else. You'll learn how to create poses that convey the right emotion and put together character presentations that stand out. Additionally, you'll develop skills for ZBrush and Toolbag 4 that will help you achieve optimal rendering for your work. Plus, get a bonus demonstration of cutting out the face and hair from a 3D printed character.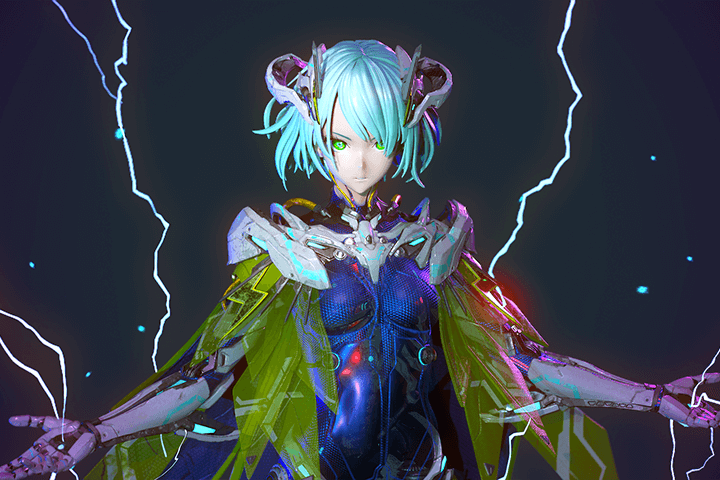 Class Details
You'll Learn
Starting with an introduction to ZBrush, you will learn the important settings and preferences that professional artists frequently use to build 3D anime characters, as well as the skills and tips to achieve faster and more efficient results.

Details, Efficiency, & Quality

Learn how to break down 2D concepts into simpler shapes and work to improve each part. Figuring out an efficient, faster way to sculpt characters without losing any quality is a crucial skill when working in 3D modeling.

You will learn to sculpt anime-style faces in a way that expresses your original art while receiving tips to achieve the best-looking facial structure.
Sculpting hard surfaces is one of the essential lessons for modeling and sculpting. You will encounter hard surfaces in a vast majority of the characters and objects you'll build in the future.

Sharing multiple preferred ways to render: learn to export, set up, and complete post-production work in Toolbag 4.

You will get a demonstration of the cutting process to prepare your 3D models for at-home 3D printing, discover how to make cuts (Head & Hair), and export print-ready models for home 3D printing.
SECTION 01. Introduction & General Orientation
01. Hello and Welcome
Introducing Your Instructor
Brief Overview Of The Class
Pros and Cons of the Anime Figure Industry
Brief Overview of the Workflow of Character Sculpting in General
The Future of Anime Collectible Industry
Welcoming Message
SECTION 02. ZBrush: Essentials
02. Getting Started with ZBrush
Why I've Chosen Zbrush to Model
Pros and Cons of Zbrush
Getting Started with ZBrush UI and Navigation
Different Uses and Types of Brushes
03. Getting Familiar with Essentials Part 1
Working on Symmetry
What's Gizmo 3D?
What's Transpose?
What's Dynamesh?
What's Sculptris Pro?
What's Live Boolean?
04. Getting Familiar with Essentials Part 2
What are Subdivision Levels?
What's Zremesher?
What is Zmodeler?
What is Polygroups and Crease?
What is Curve Mode?
What are Subtools?
SECTION 03. Hands-On 3D Sculpting The Snow Bunny
05. Intro to The Snow Bunny by Okku, Preferred Settings and Starting with the Small Bunnies
Setting the Preferences & Hotkeys to Start Working More Efficiently
Introducing the Snow Bunny Character Created by the Concept Artist Okku
Why I Chose This Character
Starting with Simple Small Bunnies
06. Anime Style Face Part 1
Tips on Anime Style Features
Sculpting the Anime Style Face
07. Anime Style Face Part 2
Painting the Eyes, Eye brows, Eye Balls, etc
Other Facial Details and Refining
08. Hair Part 1
Making Custom Hair Brushes
Introducing Custom Braid Brush
Applying the Brushes on the Front Hair
09. Hair Part 2
Working on the Side Hair
Combining the Braid and Refining
10. Hair Part 3
Adding Additional Accessories
Definitions and Minor Adjustments
11. Body & Proportions Part 1
Understanding the Types of Bodies and Proportions
Difference Between Real Human and Anime Anatomy
Forming Body Parts Using Simple Primitive Object
Simplifying Anatomy for Anime Style
12. Body & Proportions Part 2
Smoothing Out for Definition
Shaping the Bone Landmarks
13. Hands and Feet
Building Hands and Feet According to The Body Proportions
What to be Aware of When Creating Hands and Feet
14. Costume Part 1
Sculpting the Hoodie
Building the basic shape of Bunny Ears
Basic Creation of Clothing Layer
Sculpting Boots
15. Costume Part 2
Detailing the Back of the Hoodie
Detailing the Fur
16. Costume Part 3
Sculpting the Cape & Adding Details
Bodysuit Defining
17. Costume Part 4
Detailing the Cape
Creating Boots and Straps
18. Cape Details & Accessories Part 1
Adding Cape Straps
Collar Accessories
Creating Waste Straps & Rings
19. Cape Details & Accessories Part 2
Adding Cape Decorations
Sculpting the Emblem
20. General Details
Bunny Ear Defining and Coloring
Adding Details on the Sleeves
Perfecting the Eyes
Detailing the Boots
21. Staff Weapon Creation
Creating the Staff Weapon
Detailing & Coloring the Weapon
22. Posing Part 1
Trying Out Different Poses
What Kind of Poses Make Your Character Stand Out
How to Balance the Character
23. Posing Part 2
Polishing Up the Anatomy According to the Pose
Adding Proper Clothes Wrinkle for the Pose
24. Posing Part 3
Adjustments on the Body Suit
Making Adjustments on the Legs for the Pose
Adding Wrinkles on the Boots
25. Posing Part 4
Adding Straps on the Thigh
Straps on the Belly
Cape Detail Adjustments
26. Posing Part 5
Creating Floating Snowflakes and Effects
Adjusting Small Bunnies for the Pose
27. Color Shading & Detailing
Adding Color Shading on the Character
Working with Alpha to Add Pattern
28. Rendering in ZBrush
Finalizing All and Displaying on the Turntable
Working with Lightcap
Rendering in Zbrush
29. Rendering in Toolbag 4 Part 1
Decimating Polygon Count.
Exporting for Toolbag 4 Render
30. Rendering in Toolbag 4 Part 2
Setting Up the Scene in Toolbag 4
Adding Material in the Model
Post Production in Toolbag 4
31. Cutting 3D Model for Printing Demo: Head & Hair
Demonstration of Cutting the Character for 3D Printing
Exporting Print-Ready Model
32. Goodbye and Thank you
Tips and Insights on Working for a AAA Collectibles Studio
Words of Encouragement
Farewell Message
**The release date of this class, curriculum images, and associated content can be changed without prior notice.
Interview with
3D Character Artist Wandah Kurniawan


Question.01
Is there a specific reason why you chose this specific topic/themes?


I believe that anime is one of the most popular categories in the 2D & 3D industry, obtaining increasing popularity over time. This is why I thought it would be interesting for me to share my skills and insights with people who wish to be involved in this industry.
Question.02
What makes your class different from other classes?


I've had many experiences working with a lot of top collectible industries, which helped me attain my own unique style and skills. I think that with all the knowledge I've gathered, I'll be able to show how to break down, and simplify the process as well as try to find the most fun ways to sculpt. I'd also like to show different approaches solving the same problems.
Question.03
Please share anything you would like to add to your students


This class is for everyone interested in character sculpting. For beginners, they'll go from having a very basic understanding of the tool, to creating their own anime character. For 3D Character artists, they'll upgrade their skills and learn the insights on what's required to work for collectibles companies. For collectors, they'll learn to create their own collectibles sfter mastering this course.
Question.04
What do you think is the most important trait(s) to success in your industry?


Tenacity and the eagerness to learn new things. This industry evolves every five years or so. I'd recommend that you work hard on improving your skills.
Required Programs
This course will use ZBrush & Marmoset Toolbag 4. Please purchase and install these program(s) for an optimized lecture experience.

*These programs and/or materials will not be provided with the lecture.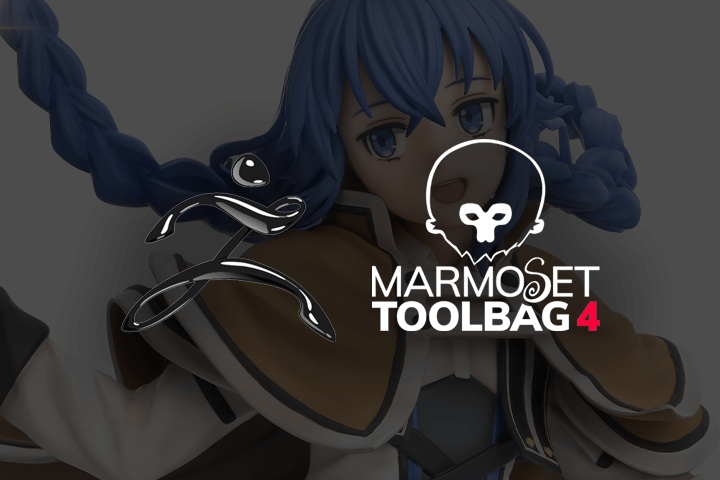 Recommended Class
Like this class?
Then check these out!
[IMPORTANT NOTICE]

*Please note that the information on this page is subject to change without prior notice.
*Would you like to learn more about our refund policy? Please check here.
*Please check our FAQ for Copyright and Proprietary Rights, User-Generated Content, Security, and Violation information.