[Summersplash]3D Character Artist,Taeckgyu Han_한택규 Details
3D Character Artist Taeckgyu Han will teach you
step-by-step on how to use 3ds Max's
essential functions, how to produce SD or
cartoon-style girl characters, and practical tips
on optimized modeling and rendering methods,
toon shading, and many more!

This modeling & customized cartoon rendering class
is perfect for upgrading your tool skills
and enriching your portfolio.


Content
Length: 36 videos
(Duration 23h 30m)
Difficulty: Basic
Unlimited views



Video Details
Audio: Korean
Subtitles: English

Software Required
Autodesk 3ds Max 2020
Unity 2020.3.27f1
Adobe Photoshop 2021

Perks
3ds Max modeling file
Texture image png file
Expert 3D Character Artist
Taeckgyu Han's Profile & Portfolio
Who Should
Take This Class?

Are you looking for a way to create
a cartoon-style character with 2D features,
but lacking information?

With unrivaled expertise in toon shading,
I'll teach you to create a character model
and stylize it to look like a 2D drawing.

Learning toon shading in 3ds Max and Unity
will help you achieve the most efficient workflow
for your character modeling project.

This comprehensive curriculum will teach you
everything about modeling & cartoon rendering
including highly-valued skills in the industry
with infinite monetization potential.

Check out the class now!

Recommendations
Taeckgyu Han's Class
Recommended by Experts in the Field
SD Girl Character 01: Face

SD Girl Character 02: Body
Cartoon-Style Girl Character 01: Face

Cartoon-Style Girl Character 02: Body
*These are sample images for better understanding.
Taeckgyu Han
3D Character Artist

Hello, I'm Taeckgyu Han,
a 3D Character Artist.

As a 3D character modeler, I've participated
in various projects at companies such as
Netmarble, NCSOFT, NHN, LINE, and etc.
Currently, I'm a game development director
at a startup company called Treesure.

Based on my experiences in diverse projects,
I will share insights on modeling and toon shading
methods to increase efficiency and help you work
more effectively with others on your team.

With this class, I will help you hone
the most fundamental skills in modeling,
creating forms and shapes so that you can
create a 2D cartoon-style girl character of your own.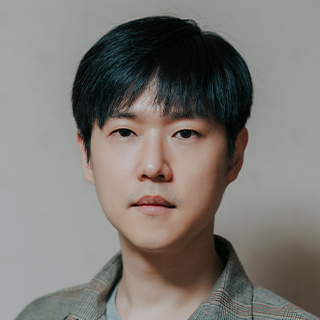 3D Character Artist
Taeckgyu Han
[Current]
Treesure Development Director

[Former]
Netmarble Monster
BTS Universe Story / Character Team Leader
Yo-kai Watch: Medal Wars / Character Team Leader
Recognizable
Projects & Awards
[Participated Projects]
NCSOFT
Blade & Soul / Senior 3D Artist

LINE PLUS
Line Fighters / Lead 3D Artist

playpiegames
The Mana Series: Rise of Mana / Senior 3D Artist

NHN ent.
Mystery Party / Senior 3D Artist


Artstation
3ds Max Modeling Customized
for Girl Characters, Starting
with Poly Modeling Basics
You will be learning essential functions in 3ds Max specifically for modeling girl characters, starting from the basic understanding of polygon modeling and workflow to tips on utilizing built-in renderers and the Unity machine.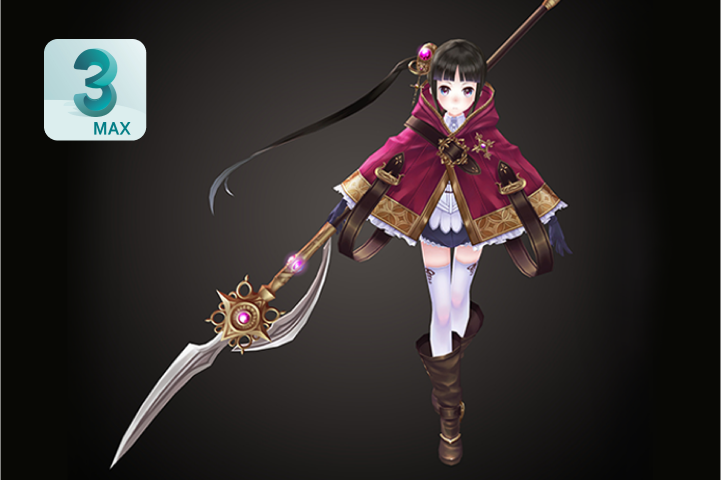 An Inclusive Guide to
SD & Cartoon-Style
Girl Character Modeling
Girl characters have become highly popular in the gaming industry. This class will teach you to create characters through detailed examples. In addition to building models with basic body structures and styles, you will also learn to make props and accessories for your characters.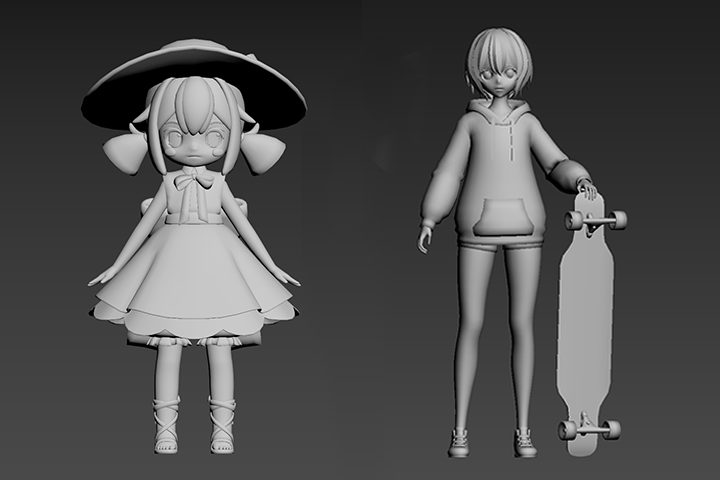 Mastering Toon Shading
Techniques with 2D Features
Learn the most compelling character modeling method for 2D style toon shading, using 3ds Max and Unity Toon Shader to learn cartoon rendering with each tool.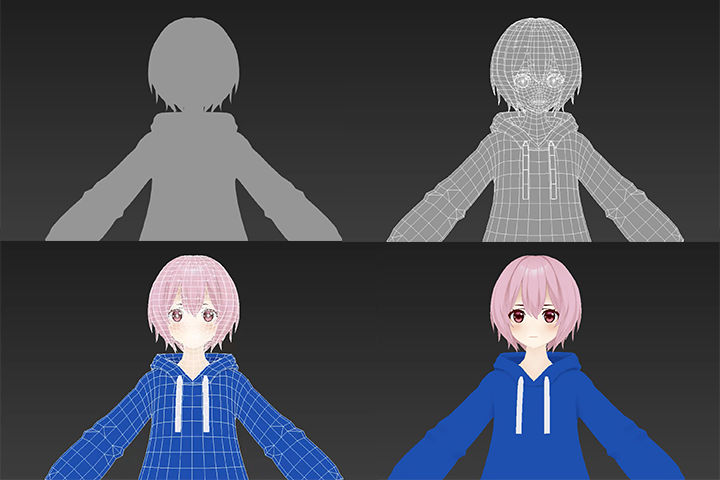 Class Details
You'll Learn
Using 3DS Max for
Character Modeling

You will learn about modifiers and other essential functions in 3ds Max that are specifically suited for girl character modeling, streamlined for maximum ease and efficiency.

Understanding the Human Body
and Facial Structure

Based on your understanding of the human anatomy, you will learn about wireframing and joint construction to create the kind of cartoonized girl character you want.

A to Z of Modeling, Rigging,
Animation, and Many More.

You will learn all about modeling, unwrapping, texturing, shaders, rendering, mapping, and finalizing the project for follow-up processes.
The Most Efficient Modeling
Method for Toon Shading

Instead of creating neat, pretty models typical in other types of character modeling, we will focus on controlling the model's outward presentation based on its value.

Insights on Cartoon Rendering
with 2D Features

Starting with the basics of mapping and UVW unwrapping, you will also learn how to place seam lines and get blending tips to enhance the 2D-like quality of your model.

The Smallest Details That Decide
the Quality of the Output

You will learn the main techniques used by professionals in the field to enhance the expressiveness of the models, as well as better habits that will help upgrade your girl character modeling and toon shading skills.
Unlimited Access
Best Price
Buy now, get unlimited access.
(자동 구성) 가격이 인상됩니다.
This special offer ends soon.
Buy now and save!
SECTION 01. Preparations for Character Modeling
01. Intro
Introducing the instructor
Introducing the class
What is cartoon-style girl character modeling?
02. 3ds Max
Pros and cons
Areas to apply
03. Poly Modeling
The difference between Mesh and Poly
UV coordinates and texture
Wireframe and rigging
About pivot and scale
About sub-objects and polygon
04. Materials and Shaders
About materials and shaders
Basic shaders and their properties
05. Texture Types and Areas to Apply
About textures
Types of textures and their uses
Understanding texture channels
06. Toon Shading
History & examples of toon shading
Characteristics of toon shading
Modern-day toon shading
07. Understanding Poly Modeling
Introducing the 3ds Max Interface
Understanding poly modeling by creating a simple item

* .MAX file for modeling will be provided

SECTION 02. Understanding the Basic Workflow of Character Modeling
08. Functions of 3ds Max
Commonly used 3ds Max modifiers for poly modeling
Precautions when applying modifiers
09. Character Body Modeling
Practicing modeling with big shapes
Character modeling based on an understanding of human anatomy
Creating effective wireframes for animation

* .MAX file for modeling will be provided
10. Face Modeling
Studying facial forms and characteristics of girl characters
Creating wireframe models for facial expressions

* .MAX file for modeling will be provided
11. Modeling Hands and Feet & Connecting Them to the Body
An easy approach to modeling hands & feet
How to construct joints for effective rigging
12. Unwrapping and Texturing
Understanding the basic concept of mapping
The basics of unwrapping: UV cutting, unfolding, and placing
13. Shaders and Rendering
Understanding shaders and rendering
About real-time rendering
SECTION 03. Creating a Character 01
14. Modifying the Basics: Face & Body
Modifying the proportion
Identifying face & body features of your character
15. Creating Hair
Things to consider when modeling hair
Utilizing the Poly Shift Move function
16. Creating Clothes
Creating clothes on the basic human body model
Modeling to create volume
17. Creating Accessories
How to use poly modeling to create accessories
Understanding the effective workflow for managing many different objects
18. UVW Unwrapping
Things to remember when unwrapping
Effective unwrapping and seam line placement
Tips for unwrapping

* .MAX file for modeling will be provided
19. Mapping
Simple mapping process using outside tools
Managing Photoshop layers for efficient mapping
Understanding different image formats

* Texture image files will be provided
20. Finalizing the Project
Preparing your model for export
Different modeling formats
SECTION 04. Creating a Character 02
21. Creating Face and Body Shapes
How to create facial expressions for stylized characters
Studying the anatomy of stylized body proportions
22. Creating Hair
Understanding the hair structure of casual characters
Modeling clump-like hair
23. Creating Clothes
A step-by-step guide to clothes creation
How to create clothes using dummy models
24. Creating Accessories
An easy approach to modeling various shapes
Understanding different forms and constructing a workflow
25. UVW Unwrapping
Effective unwrapping & seam line placement strategies
Unwrapping for mapping & modeling for unwrapping

* .MAX file for modeling will be provided
26. Casual Mapping
Mapping for casual-style characters
Tips on blending
27. Preparing to Use Unity
Editing proportions
Exporting for Unity
SECTION 05. Unity Rendering
28. Introducing Unity and UTS
Understanding Unity
Pros and Cons of Unity
Unity toon shader
29. Importing Models into Unity
Importing models and applying materials
Unity scene settings
30. Manipulating Shaders
Creating basic shaders
Gradient shader
31. Shading Grade Map
Shader application for better rendering
Easy way to create a Shading Grade Map
32. Outline Control
Basic principles of outline in Unity
Ways to control outlines
SECTION 06. Creating a Cartoon-Style Girl Character's Face
33. Creating Your Favorite Character
Identifying the character's unique features
Gathering references
34. How to Create Different Impressions
Understanding the features that determine a character's impression
Creating different eye shapes
35. Creating Complicated Hairstyles
Modeling uniquely-shaped hairstyles
Understanding different forms of hair clumps
36. Building Study Habits
How to think like a character modeler
How to search for information
Habits to help you improve your skills
Interview with
3D Character Artist, Taeckgyu Han


Question.01
Please share your thoughts on
3ds Max and what you see in the
industry's future.


3ds Max has always been widely used, but toon shading methods with both the hand-drawn quality and the 3D effect are becoming increasingly popular as they can produce cartoon-style outputs. Characters created with the toon shading method are highly sought on in casual games, VR avatars, and Vtubing platforms, cementing their position in the industry.
Question.02
What is your strength as a
3D character artist?


Many modelers know how to use Zbrush or 3ds Max, but character modeling is an entirely different field which requires a special skillset when creating 2D-vibe, charming girl characters. Throughout my experience, I've developed a unique modeling method well-suited for cartoon rendering and toon shading that is recognized as one of the best in the industry for creating cartoon-style girl characters.
Question.03
What is the main focus of this class?


Of all the functions in 3ds Max, I will be teaching you the essential techniques for modeling cartoon-style girl characters. This curriculum is more than just a simple tutorial of a 3D modeling tool, organized to help you create different shapes and improve your poly modeling skills by you through many types of cartoon-style girl characters.
Question.04
Who would you recommend
this class to?


Beginner modelers who want to learn about poly modeling with 3ds Max used in many different areas and platforms, professionals looking for a quick lesson on creating cartoon-style girl characters, and budding 3D character artists who want to create their own or become professional character modelers.
Required Programs
This class uses Autodesk 3ds Max 2020, Unity 2020.3.27f1,
and Adobe Photoshop 2021.
Please install version 3.1 or higher for an optimal learning
experience.

*These programs and/or materials will not be provided with the lecture.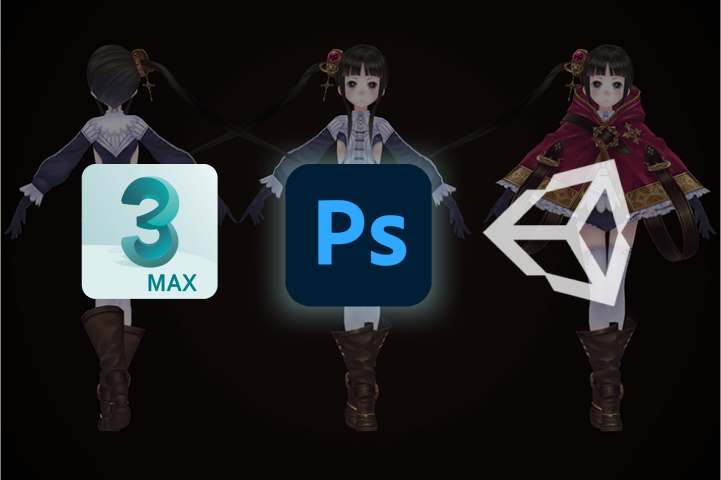 Recommended Class
Like this class?
Then check these out!
[IMPORTANT NOTICE]

*Please note that the information on this page is subject to change without prior notice.
*Would you like to learn more about our refund policy? Please check here.
*Please check our FAQ for Copyright and Proprietary Rights, User-Generated Content, Security, and Violation information.