3DArtist,LinoGrandi Details
Are you ready to enter the world of 3D mecha creation?
Join Lino Grandi, the very talented 3D expert from OTOY,
on this comprehensive journey.

Lino Grandi will guide you to create a fully rigged,
ready-for-animation 3D Mecha from scratch
using OctaneRender for Blender.

OctaneRender for Blender is an extremely powerful and
feature complete rendering engine,
known for its real-time GPU based photorealism.
Let's reveal the features of this amazing tool and
learn how to best integrate it with Blender.
Explore the powerful synergy between Blender & Octane
and improve your future workflow and skills!
Class Launch Schedule
1st Launch(Ch 1. ~ Ch 10) : 10/26/2023 19:00 (UTC-7)
2nd Launch(Ch 11. ~ Ending Note) : 12/7/2023 19:00 (UTC-7)

Content
Length: 22 videos
Difficulty: Basic
Unlimited views

Video Details
Audio: English

Software Required
Blender
(Version 3.6.1 or higher)
OctaneRender for Blender
(Version 2023.1. or higher)

Perks
[1st Split Launch Perks]
*Now Available:
- Empty Collection Structure
- Jet Model Scene for Ch. 6
- Mecha Modeling Startup File
- 5 Mecha Design Concept .png

[2nd Split Launch Perks]
*Available on December 7th, 2023 at 19:00 (UTC-7):
Redy-for-Animation
Mecha Model with
- Rig
- Toon Shaders
- Toon Edges
- Basic Toon Lighting
- Predefined Post Processing FX
Expert 3D Artist
Lino Grandi's Profile & Portfolio
This portfolio includes fan art and projects for Kondansha, Lorenzo Ceccotti (LRNZ), Bonelli, David messina, Bao, Daft Punk, BugMediumSmall
Why Take This Class?

Lino Grandi, a skilled 3D Artist at OTOY, actively contributes
to the development of Octane for Blender.

This class is thoughtfully crafted to offer you in-depth guidance,
covering the journey from setting up
OTOY's powerful GPU-based rendering
to the completion of a 3D anime-style mecha,
perfectly prepared for animation,
all achieved through OctaneRender for Blender.

Throughout this course,you'll explore creative methods
in hardsurface subdivision modeling,
master the art of toon shading, and become proficient
in rigging a customized mecha design.
Real-time feedback will be at your disposal,
enabling you to achieve exceptional results by
harnessing the capabilities of the two powerful and free tools:
Octane Render and Blender.

By the course's conclusion,
you'll possess a clear understanding of
the techniques employed in
crafting toon-shaded anime-style visuals.
Moreover, you'll have cultivated an artist's eye for
capturing the genre's unique aesthetics
while infusing your distinctive creative touch.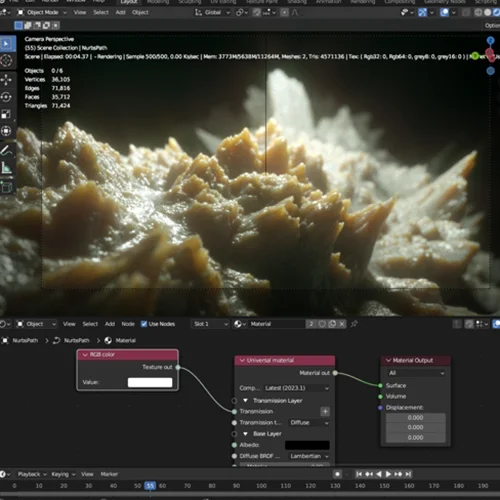 Intro to OctaneRender for Blender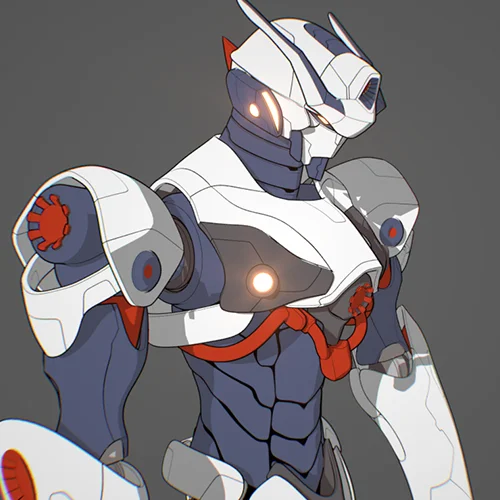 Toon Shading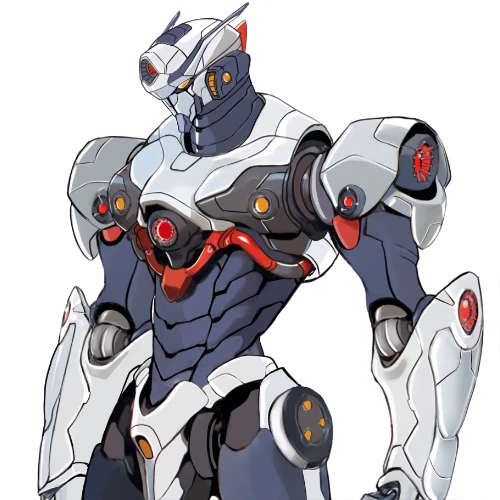 Mecha Design Analysis for Optimal Work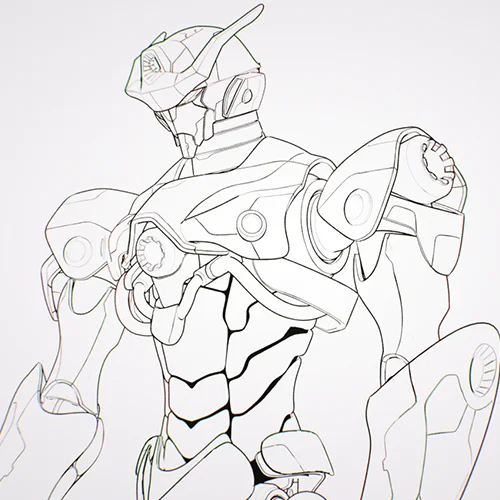 Edge Tracing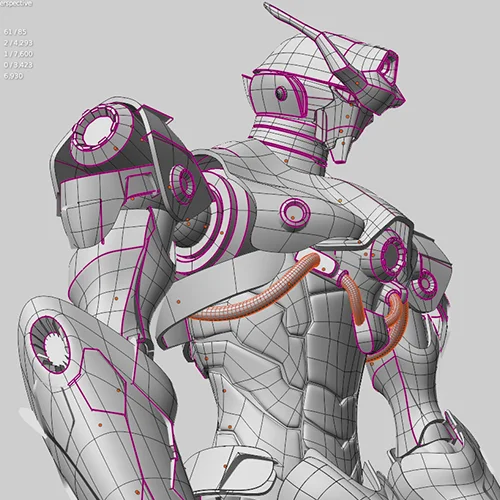 Mecha Modeling / Hardsurface Modeling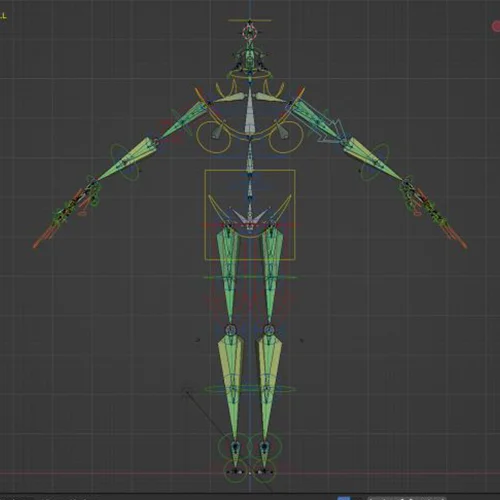 Building the Skeleton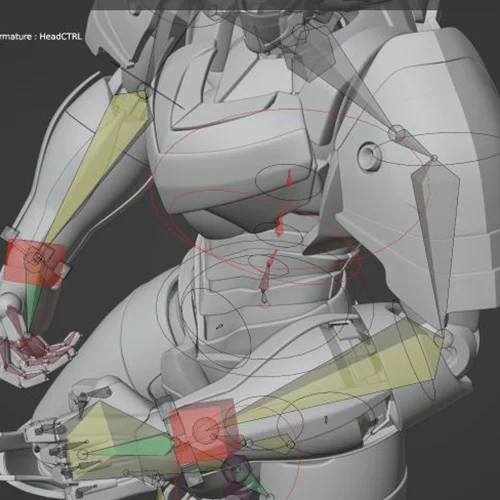 Creating Controls For the Rig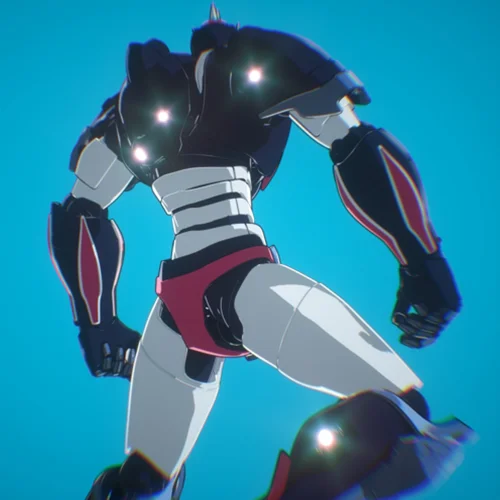 Experimenting with Pose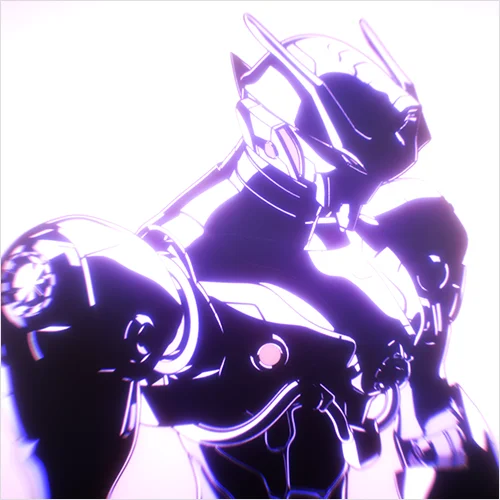 Lighting and Post Processing
Lino Grandi
3D Artist

Hello, I'm Lino Grandi, your instructor for
"Creating Anime-Style 3D Mecha with OctaneRenderfor Blender."

My lifelong passion for anime and mecha has driven me
to refine my 3D skills over the years.
From contributing to game character design on the Amiga
to collaborating with renowned anime studios,
I bring a wealth of experience to the table.

Now, as a member of the OTOY team,
I am thrilled to guide you in developing the skills needed
to craft captivating mecha designs using Octane, Blender,
and the enchantment of toon shading.

Come along on this journey, and together,
let's unleash your creative potential in the realm of
mecha artistry. Welcome aboard!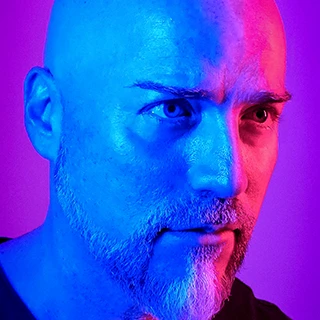 3D Artist Lino Grandi
[Current]
3D Artist at OTOY
Recognizable Projects & Awards
[Previous]
LightWave 3D Development Team

[Recognizable Projects & Awards]
- CG for Daft Punk Ft. Julian Casablancas + the Voidz
- 3D Models, Rigs and Renders for Golem by LRNZ
- 3D Models and Renders for the Ghost in the Shell:
Global Neural Network Graphic Novel (Kodansha/Lorenzo Ceccotti)
- 3D Models for Geist Maschine by Lorenzo Ceccotti
- 3D Models for David Messina's 3keys Upcoming Anime
- 3D Models, Rigs and Renders for the DragoNero Teaser (Bonelli)
- Mazinger Z Video Tribute, Animated by Angelo Caramanica
Instagram
Unleash the Power of OctaneRender for Blender
Throughout this course, we'll unveil the remarkable Toon-Shading capabilities of Octane Render as it seamlessly integrates with Blender. Drawing upon my extensive experience as a 3D artist at OTOY, I'll guide you through Octane's exceptional features, emphasizing its pivotal role in enhancing your creative workflow. You'll not only learn how to harness these tools effectively but also gain the proficiency to elevate your artwork. By the course's conclusion, you'll possess a robust grasp of OctaneRender for Blender NPR features, ready to infuse it into your future artistic ventures.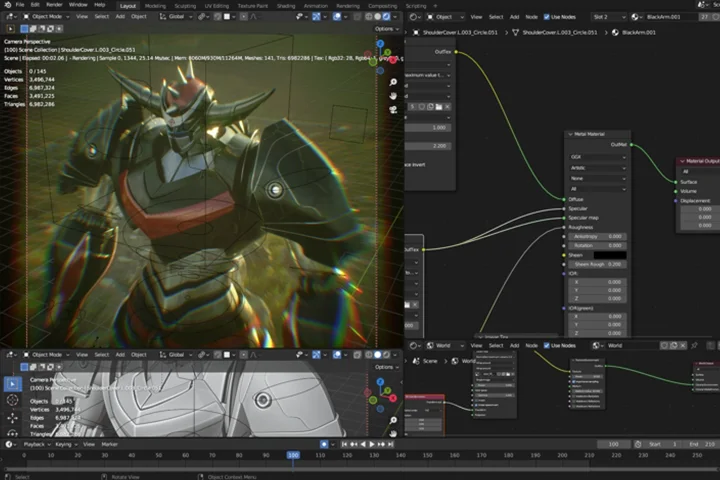 Toon-Shaded Anime Modeling with Real Time Feedback
Prepare to delve into the captivating realm of anime-inspired, toon-shaded mecha modeling. Drawing upon my lifelong devotion to anime and mecha aesthetics, I'll lead you through the intricate journey of crafting an entire toon-shaded mecha. Along the way, you'll experience the magic of real-time render feedback, harnessing one of Octane's formidable capabilities.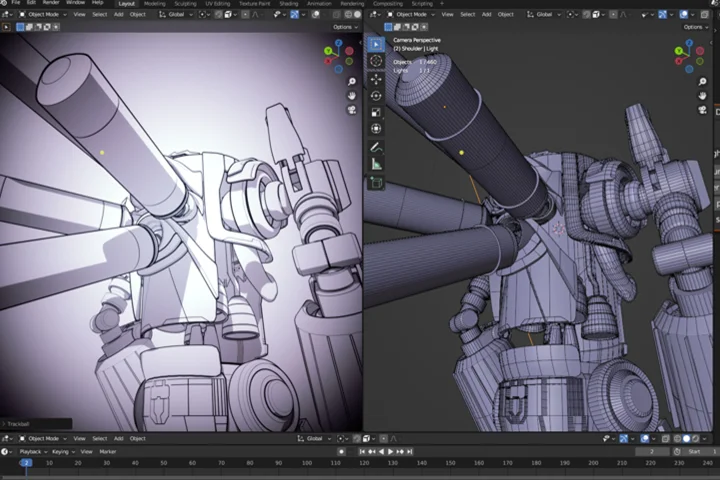 Effective Rigging for Anime Mecha Characters
In the later chapters of our course, I will guide you through the intricacies of rigging, ensuring that your mecha not only boasts a stunning appearance but also exhibits natural movement. You'll gain expertise in rigging mecha models, understanding the nuances of real-life mechas, from their mechanical joints to expressive poses. One of the key objectives of this course is to impart rigging skills from both technical and artistic angles, equipping you to have your mecha fully prepared for animation.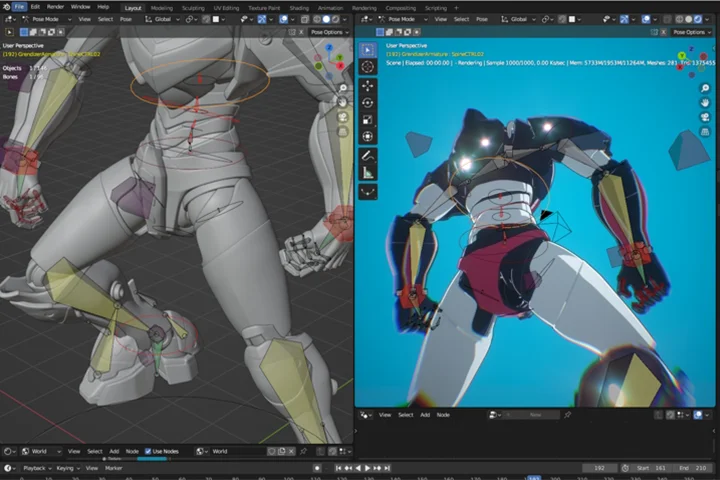 Class Details
You'll Learn
Introducing OctaneRender for Blender

OctaneRender is a powerful rendering engine. You will learn how to use it within Blender and how to create visually stunning live NPR renders in anime style. By the end of the course, you'll have gained enough knowledge to create your own visually striking toon-shaded mecha.

Toon Shading and Edge Tracing

For the most effective Toon Shading and Edge Tracing, we will explore different methods to create clean and smooth NPR renders, making our 3D models really look hand-drawn.

Concepting the Mecha Design

Students will explore the process of closely examining an anime mecha concept. We will delve into its diverse design elements, empowering you to craft unique and visually captivating mecha designs.
Toon Oriented Hardsurface Subdivision Modeling

Students will learn the fundamentals of toon-oriented hardsurface subdivision modeling, including how to create smooth and detailed 3D models with sharp edges and captivating shapes, always keeping the rendered, final result under control in real time.

In this phase, students will learn the fundamentals of rigging, with a particular emphasis on creating a tailored skeleton for mecha designs. You'll learn to set up essential constraints and prepare your mechas for seamless posing and animation

Lastly, students will focus on finding the best pose for the mecha and setting up lighting to create a visually compelling shot. Additionally, we will explore different lighting setups to enhance the mood and atmosphere of their artwork.
1st Launch(Ch 1. ~ Ch 10) : 10/26/2023 19:00 (UTC-7)
2nd Launch(Ch 11. ~ Ending Note) : 12/7/2023 19:00 (UTC-7)
01. Orientation
Introducing your instructor
What you will learn
Must-know before proceeding
SECTION 02. Intro to OctaneRender for Blender
02. Getting Started with OctaneRender for Blender
Introduction to OctaneRender for Blender
How to install the OctaneRender addon
Getting familiar with Octane
03. Toon Material & Toon Lights
Using Octane's Toon Material
Using Octane's Toon Lights
04. Edge Tracing
What is Edge Tracing
Most effective Edge Tracing techniques in OctaneRender for Blender
05. Getting ready: Modeling and Toon Shading Tools
Modeling and shading
Main Modifiers and tools we'll use
06. The Custom Octane Toon Material Group
Working with the custom Octane Toon Material group
SECTION 03. Mecha Concepting
07. Our Starting Point: The Mecha Design
Main references used for the design.
Analyzing the concept and its difficulties to optimize the work
Drawing wireframe on the concept design
SECTION 04. Mecha Modeling
08. Head (Part 1)
Modeling the head
Adding details
09. Head (Part 2)
Modeling the head
Adding details
10. Head and Neck (Part 3)
Modeling the head and neck
Adding details
11. Body Chest (Part 1)
Modeling the chest
Adding graphic details
12. Body Chest (Part 2)
Modeling the chest
Adding graphic details
13. Body Chest (Part 3)
Modeling the chest
Adding graphic details
14. Body Hips
Modeling the hips
Adding graphic details
15. Body Abdomen
Modeling the abdomen
Modeling the spine
Adding graphic details
16. Arm (Part 1)
Modeling the shoulder and arm
Adding graphic details
17. Arm (Part 2)
Modeling the elbow
Adding graphic details
18. Hand
Modeling the palm and fingers
Adding graphic details
19. Leg (Part 1)
Modeling the upper leg
Adding graphic details
20. Leg (Part 2)
Modeling the leg
Adding graphic details
21. Foot
Modeling the foot
Adding graphic details
22. Additional Modeling and Detailing
Adding more modeling details
Applying transformations
Final cleanup
SECTION 05. Rigging & Posing
23. Intro to Rigging
Parenting and coordinating systems
IK vs FK
Constraints
24. Rigging the Torso
Creating bones
Skinning and Parenting
Creating Constraints
25. Rigging the Head and Neck
Creating bones
Skinning and Parenting
Creating Constraints
26. Rigging the Arm
Creating bones
Parenting
Creating IK
27. Rigging the Hand
Creating bones
Parenting
Creating Constraints
28. Rigging the Legs and Foot
Creating bones
Parenting
Creating IK
29. Creating Controls for the Rig
Finalizing rig controls
Testing the rig and fixing issues
30. Posing and Lighting
Experimenting with different poses and ligthing
Creating a cool pose and lighting
Experimenting with real time post effects
31. Ending Note
Tips on becoming a professional 3D artist
How to best market yourself as a 3D artist
Farewell message
**The release date of this class, curriculum images, and associated content can be changed without prior notice.
Interview with
Expert 3D Artist
Lino Grandi

Question.01
Is there a specific reason why you chose this specific topic/themes?


My decision to develop a class on creating anime-style mecha using OctaneRender for Blender is driven by a combination of my passion, expertise, the demand in the market, the potential to empower artists, and the opportunity to build a community of like-minded individuals. It's a creative and educational endeavor that aligns perfectly with my interests and skill set.
Question.02
Could you please share how you started your journey in the industry?


I began my journey in 3D graphics as a self-taught enthusiast, driven by an insatiable curiosity and passion for the medium.

My early days working on the video game "Breathless" on the Amiga 1200 were instrumental in shaping my path in 3D. Later in my career, I was part of the LightWave 3D development team, where I experienced LightWave's importance in the world of anime production in Japan.

Today, I have the privilege of working at OTOY, a company known for producing one of the best GPU-based render engines. Within OTOY, I take on the responsibilities of managing the development of OctaneRender for Blender and Sculptron.

I'm grateful for the diverse experiences that have shaped me as a 3D artist and technical director. I hope my journey can inspire others to pursue their creative passions with dedication and enthusiasm.
Question.03
Please share your thoughts on the industry's job market and what you see in the industry's future.


I firmly believe that open-source software like Blender, especially when coupled with powerful tools like Octane, is revolutionizing the 3D animation industry. It not only removes financial barriers for aspiring artists but also unlocks boundless creative opportunities. This combination facilitates global collaboration, enabling artists to learn and grow together. Today, individual artists or small teams can independently bring their creative visions to life, unrestricted by corporate agendas. Social networks provide platforms for artists to showcase their work, connect with like-minded individuals, and even monetize their creations. This transformative landscape, empowered by the synergy of Blender and Octane, offers limitless possibilities for independent artists, making it an exceptionally exciting time to be part of the 3D animation world.
Required Programs
This course will use Blender, OctaneRender for Blender.
Please purchase and install these program(s) for an optimized lecture experience.
OCTANE FOR BLENDER IS AVAILABLE FOR FREE UP TO ONE GPU.

*These programs and/or materials will not be provided with the lecture.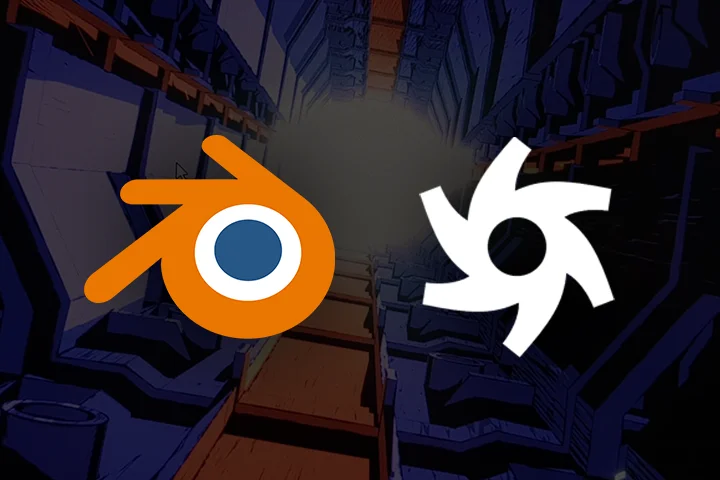 Recommended Class
Like this class?
Then check these out!
[IMPORTANT NOTICE]

*Please note that the information on this page is subject to change without prior notice.
*Would you like to learn more about our refund policy? Please check here.
*Please check our FAQ for Copyright and Proprietary Rights, User-Generated Content, Security, and Violation information.