[TIMEATTACK][Shortform]3DArtist,JeremySeeman Details
Are you ready to unlock the techniques
I use to create the perfect scaling loops in Blender?

This class breaks down the entire process
behind making the scaling loops
I have become famous for on social media.

I'll cover everything from basic hard surface modeling
to using math to create a scale-based animation.
Then we'll wrap it all up by rendering your work
and using lighting & materials to quickly enhance its realism.

Content
Length: 12 videos
(4h 17m)
Difficulty: Basic


Video Details
Audio: English

Software Required
Blender (minimum version 2.8)

Perks
Bonus PDF File
Project File .blend
Final Render Video
Expert 3D Artist
Jeremy Seeman's Profile & Portfolio
Jeremy Seeman
3D Artist

Hello, I'm 3D artist Jeremy Seeman.
I worked as a graphic designer for nearly fifteen years,
which helped me develop my 3D talents.
Eventually, I decided it was time to switch gears.
Starting May 2022, I've mostly worked as a freelancer
creating 3D motion graphics for various agencies.

My 3D motion graphics journey has been pretty short,
starting around January 2021. However, unlocking
a few capabilities in Blender was enough to foster
my obsession with learning as much as I could.

I started making perfect loops because I found them
incredibly satisfying to look at and create,
and out of all the 3D artwork on social media,
it seemed to perform the best.
I was inspired by prominent loop artists
like Arben Vllasaliu, Andreas Wannerstedt, and Gavin Shapiro.

After experimenting with a wide range
of social media platforms in the last few years,
I finally found my footing as a prominent artist
in the Blender & 3D motion graphics community.

Now, as a Coloso instructor,
I am here to guide you
through creating similar artwork
to help you get started on your journey.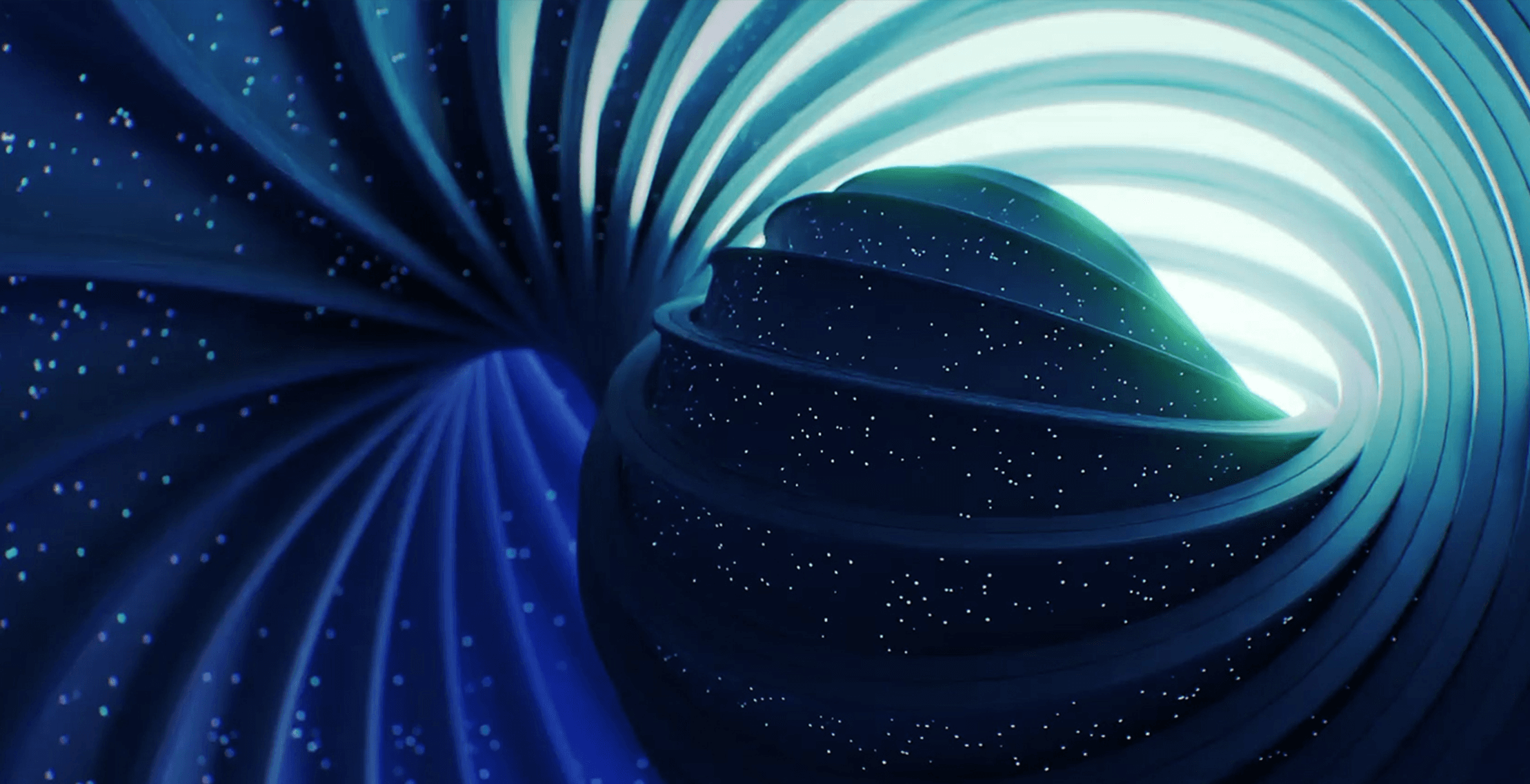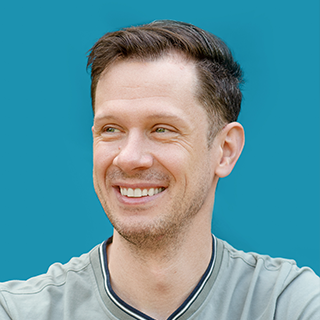 3D Artist
Jeremy Seeman
[Current]
Kinetic Graphics - Freelance 3D Generalist (May 2020 - Current)

[Previous]
Marketing Graphic Designer (August 2017 - May 2022)
Editorial Designer
(August 2008 - June 2017)
Recognizable
Projects & Awards
Alberta Magazine Publishers Association - Gold, Best Infographic (2017)
Canadian Online Publishing Awards - Best Infographic (2014)


Instagram
Basic Hard Surface Modeling
Done Differently
Basic hard surface modeling is a vital skill for any 3D artist. I'll show you some tips and tricks to create good-looking, properly-built models for the animation exercise in this class and other 3D projects.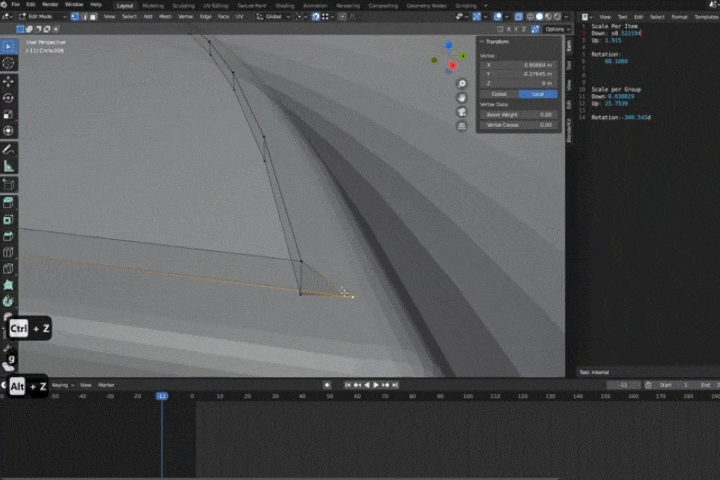 The Secret of a Scale Loop
I'll show you how to use basic math to construct a formula that will allow you to create a scale-based animation which moves perfectly. The secret lies in a simple but extremely effective line of python code.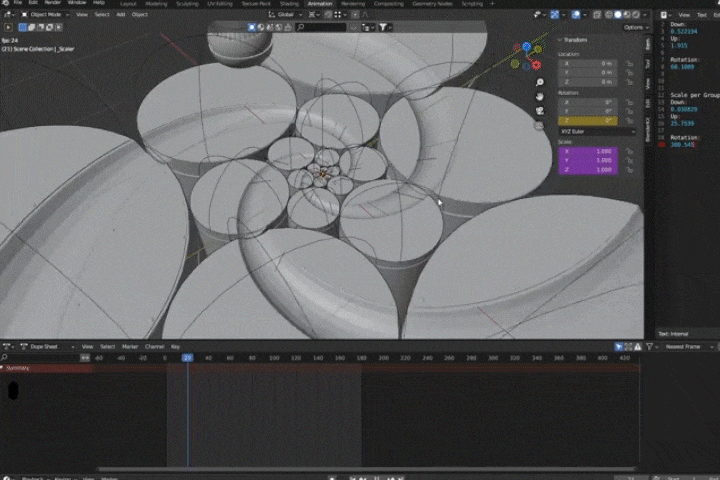 Lighting and Materials
for Quick Realism
All it takes to make a good animation great is a proper lighting setup and good use of materials. I'll show you how to create great-looking procedural materials, as well as how to source high-quality PBR materials for your project.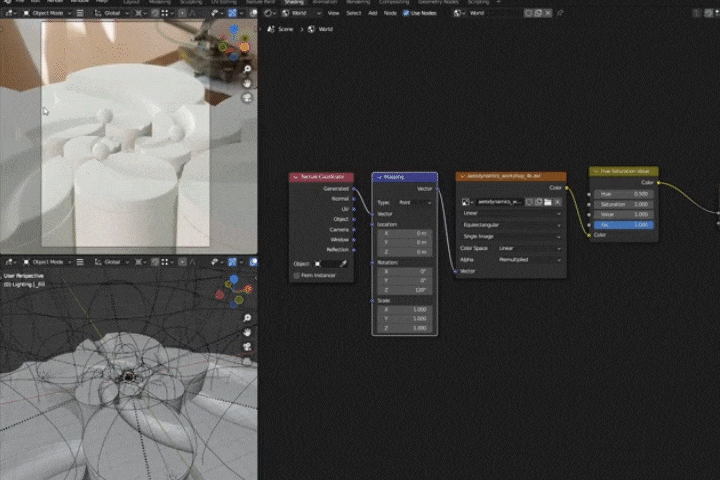 1. Orientation
Introducing your instructor
Examples of my artwork & history as a 3D artist
What you will learn
SECTION 02. Creating a Spiral Pattern
2. Adjustments to Default Blender
How to set up vanilla Blender & its addons
Enable settings that make looping easier
Install Blenderkit for materials (separate addon after v3.0)
Discussing frame 0 and the end frame
Animation principles for better loops
3. Packing Circles in a Spiral
Create tightly packed spirals using circles, the array modifier, spiral logic, and linked duplications
How to use this technique to make other spirals
Writing down our math as we go
4. Create and Carve a Tapered Channel
Extrude & rotate vertices to create a matching spiral
Use a piece of your spiral to create a tapered, curved cylinder
Adjust the cylinder to mesh perfectly for a boolean cutout
5. Our Track Needs a Sphere
Create a sphere to roll on your finished track
Find out the importance of creating a sphere with basic modeling
Quick hard-surface modeling techniques
6. The Secret to the Scale Effect
Determine where a loop should occur
Create a scale empty & scale up in two ways
Drive the scale using drivers & simple Python expressions
7. Finally Adding Movement
Animating the first segment
Breaking down the importance of local transform space
Duplicating remaining segments based on previous math
Offsetting frames of each linked duplication
8. Duplication, Grouping, Repeat
Create & then organize spiral segments into groups
Duplicate organized groups & transform them using math
Offset each subsequent duplication
Realistically rotate your sphere set-up for perfect looping
Use the graph editor to globally adjust our animation
9. Setting Up the Shot for Eevee or Cycles
Important settings for proper rendering in Cycles
Important settings for proper rendering in Eevee
Lighting our scene using Eevee for fast adjustments
What to avoid for more realistic results in Eevee
Add HDRI to your scene for better reflections & extra lighting
SECTION 05. Shading and Rendering
10. Adding Basic Shaders
Quick blocking of materials to dial in our color scheme
Set up materials for further editing
11. Adding Detailed Shaders and Materials
Create procedural textures for a scene using nodes in the shader editor
Source materials for your scene using BlenderKit
Adjust BlenderKit materials using nodes in the shader editor
12. Setting Up to Render
Add some camera movement
Add some volumetrics for mood
Troubleshooting errors: from 0 to 180
Remove frame zero and prepare for an animation
File formats for animations: PNG sequences vs. video file
Conclusion
**The release date of this class, curriculum images, and associated content can be changed without prior notice.
Packing Circles in a Spiral
Interview
with Expert 3D Artist
Jeremy Seeman


Question.01
Is there a specific reason why you chose this specific topic/themes?


I enjoy scale-based animations because it plays with perception and is a simple way to distort reality. These skills can be adapted to commercial motion graphics projects, abstract 3D art, visualizations for music videos, and more. There are other scale-based tutorials out there, but they don't dive into the math like this one does. I decided to build this class around my current technique because it's more versatile than other methods I've encountered. It has garnered me a lot of attention on social media and has even led to some client projects with companies like ASUS, Amazon Alexa, and more.
Question.02
Could you please share how you started your journey in the industry?


I got into 3D graphics after starting a branding company in late 2020, that meant I needed to learn 3D to create nice product shots. The business didn't go anywhere, but I fell in love with making things in a 3D space. Since then, I have rebranded as Kinetic Graphics. I followed as many tutorials as I could and took on any client opportunity I received. The more proficient I became with Blender, the more I started to inject artistic vision into what I was doing. My artistic vision is inspired by work from M.C. Escher, Salvador Dali, and other Instagram looping artists. As my talents grew and my visual style became more refined, I started to gain popularity on social media. I have been fortunate to have enough steady work that I was able to leave my full-time graphic design job in May 2022.
Question.03
Please share your thoughts on the industry's job market and what you see in the industry's future.


Before transitioning into 3D, I worked as a graphic designer for nearly fifteen years, usually working in-house with some freelance on the side. Since transitioning into 3D, I found more opportunities in one year than in my fifteen years as a graphic designer combined. This is partly due to the attention I've received on social media and partly because the need for 3D artists is growing every day, and there is more opportunity for it. I see the need for talented and capable 3D generalists growing more and more. VR, advertising, digital art, and game design is all on the rise, and 3D generalists are essential for success in those areas.
Required Programs
This course will use Blender (minimum version 2.8).
Please purchase and install these program(s) for an optimized lecture experience.

*These programs and/or materials will not be provided with the lecture.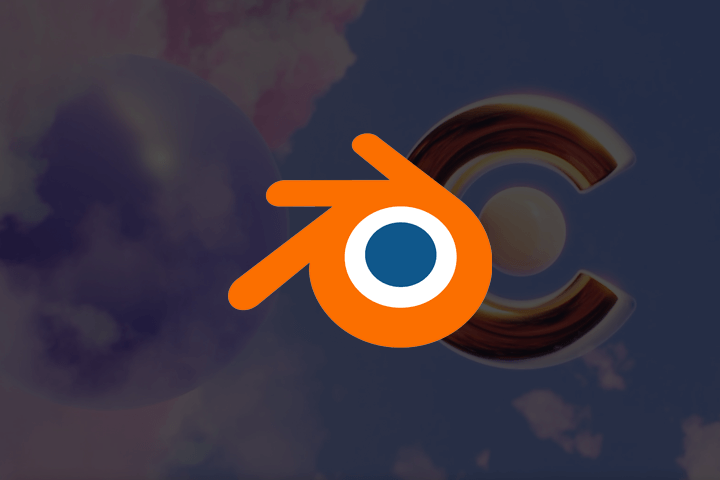 Recommended Classes
Like this class?
Then check these out!