3D Artist, anna_안나 Details
The World's First Node-Focused Blender Curriculum That Teaches Key Techniques Difficult to Learn Anywhere
Stunning 3D visuals that will not only inspire admiration but give you chills! What if you could create easily with automated data without complex key work?

anna, a YouTuber receiving worldwide acclaim for his unparalleled use of nodes, will teach you everything from the basic principles to advanced techniques of nodes over 100 chapters.
An opportunity to bring the scenes in your imagination to life with 50 exercises covering all of the main functions of shader and geometry nodes. Take on the production of an entire animation and master all the latest features, like the hair system and simulation nodes!
We recommend turning on the sound and watching this video in full screen mode.
Class Perks
Get These Coloso Exclusives

Unlimited access to over 50 hours of content in 100 chapters


From basic to advanced nodes, over 50 practical exercises


Total of 600 pages, 64 kinds of node class materials

Modeling and texture source files used in class exercises


Learn by digging into original files for various projects.
Recommendation
Who Should Take This Class?
Current 3D artists who want to learn Blender's node system systematically.
Beginners and intermediate Blender users who want to design efficient workflows for 3D work.
Intermediate and advanced Blender users who want to create advanced animations with ease.
Expert 3D Artist anna's Portfolio
Default Cube Render Challenge
Moving Meditation challenge
A Course That Will Break Down Barriers and Demystify Nodes.
Have you given up on learning the node system because all you could find were fragmented tutorials?

This class focuses only on the core elements among hundreds of nodes, making it easy to understand even for those who don't like math.
Take advantage of this comprehensive curriculum, which includes everything from the seemingly trivial but necessary to various tips that can be immediately applied in practice!
Animation Using Coordinates
Creating Material Through Images
Signboards That Display Different Images Each Time They're Duplicated

Refraction Shadows of Transparent Glass Textures

Expression of Fire and Smoke Using Video Textures

Various Texture Mixing Methods

Popping Material Expression
Plastic, Tile Leather, Polka Dot Sheets
Thickness, Coordinates, Height Expression of Blocks and Tiles

Vector Displacement: Cup Popping Out From Surface

Patterns Utilizing Mathematical Graphs

Ornament: Swirl Pattern and Symmetry
Fluorescent, Hologram, Translucent Plastic Material

Shader Nodes in Background and Lighting
Multiple Instance Utilization

Utilization of Instances in Modeling
Intermediate Geometry Nodes
Attribute Transfer: Magnet and Compass

Attribute Transfer: Drone

Curve Basic Control: Necklace
Curve Deformation: Jellyfish
Auto-Generated Architectural Modeling
Shortest Path: Lightning Effects

UV Coordinates: Attaching Embroidery
Planets Gravity Simulation

Fire Animation Using Afterimage
Part 3. Animation Production Node Project
Automatic Modeling of Stairs
Final Animation - Enchanted Ruins
Stumbling among ruins, two robots trip over a button on the floor. The magical device that has awakened then spirals out of control.
*The above productions are actual class exercises that you will create in this class.
An Introduction to Blender's Node System Adding a New Dimension to Your Creations
Approach Blender's shader and geometry nodes structurally, implementing 3D modeling and texture expressions in a more sophisticated and efficient manner that is impossible with traditional key operations.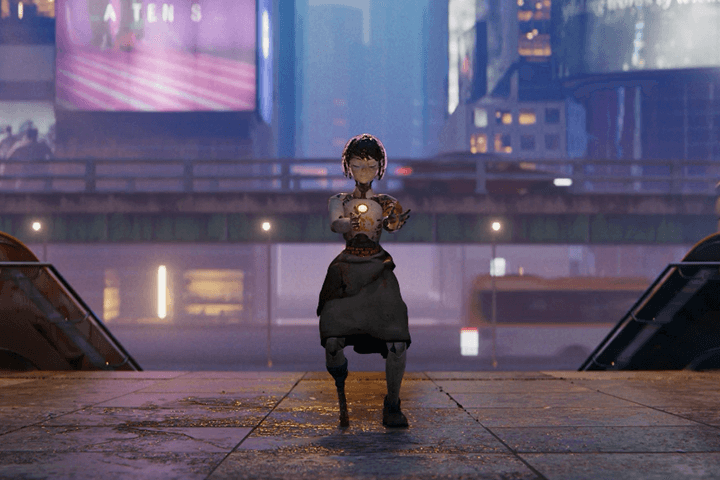 Understanding Shader and Geometry Nodes Based on Principles
Expand how you think about the fundamental principles of connecting nodes and how we can complete a node tree using specific ideas to equip you with applicable skills.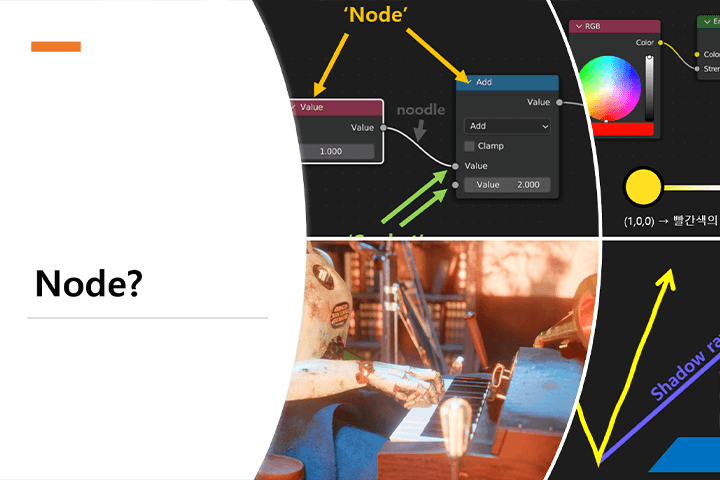 High-Quality 3D Animation Production Incorporating All Node Techniques
Plan a video production that highlights advanced techniques, character modeling, background texturing, lighting, VFX, and more! Develop your practical senses by covering detailed elements in depth to determine if a work is complete.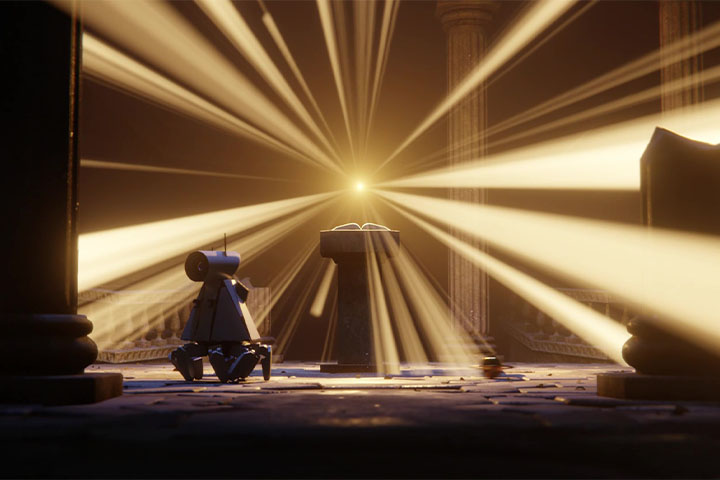 Roadmap
The Complete Encyclopedia on Blender's Shader and Geometry Nodes

anna
3D Artist
Hello, I'm 3D artist anna. Although I majored in mathematics, my continued interest in video graphics has led me to specialize in Blender's texturing, shading, compositing, and geometry nodes on YouTube.

Among them, shader and geometry nodes are essential functions for implementing high-quality videos.

Through this class, which systematically organizes my rich mathematical knowledge and the expertise I have accumulated over the years from my self-study of Blender, I hope you can add new dimensions to your work.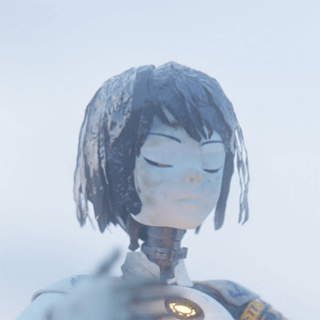 3D Artist, anna
[Current]
anna's 3 Minute Blender Tips on YouTube
Projects & Awards
Blender Community Challenge - Default Cube Render Challenge 2nd Place
3D Community Challenge - Moving Meditation Challenge 5th Place


Youtube
Class Details
You'll Learn
Understanding the Basic Principles and Usage of Shader Nodes

Enhance your understanding of the structure and flow of the shader editor and materials, learn basic operations and functions like texture coordinates and mapping nodes, and create exercises using image textures.

Learning Advanced Controls Through Texture Creation

Delve into procedural textures, which allow you to implement the materials you want without sources freely. Tackle materials like fabric, wood, and tiles and try our hand at shader node animations using coordinate movement.

How to Use Shaders in Background and Lighting

Explore how to render materials that aren't photorealistic, create special materials that can't be made with basic shaders, and learn how to use shader nodes in backgrounds and lighting.
Understanding How Geometry Nodes Work

Learn the principles of geometry nodes, starting from the concept of Field, tailored to the latest version of Blender. Discover tips for efficient modeling even in situations with many objects.

Proper Usage According to Data Type

Classify instances, curves, and strings according to the basic data types, and learn how to use them appropriately in areas such as animation, texturing, and typography.

Learning About Simulation Nodes and the Hair System

We'll explore the simulation node, often dubbed as the apex of the node system, along with the fundamental concepts and construction of the newly created hair system. We'll also create a simple animation.
Step 3. Node Project: Animation
How to Set Ideas Concretely with Geometry Nodes

Plan for the production of the final animation. Explore tips for translating abstract ideas set in the planning phase into concrete implementations with geometry nodes.

Tips for Various Compositions Using Lighting

Explore how to structure the screen to emphasize a topic and highlight objects through lighting. Learn about lighting design methods and how to use them to create dramatic effects.

Rendering Optimization Knowledge That's Not Afraid of 4K

Learn rendering optimization techniques to take the quality of your worked assets to the next level. Understand the characteristics of the Eevee and Cycles render engines, and learn optimization methods for faster rendering.
1st Launch(Ch. 1 ~ Ch. 20) : 12/28/2023 18:00 (UTC-7)
2nd Launch(Ch. 21 ~ Ch. 100) : 1/30/2024 18:00 (UTC-7)
Part 1. Class Introduction
Part 04. Creating Animations Using Nodes
Interview with
3D Artist, anna

Question.01
What is the purpose or key takeaway of this class?

I wanted to create content that serves as a reference for the difficult, overwhelming Blender nodes that can make knowing where to start challenging. From the most basic principles of texture coordinates to the latest features like simulation nodes, I will cover everything about shader nodes and geometry nodes across 100 chapters.
Question.02
What are the common difficulties people face when learning the Blender node system?

Shader nodes have developed over a long time, with integrated or replaced nodes mixed in. Geometry nodes require organically connecting what's needed from over 200 nodes.In this class, I aim to systematically integrate information on frequently used nodes and explain them in detail according to current situations.
Question.03
What are this guide's unique points?

Node trees are created by connecting multiple nodes. It's easy to find explanations for individual nodes, but learning how to connect them to achieve what you want to create can often be challenging. This class is designed not just for following node connections but to help you understand why they are connected in a certain way and how you can complete the node tree with specific ideas.
Question.04
What do you think students will gain from this class?

Blender's node system is a tool with infinite possibilities. You can increase productivity by automating frequently used functions, and thanks to the non-destructive nature of the node system, you can easily edit objects even after they are created. However, the most crucial aspect is the ability to surpass the barrier of expression. I hope that through this class, things that were previously thought impossible become possible.
Required Programs
This course will use Blender 3.5 and 3.6.
Please purchase and install these program(s) for an optimized lecture experience.

*These programs and/or materials will not be provided with the course.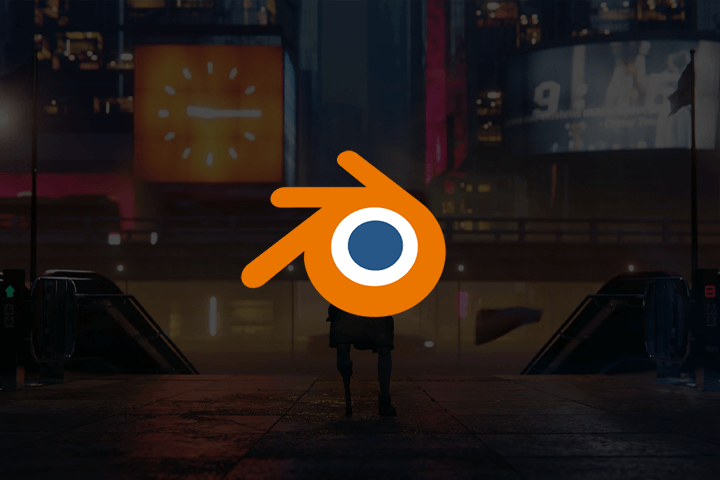 Recommended Class
Like this class?
Then check these out!
[IMPORTANT NOTICE]

*Please note that the information on this page is subject to change without prior notice.
*Would you like to learn more about our refund policy? Please check here.
*Please check our FAQ for Copyright and Proprietary Rights, User-Generated Content, Security, and Violation information.