[Summersplash]Illustrator,HyunkyuKim_김현규 Details
Class Intro
Illustrator, Hyunkyu Kim

Want to know how you can start drawing
your own charming male characters?

Get ready to learn everything you need to know,
starting from the basics of line drawing.
Throughout this class, you'll find out how to draw
male characters that fit different roles and concepts.
Then acquire the skills you need to add extra details,
like muscles, clothing folds, and accessories
that will help make your male characters unique.

Content
Length: 22 videos
(19h 21m)
Difficulty: Basic
Unlimited views

Video Details
Audio: Korean
Subtitles: English

Software Required
Adobe Photoshop CC

Perks
3 Class exercises
Photoshop brushes
17 PSD files
Expert Illustrator Hyunkyu Kim's
Profile & Portfolio
Hyunkyu Kim
Illustrator

Hi, I'm Illustrator Hyunkyu Kim.

I have been working in the gaming industry
as a designer and taking on freelance work
in Korea and Japan for over 15 years.

In Japan, where they value perfect and complete line art,
I've developed the unique line art styles
for male characters seen in my illustrations and comics.

The necessity for well-drawn male characters
is rising to the surface in webtoons and cartoons.
I think it's a drawing skill that is needed in various fields.
And if you become comfortable drawing male characters,
your range could also improve.

I've been an illustrator for a long time
and during that time, I've encountered trials and errors,
often seeing thousands of failures
when creating just one piece of artwork.

I will share my experiences and failures
to help you reduce the number of mistakes
you experience while learning line art drawing skills.
So that you can succeed creating
more complete drawing within a shorter timeframe.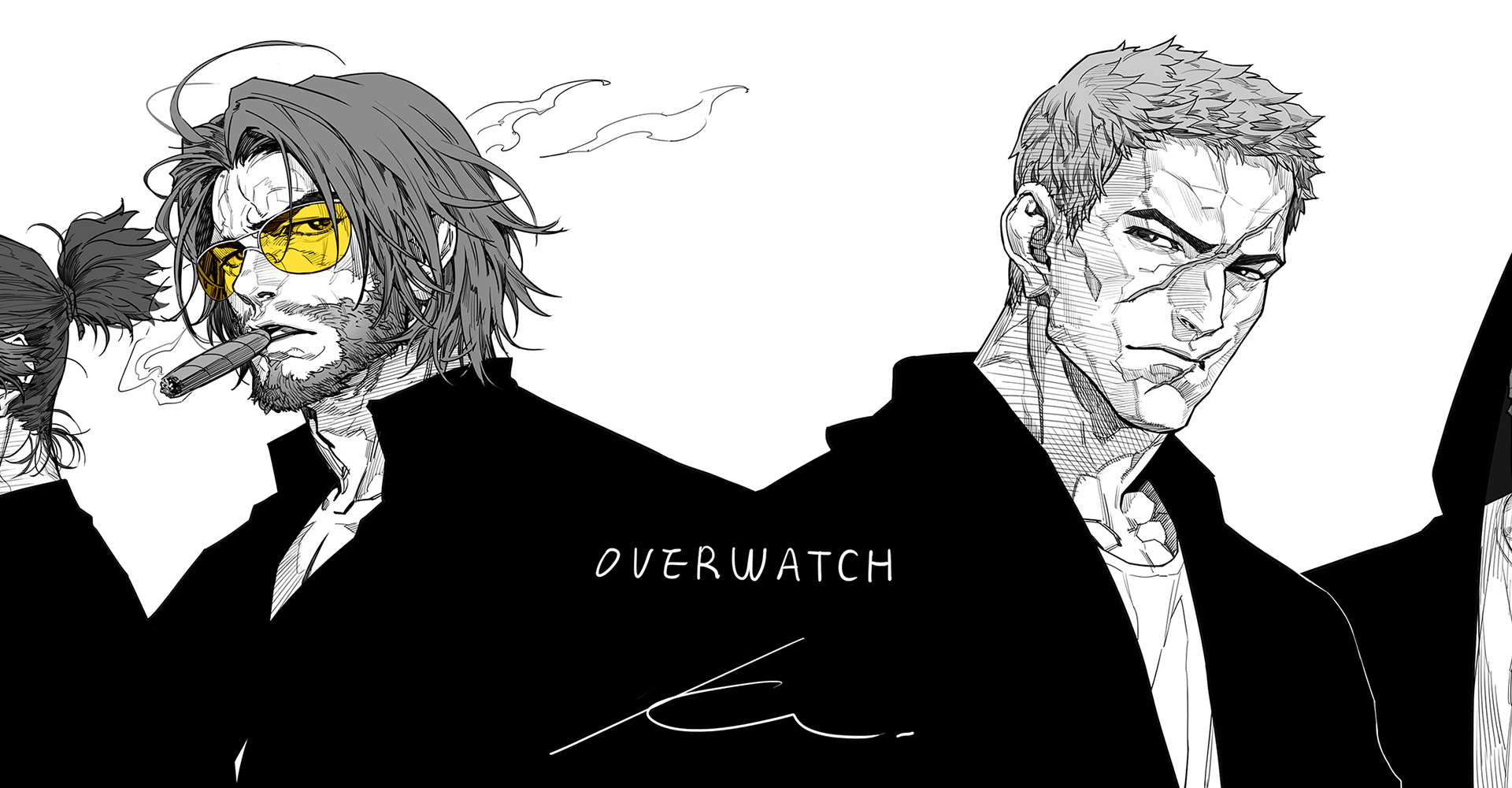 Part 01. Six Head Drawings By Concept

Learning about Tips and Techniques of Line Art which Differs by Concept
Part 02. Types of Figure Drawings

Learning the Characteristics of Male Features and Drawing Styles by Concept
Part 03. Complete the Illustration

Finishing Illustrations by Adding Base Colors and Midtones
Illustrate the Male Upper Body

Background Effects and Dramatic Elements
*These are example images for better understanding.

Acquire Key Drawing Skills
For Attractive Line Art
In order to help beginners easily learn Line Art, a skill that plays an important part in completing an illustration, I will teach effective Line Art skills such as correct line usage and shading using lines.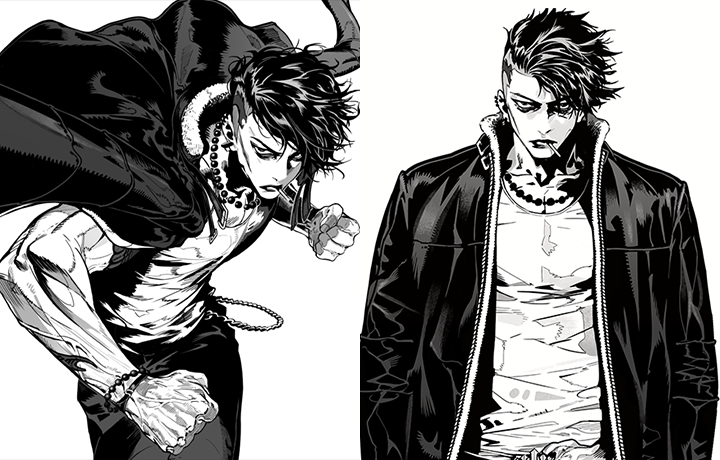 Draw Modern Male Characters Seen in Various Genres
A modern male character that can be used in various ways such as webtoons and web novels! You can learn the aesthetic points of the human body and the unique striking lining method, and learn various skills using face drawing methods that suit each concept such as innocent guy, cynical guy, and macho guy.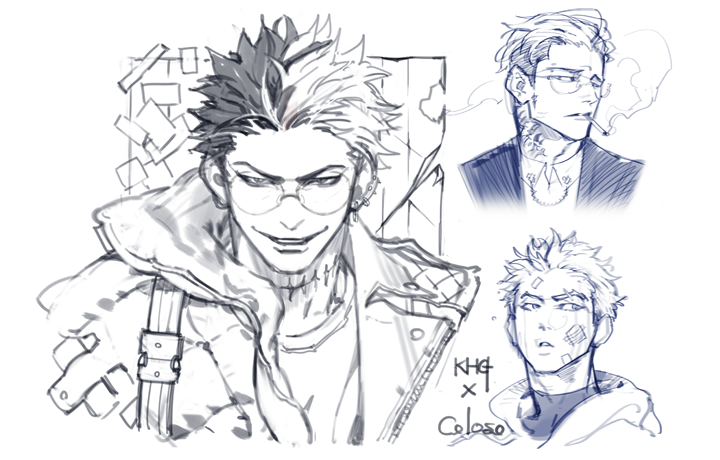 Draw Detailed Clothing Design, Patterns, and Creases
Learn how to design clothes that vary by each character's personality, and emphasize the characteristics using bracelets, sunglasses and necklaces, to grasp how to draw folds pertaining to each pattern.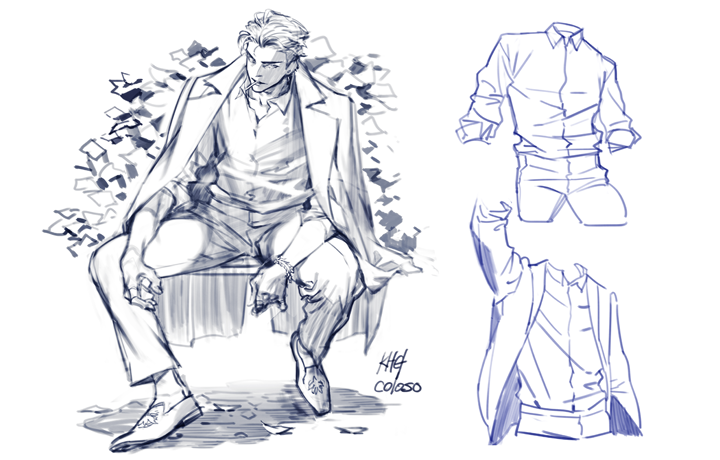 Class Details
You'll Learn
How to Use the Right Line Type to Reduce Failure

Learn the basic usage of lines using spheres, cones, etc., then apply Line Art to draw long, soft lines often used in art pieces.

A Unique Way of
Drawing Male Features

By trying out head boxes from various angles, you can learn how to portray the male features that vary by appearance, such as for innocent guys, bad guys, and athletic men, leading to tips on drawing appropriate hair and facial expressions as well.

Muscle Structure
and Detailed Description

Learn the differences between basic skeletal and muscular characteristics of males and females, and learn about the body shape and silhouettes per concept, including the normal male body type, buff muscular type, and the partly muscular type.
Eye/Nose/Mouth/Ear/Chin/Neck Detail Human Body Representation

Get tips on how to depict the human body by analyzing natural neck movements, details of the jaw on the face, and the trapezius muscles connecting to the neck.

How to Draw a Smooth
and Natural Outline

Starting with ways to enhance the feel and touch of line art, you will learn about various pre-lining styles that increase the intensity of the drawing through both lining and primary shading at the same time.

Illustrations That Emphasize
the Male Character

After completing the coloring method with base color and midtones, I will teach you how to add accessories like sunglasses, cigarette, and bracelets, and how to create depth on the screen such as rain, wind, and lightning.
Unlimited Access
Best Price
Buy now, get unlimited access.
(자동 구성) 가격이 인상됩니다.
This special offer ends soon.
Buy now and save!
SECTION 01. Basics of Line Drawing
01. Lecture Overview and Basics of Drawing
Introduction of the Instructor and the Direction of the Lecture
Basic Use of Lines Using Spheres, Cones, Etc
How to Make Light and Shade by Overlapping Lines
Try Using Long, Soft Lines
Common Mistakes in Drawing
Drawing Subject Matters That You Are Interested In
SECTION 02. Drawing Male and Female Characters by Concept and Facial Features
02. Basics of Head Drawing
How to Arrange Features
Drawing Head from Different Angles
Neck Movement and Subsequent Muscle Changes
03. Drawing Attractive Male Features 1
Understand the Features of Innocent Guys and Gentle Guys
Drawing Features Suitable for Each Face
Intensive Analysis of Eyes and Nose
Drawing the Hair Based on Each Concept
04. Drawing Attractive Male Features 2
Understand the Characteristics of Cold-Hearted Guys and Bad Guys
Drawing Features Suitable for Each Face
Focus on the Mouth and Ears
Drawing the Hair Based on Each Concept
05. Drawing Attractive Male Features 3
Understanding Features of Macho Guy and Athletic Guy
Drawing Features Suitable for Each Face
Analyzing the Trapezius Muscles Connected to the Chin and Neck
Drawing the Hair Based on Each Concept
06. Drawing Attractive Male Features 4
Details of the Facial Bones
How to Draw Facial Expressions
How to Design a Casual Head
Drawing Unique Heads Based on the Muscular Build
SECTION 03. Identifying and Drawing the Characteristics of Male Characters
07. Basic Drawing of Men's and Women's Full Body 1
Adjusting the Telegraphic Proportion
How to Shape the Foundation of the Skeleton in a Box
The Difference between the Basic Skeleton and the Box Shape of the Male and Female Body
08. Basic Drawing of Men's and Women's Full Body 2
Understanding the Muscle Structure
Drawing Hands and Feet
Body Deformé Representation
09. Intensive Male Body 1
Innocent Guy: Regular Body Type with Moderate Muscles
Cold-Hearted Guy: Slim Muscles
Macho Guy: Overly Buff
A Study on the Body Shape and Silhouette According to the Character's Features and Concept
A Bloodline Description That Makes a Male Character Attractive
10. Intensive Male Body 2
Distortion and Change of Muscles According to the Poses
How to Describe the Detailed Muscles
11. Drawing Various Poses
Basic Full Body Poses
A Pose That Focuses on the Upper Body
12. Various Angles and Compositions of Human Drawing
Perspective
Screen Configuration Method
13. A Study on Fit and Clothing Wrinkles
Outfit Design That Fits the Character's Personality
How to Emphasize Characteristics with Accessories
A Study on Patterns and Folds in Clothes
A Study on the Design and Patterns in Outfits for the Character's Personality
SECTION 04. Practicing Male Character Drawing Skills
14. Drawing Roughs for Illustrations
Overall Cropping
Carefree Posture Representations
Screen Configuration Method
15. Line Drawing Basics 1
Why Lines Look Unnatural
How to Draw Soft, Natural Outlines
Key Point To Bring the Line Come Alive
Precautions in Outlining the Face
16. Line Drawing Basics 2
Increasing Intensity with Line Art by Adding Line and Primary Shading at the Same Time
Choosing a Suitable Brush for Each Drawing Style
How to Use the Brush
How to Emphasize the Line Texture
A Study on the Different Pre-lining Styles
17. Light and Shadow
Basic Light Settings
Distinguishing Parts That Are Affected and Not Affected by Light
Drawing Dots, Lines, and Planes
Forming Lumps
18. Using the Features of the Brush to Create a Midtone
Increasing the Density of Colors
SECTION 05. From the Beginning of Male Character Illustration to Visual Storytelling
19. From the Beginning to Completion of Male Character Illustration 1 - Sketch & Line Art
Deciding a Character Concept
Drawing Rough Sketches
Completing the Line ArtWork with the Taste of the Line
20. From the Beginning to Completion of Male Character Illustration 2 - Brightness and Color
Putting in the Base Color
First, Try Shading
Medium Tone
21. From the Beginning to the Completion of Male Character Illustration 3 - Finalize Correction
Increasing Intensity
Color Calibration and Finishing
22. Digging Out the Completed Illustration - Visual Storytelling
How to Make Accessories That Stand Out for Male Characters: Sunglasses, Cigarette, Bracelets, Necklaces, Etc
Background to Enhance the Volume of the Screen: Rain, Wind, Lightning, Neon Signs, Etc
How to Produce Backlight in Characters
How to Configure Portfolio
Final Greetings
Interview
with Illustrator Hyunkyu Kim

Question.01
What Are Your Strengths
as an Illustrator?


I think my biggest strength is perfecting the natural expression of a character and creating attractive characters with line art. Another strength I have, is my ability to tell you the feeling behind every line. I look forward to sharing the tips I've learned for drawing attractive male characters thanks to my years of experience in Japan, where line art is considered a significant skill for an illustrator.
Question.02
What Are the Key Points of This Class?


Based on my experience, the most common mistake is when the free expression of lines in the rough stage becomes unnatural and stiff during the process of drawing a line. I've prepared lectures on how to organize free lines in the rough drawing stage and show you how to deal with light and shade using lines.
Question.03
What Did You Focus on When
Organizing the Curriculum?


I will strengthen your basic drawing skills to make learning "easy and fun," and teach you my own unique skills . It's not just about learning the skills, but the curriculum is organized to make sure it is applicable in various ways to help students develop their own unique drawings.
Question.04
Who Do You Recommend This Class To?


Above all, my goal is to motivate and inspire you. I think it will be an opportunity to inspire those who want to build basic drawing skills, and illustrations based on line art, while also showing aspiring webtoon artists how to use lines.
Required Programs
This course will use Wacom Intuos and Adobe Photoshop CC. Please purchase and install these program(s) for an optimized lecture experience.

*These programs and/or materials will not be provided with the course.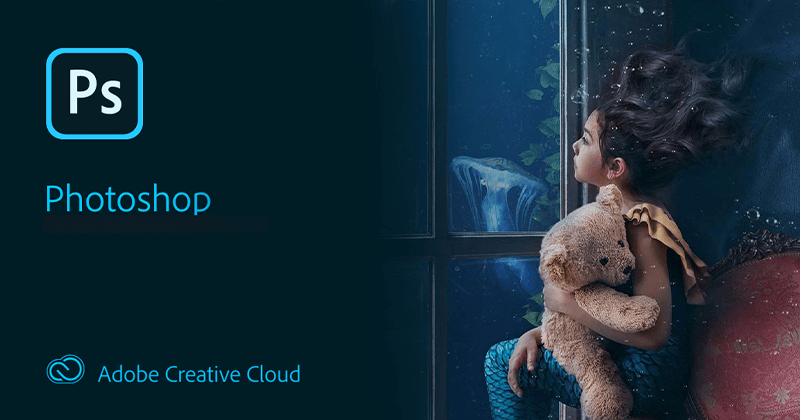 Recommended Classes
Like this class?
Then check these out!
[IMPORTANT NOTICE]

*Please note that the information on this page is subject to change without prior notice.
*Would you like to learn more about our refund policy? Please check here.
*Please check our FAQ for Copyright and Proprietary Rights, User-Generated Content, Security, and Violation information.