[Summersplash]3DCharacterArtist,MinjeongShin_신민정 Details
Class Intro
3D Character Artist, Minjeong Shin

"The things you can create with blender are limitless."

Learn how to create various characters using Blender,
so that you can bring your imagination to life through your work.
Even beginners can learn how to easily create 3D characters.
This class goes beyond the basics of using the free tool Blender,
you will learn how to model cute props and character modeling
for the face, hair, clothes, and body.

After completing this step-by-step curriculum,
you'll have a fully finished character model of your own.

Turn your imagination into a reality,
and create an attractive 3D character with Blender.

Content
Length: 41 videos
(49h 21m)
Difficulty: Beginner
Unlimited views

Video Details
Audio: Korean
Subtitles: English

Software Required
Wacom Intuos
Adobe Photoshop CC
Blender

Perks
15 Class exercises
7 Sample files
3D Character Expert
Minjeong Shin's Profile & Portfolio
*Portfolio work includes fanart.
Minjeong Shin
3D Character Artist

Hello,
This is 3D character artist Minjeong Shin.
I am currently working as a freelancer,
Creating a 3D character that is
stylized in a simplified form of the human body.
This is my strength and what differentiates me from others.

The core of this class is not about creating a live-action-based character
But more of a simple form stylized character
So even beginners without a deep understanding of the human body
With basic training
can easily create 3D characters.

The blender tool used in the class is a free program
with an easy interface.
It is a good 3D tool for beginners, but
There is not a lot of data in Korean
So in order to know the overall character work process
Numerous resources should be consulted.

However, this course contains
everything from 3D character creation that I learned
Over years of self-studying.
You can learn and understand the overall character creation process
Completely in Korean and
Create your own creative stylized character.

From Modeling Cute Props
To Designing a 3D Character
PART. 01 The First Step in Modeling
Making Breakfast for Chang-gu
PART. 02 Cultivating the Basic Concept of a Character
Face, Posture, Hair Modeling
Creating a Cute Girl Character

Profile Character
(Makeup + Accesories)
PART. 03 Character Application
Completion of Attractive Character Face & Body
Creating a Character: Face & Hair

Facial Changes According to Facial Expressions

Creating a Fairy-Tale Character
* This image is an example image for better understanding.

How to "Sculpt (Sculp)"
Your Own Unique Character
Learn an efficient sculpting method to express a stylized character that can appear in a fairy tale, and complete a 3D character with a rich three-dimensional effect that cannot be felt in a 2D character through clean and sharp character sculpting.
* For a smooth sculpting process, please prepare a tablet.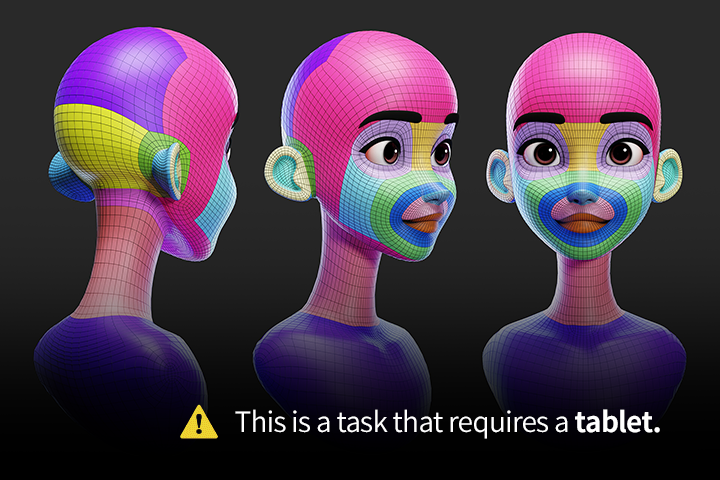 Step-By-Step Curriculum
For 3D Modeling
Don't worry if you're new to 3D tools. Through the free tool 'Blender', I will teach you in detail through a step-by-step curriculum from the basics of modeling to step-by-step skills so that even beginners can easily follow along.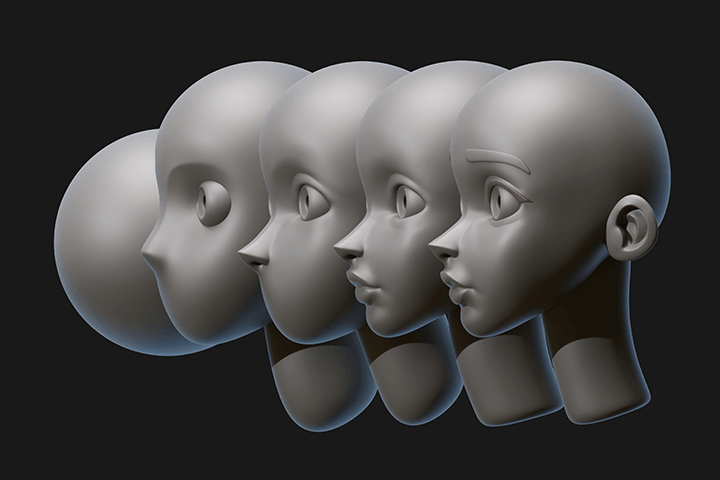 Practice on Your Own
Through Sample Exercise Files
It does not end with taking a class, but application of the material and creation of your own character is possible through character hair sample files, reto-polished character files and step-by-step sculpting example files.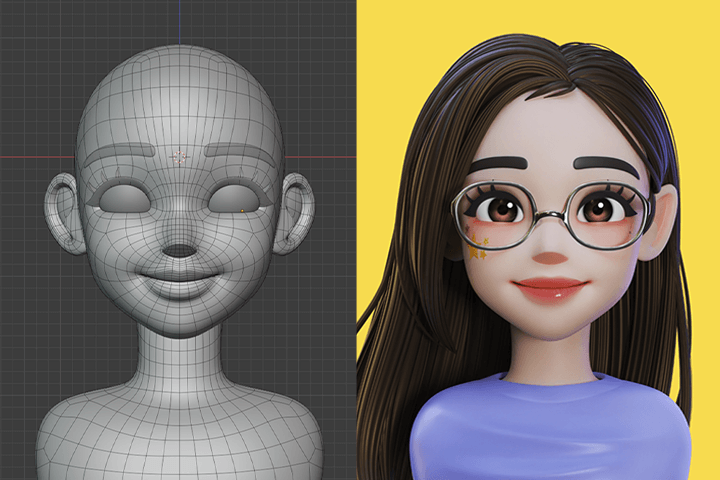 Class Details
You'll Learn
Only the Essential Blender Features You Need

You don't have to master all the many Blender features! From the basic interface of the Blender tool to modeling and sculpting necessary for character creation, I will introduce you to only the core functions.

Learn an Easier Way to Sculpt

Sculpting is easy for beginners to fail! Learn from various basic examples to how to use brushes frequently used to create 3D characters to reduce failures and enable efficient work.

Create Your Own Unique Character

Learn the basics of the material, which is the texturing work to enhance the delicacy of a character, and learn how to make shiny jewel eyes for your character.
How to Create a Variety of Characters That Change with One Expression

By mastering the movements of facial muscles, you can bring your character to life with smiles, surprises, angrer, and sad expressions.

Make Your Character Stand Out More with Post-editing

If you have completed modeling with the Blender tool, use the photoshop tool to upgrade the quality! We hide the disappointing parts of Blender modeling and reveal correction tips that can maximize the character's beauty.

Easy but Powerful! How to Apply Plugins to Improve Quality

What if I can't be satisfied with my character that seems to be lacking somewhere? I will show you the surest way to instantly raise the quality of your character by using a powerful and easy paid add-on texture.
Unlimited Access
Best Price
Buy now, get unlimited access.
(자동 구성) 가격이 인상됩니다.
This special offer ends soon.
Buy now and save!
SECTION 01. Introduction to Blender for Creating 3D Characters
01. Learn the Basics of Blender
Learn about Blender UI and Screen Control
Blender Frequently Used Shortcuts
02. Learning the Basics of Modeling
Shortcut Keys Frequently Used in Modeling
Learn about Frequently Used Modifier Functions
03. Learn the Basics of Sculpting
Understanding Remesh
Learn about Brushes That Are Often Used to Create 3D Characters
SECTION 02.Making Breakfast for Changu
04. Modeling
Prepare Bowl
Cook
05. Material
Learning the Basics of Material
Uv Mapping Using Photoshop
06. Rendering
Learn Camera Basics
Simple Correction in Compositing after Rendering
SECTION 03. Create a Cute Girl Character, Mabel
07. Modeling
Make a Face
Body Building
08. Material
Creating Eyes with Vertex Paint and Nodes
09. Create Various Postures and Expressions.
Walking Mable
Angry Mabel
Surprised Mabel
Posing Mable
10. Retouch in Photoshop
Editing in Photoshop
SECTION 04. Understanding Curves – Making Various Hair
11. Modeling Using Curve
Understanding Curve
Creating Different Types of Hair
12. Ponytails
Creating Hair Using Curve
13. Dango Hair
Creating Curve Using Mesh-1
14. Pigtails
Creating Curve Using Mesh-2
15. Loose Hair
Create Fuller Hair with Special Hair
SECTION 05. Create Your Own Profile Character
16. Understanding the Character Creation Process
Character Creation Process
17. Creating Eyes
Basic Eye Modeling
Create an Eye Texture with Nodes
18. Sculpting
Create a Basic Character
Create a Variety of Facial Expressions
Create Your Own Character
19. Retopology
Retopology
20. Texture Painting
Character Texture Painting
21. Modeling
Head
Costume
Costume Accessories
22. Editing in Photoshop
Editing Characters in Photoshop
SECTION 06. Create an Attractive Character Face
23. A Little Study of the Human Body to Create a Stylized Character
Face Sculpting Step by Step
24. Sculpting an Attractive Character Face
Getting the Basic Shape
Various Ways to Express Stylized Eyes
Various Ways to Express a Stylized Nose
Various Ways of Expressing a Stylized Mouth
Various Ways of Expressing the Stylized Ear
Sculpting Your Own Attractive Character Face
25. Retopology
Retopology
26. Texture Painting
Character Texture Painting
27. Make Your Hair
Creating the Character's Head
28. Understanding Facial Changes Based on Facial Expressions
Smiling Expression
Surprised Expression
Angry Expression
Sad Expression
29. Editing in Photoshop
Editing Characters in Photoshop
SECTION 07. Creating an Attractive Character Body
30. A Little Study of the Human Body to Create a Stylized Character
Step-By-Step Body Sculpting
31. Sculpting
Sculpting Your Own Attractive Character Body
32. Retopology
Retopology
33. Texture Painting
Character Texture Painting
SECTION 08. Making the Little Mermaid
34. Sculpting
Creating a Face
Building the Body
35. Retopology
Retopology
36. Texture Painting
Character Texture Painting
37. Rigging
Learn How to Easily Rig Your Character
38. Various Modeling Using Curve
Making a Character Head
Creating Various Items Using Curve
39. Rendering
Rendering Multiple Angle Views
Editing Characters in Photoshop
SECTION 09. Raise Character Quality
40. Blender Addon to Increase Character Quality and Speed
Different Sites to Buy and How to Buy
Eye Designer and Auto Eye
Hair tool
41. Texture/Object to Increase Character Quality
Eyebrow pack, Eyelashe pack
Lips Texture
Free Modeling Files
* Curriculum details may change before or after the video is released.
Interview
with 3D Character Artist Minjeong Shin


Question.01
Who Is This Course Suitable For?


I recommend it to 2D artists who want to recreate their characters in 3D, and those who are interested in 3D and want to create 3D characters as a hobby. If you start for self-development, or a small hobby and not for employment, I think it is a good opportunity to enjoy wonderful results and a sense of accomplishment.
Question.02
What Are the Characteristics of
Your Work That Only You Have?


I tend to put a lot of effort into modeling, but I also try to make the character's charm stand out as much as possible when I post-edit in Photoshop. Creating a character, this modeling process is the most important part, but the quality can improve by filling in the missing parts in the post-production. In the class, we will tell you in detail how to do post-editing to make the other details stand out.
Question.03
What Is the Most Important Thing to You When Working?


As a 3D character artist, I think the most important ability is sculpting. Basic sculpting must be good in order to produce quality characters. So, in this course, we prepared a fun and easy way to learn through step-by-step examples so that you can become familiar with the function of sculpting.
Question.04
What Is Something That You Want People to Take Out from Your Course?


Most importantly, you can understand the overall production process for creating 3D characters, as well as the basic usages of Blender, and features for creating characters with Blender. When I first started self-studying, the most difficult part was the overall production process of character creation. However, in this course, I think that you will be able to easily understand the flow of the overall production process of the character and obtain satisfactory results by making the character yourself.
Required Programs
This course is conducted with Wacom Intuos,
Adobe Photoshop CC, and Blender programs;
please purchase and install the program's
latest version for an optimized learning experience.

Blender 2.92
- Blender 2.92 can be downloaded directly from the Blender website.
- Various versions of Blender can be downloaded through this link. (https://download.blender.org/release)
Wacom Intuos can be replaced with a tablet.

* These programs and/or materials will not be provided with the course.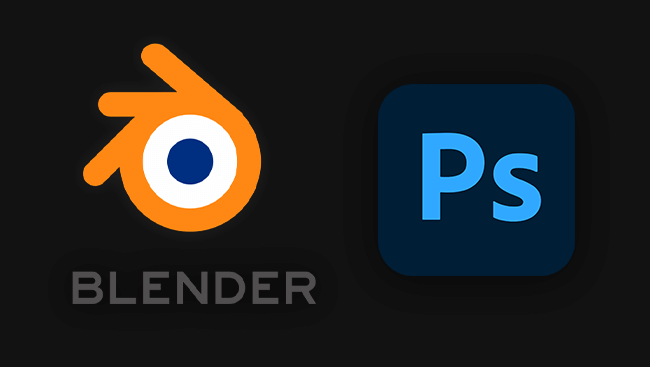 Recommended Class
Like this class?
Then check these out!


[IMPORTANT NOTICE]

*Please note that the information on this page is subject to change without prior notice.
*Would you like to learn more about our refund policy? Please check here.
*Please check our FAQ for Copyright and Proprietary Rights, User-Generated Content, Security, and Violation information.